As smart home technology becomes more advanced and accessible, the demand for smart lighting systems has only increased over time.
A Facts and Factors report published in 2021 states that the global market for this technology was estimated at $11.23 billion in 2019, and will triple by 2026.
But what do we actually mean when talking about smart lighting?
Jump To
Instead of regular light switches, smart lighting systems use a variety of control inputs. Control your lighting from a single panel, or do it remotely using powerful apps on a connected smartphone device from anywhere, at any time. Intuitive programs can even automate lighting based on room occupancy, temperature, motion, and even detecting natural light.
Smart lighting will completely change the way you'll think about lighting your home. There's a range of benefits we'll be discussing throughout this blog, whether you're looking to make the transition to smart lighting or upgrade your existing system.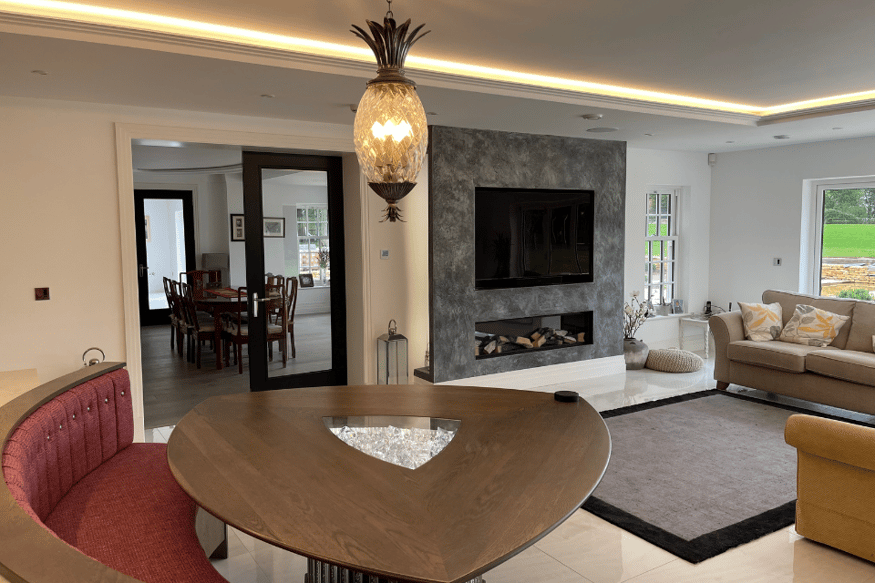 Smart lighting: what you need to know
If you are still using traditional lighting systems then switching to smart lighting can offer a range of benefits, some of which you may not even have considered.
Smart lighting can be designed to add value to your home and add a true wow factor that will impress guests. You aren't just limited to smart bulbs like those sold in DIY smart lighting kits. You have the freedom to use a variety of LEDs, panels, and strips to change the profile of a room.
Installations can be personalised to your exact requirements, adjusting the atmosphere in any room at the press of a single button. Smart lighting can go even further than your home too, elegantly lighting up driveways, front patios, and gardens.
Despite being cutting edge technology, smart lighting can adapt to any setting. For example, Chris Lewis Group recently installed a fully integrated lighting system at a 17th century manor house, seamlessly blending into its existing aesthetic.
What makes this technology truly innovative is how smart lighting is controlled. It can be programmed to automatically light up your home without you needing to touch a light switch.
By having a smart lighting system professionally installed by Chris Lewis, it can be designed and implemented to your exact requirements.
The 5 most used features of smart lighting
Avoid having lots of light and dimmer switches. Rather than having to adjust each of them manually, you can have one button that takes care of your lighting, whether in one room or around your home.


Going to bed and unsure if someone has left a downstairs light on? Rushing out of the front door? Use the "all off" function to switch off all the lights in your home, at the touch of a button.


When away from home, integrate smart lighting with "mockupancy". This will intelligently switch lights on and off at different times of day to simulate someone being at home.


All lights can be controlled directly via a touchscreen panel, or even via your smartphone or other connected devices. Use these to schedule smart lighting patterns. For example, have interior lights gradually brighten during your morning routine.


Integrate with smart blinds and curtains to unify your home's lighting system.
smart lighting save me money?
Another attractive benefit is the potential to save money on your energy bills. Typically, legacy systems use incandescent bulbs whereas smart lighting systems use other, longer lasting alternatives. According to energy.gov, these alternatives use 25 to 80 percent less energy than traditional incandescents and last up to 25 times longer. Although more expensive upfront, you could be saving £5 a year for each bulb you switch.
Smart lighting systems create a solution that is both energy efficient and can elevate the profile of any room. When integrating lighting with other smart home technology, those savings can be accelerated. Home automation can control lights - for example, replacing switches with motion sensors.
There are plenty of other practical benefits to installing smart lighting, including how it can help improve day-to-day comfort for those living with physical disabilities.
Upgrading my lighting
Even if you have been reaping the benefits of a smart lighting system for some time now, the technology is rapidly changing and you may be considering an upgrade. Instead of simply maintaining your existing system, you should consider the new available options when it comes to enhancing your lighting even further.
For example, you may have introduced DIY smart bulbs into a single room and are now looking to implement smart lighting throughout the entire house using a professional installer. Similarly, you may have had a smart lighting system for several years now but want to explore what new lighting technology there is in 2022. You may also be looking to expand your smart lighting system beyond your home via exterior lighting for the front of your property or garden.
One way to upgrade your system is to make it easier to control. With smartphone technology becoming more intuitive, mobile apps are now the norm when it comes to controlling smart home systems.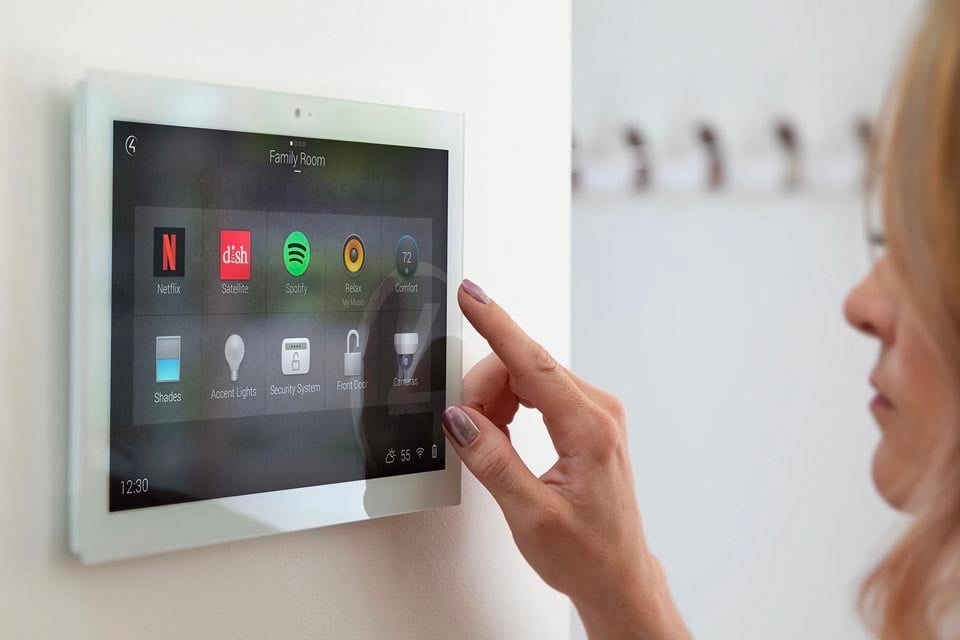 By upgrading your smart lighting system you can replace a control panel/keypad with a more modern alternative that allows seamless, intuitive control of your lighting systems throughout the entire home. Not only that, you can add smart devices such as smartphones and tablets to your network giving you more convenient access, whichever room you are in.
Using management systems such as those offered by Control4 can help unify your lighting with other smart home technology. If smartphone controls aren't your thing, don't worry. You can keep simple button controls to manage your lighting.
Over the past several years we have seen an increase in the number of other smart home technologies. Upgrading your lighting system will allow you to better integrate and unlock a range of practical features. For example, integration with smart blinds. Daylight sensors can be used to automatically adjust the amount of light needed, smartly communicating with dimmers to set the correct brightness.
Expanding your existing smart lighting system from indoors to outdoors also presents another upgrade opportunity. Why not enhance your smart garden or perhaps build an outdoor home cinema?
Finally, you may be considering changing the look of your home. There are plenty of ways smart lighting can compliment the functionality and aesthetics of any room. Our design team at Chris Lewis will strive to make smart lighting perfectly suit your decor, using strips and panels as well as other fittings.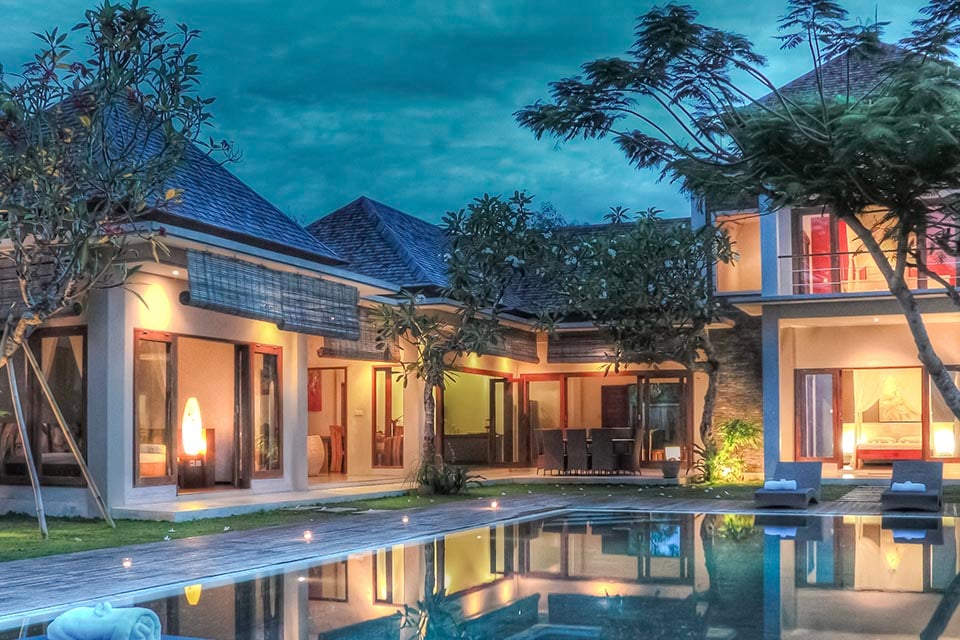 The future of smart lighting
As highlighted throughout this blog, smart lighting is a worthwhile investment that elevates the profile and practicality of your home. Through a professional installation, you can achieve the exact smart lighting functions and aesthetic design required to suit your own needs. You should also consider the potential to be more energy efficient and save money on your bills.
What about the future of smart lighting? In the coming years we're likely to see more smart home technology benefit from advances in artificial intelligence (AI) and machine learning. Together, these will cleverly anticipate how homeowners use their lights. They may be able to fully automate your home, potentially removing the need for manual controls altogether. It may sound like something from a science fiction novel though we'll start to see smart home systems learn how homeowners use their lighting, creating automated patterns to reflect this.
For now, there are still plenty of cutting edge systems and upgrades available that could completely change the way you'll think about lighting your home.
Speak with our experts about upgrading your smart lighting system
Submit the below form and we will get back to you very shortly.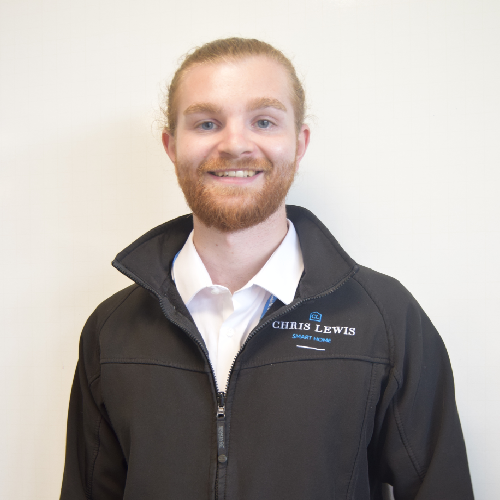 I design, specify and support clients during new installations, system upgrades and ongoing support of their Smart Technology – even if we were not part of the original commissioning. My background is high-end Hi-fi systems but due to the bespoke multi-discipline offerings from our partners, suppliers and manufacturers, I pride myself on a personal and practical service that turns complex systems into simple recommended solutions.
Smart home technology has skyrocketed in recent years. With the rise of off-the-shelf devices like Amazon Alexa and Philips Hue more people than ever are introducing smart features into their homes..
The home automation market is continually growing - transforming our living spaces through simple touches or voice-activated commands. Thanks to this constant innovation, it's now easier than ever.
Are you taking control of your smart home in the most convenient way? We've all been there. Wet hands. Full arms. Juggling five things at once. Sometimes, pressing a button on a device can feel way.