Since the early 2000s, Control4 has trail blazed the smart home trend. It's taken over luxury homes, industry-leading businesses, swanky hotels and nearly every other automated building on the planet.
Fast-forward to the present day, Control4's operating system now integrates with tens-of-thousands of third-party products, is available in over 100 countries, and currently runs in nearly 475,000 homes across the globe.
These systems are anything but plug-and-play. With a range of connected devices, installed wall-mounted panels and access points, as well as endless integration options on offer, there's a lot that goes into a Control4 setup. Plus a lot that can go wrong.
Got a question about Control4? As an authorised Control4 Dealer, we've got you covered. Our latest blog takes a look at 13 of the most searched Control4 questions and answers.
Jump To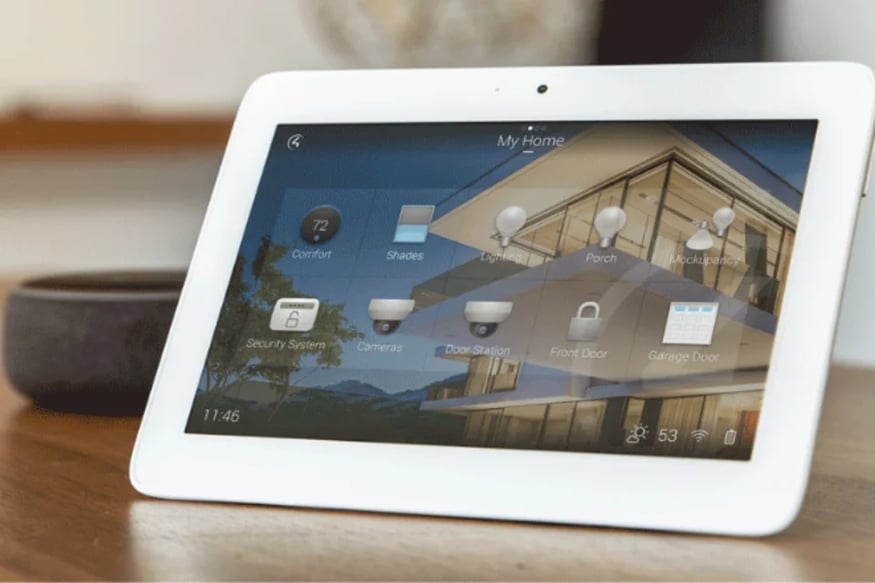 What Is a Control4 System?
A Control4 is a home control system that brings together all of your smart home devices into one easy-to-use control panel.
Working with lighting, music, heating, home cinema, security systems and almost everything in-between, the Control4 OS can automate your home to meet the specific lifestyle needs of your family. The system creates shortcuts to control your home with a single button press, or scheduled events without even needing to lift a finger.
How Does Control4 Work?
Control4 gives you the tools to control your entire smart home from a range of control devices. These include wall-mounted touchscreens, keypads, tabletop tablets, voice control, and the MyHome mobile phone app on any smartphone. This means you can control your home whether inside or on-the-go.
Using a Wi-Fi connection, Control4's Scheduler Agent can also automate events based on a specific trigger. These include time of day, lighting levels, temperature, or a range of other specific factors. From blinds rising at the same time as your alarm to driveway lights switching on as you pass your entrance gates, Control4 lets you design a home that's uniquely yours.
How Much Does Control4 Cost?
The cost of a Control4 home automation system can range between anywhere from £385 to over £50,000 based on the products you choose, the uniqueness of what you want to achieve, and the size of the premises.
A major part of the cost behind installing a Control4 system is the labour and installation expenses. As a wired smart home system, you need an authorised Control4 platinum Dealer to design, install and programme your system to work with other devices.
Control4 offer some key must-haves for any smart home::
Control4 Controllers:

£385 - £2935
Networking Switch: £61 - £1780
Networking Router: £220 - £3,025
In-Wall Touch Screens: £700 (7-inch) £925 (10-inch)
Matrix Switch: £970 - £6,080
Smart Remote: £160 - £245
Outlets: £215 - £610
KNX System: £7.00 - £460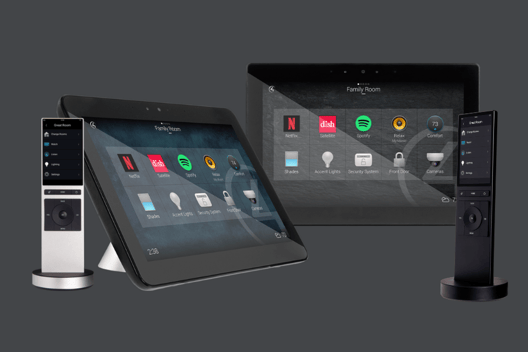 Is Control4 Worth the Money?
Yes. If you're looking for a best-in-class smart home system, Control4 is absolutely worth the money. Widely-regarded as a world-leader in home automation, Control4 smart home management systems have pioneered the trend. When you invest in their technology, you're investing in nearly 20 years of trailblazing innovation - something very few brands can offer.
Control4 is also compatible with nearly every smart home device, making it possible to grow your systems with newer technology. Users also benefit from regular updates, slick user interfaces, endless scalability and an excellent range of features. This makes Control4 a future-proof smart home solution.
How Do I Connect Control4 to My WiFi?
Control4 doesn't really work through WiFi. It can be set up, but needs to be hardwired first. There's no process to just select, enter home network password and connect like other electronic devices.
If you've moved into a house with Control4 and are looking to get it up and running, we recommend using our takeover service. Control4 systems are bespoke. Your use of Control4 will be totally different to that of the previous homeowner. Our takeover service will be able to design a setup that is tailored to your needs, rather than just settling for the existing design, layout, and app integration.
How Do I Program My Control4 Remote?
There are two types of Control4 remote; the SR-260 and the NEEO. Both require a different mode of programming for set up.
SR-260: Requires a professional installation from a trusted Control4 dealer. It may be possible to setup this controller remotely, but this is dependent on the requirements and the operating system used.
NEEO: The NEEO remote control is simple to program and setup. You just need to add your Wi-Fi password to the remote and the system should automatically configure. It's as simple as plug-in and selecting Wi-Fi.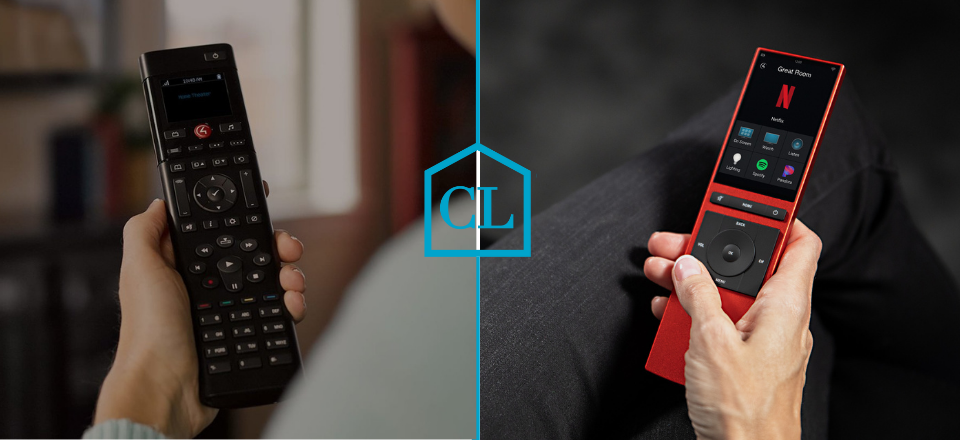 How Do I Find My Control4 IP Address?
How to find Control4 IP Address on Windows:
1. Press Win + r to open Run Prompt
2. Type 'cmd' and press Enter to open the Command Prompt
3. Type ipconfig | findstr /i "Gateway" and press enter.
4. Your default gateway, e.g 192.168.0.1 will appear.
How to find Control4 IP Address on OSX:
1. Head to Finder > Applications > Utilities > Terminal
2. Type the following command: netstat -nr | grep default and press Enter
3. Your Control4 router default IP will be shown, eg 192.168.0.1
How to find Control4 IP Address on Linux:
1. Open a terminal window (ctrl+alt+t)
2. Type the following: ip route | grep default and press enter.
3. Be presented with your IP address
How Can I Add Music to Control4?
Simply head over to the 'Listen' section, view your options and select 'Add Music' or 'My Music'.
Add Music - Enables you to install and sign-in to a range of compatible music streaming services such as Spotify, Amazon music, Deezer, TIDAL and Pandora. We recommend asking your provider to help configure these services when installing.
My Music - Lists your digital music library, featuring Albums, Artists, Genres and Playlists. You can upload your music collection via any network-attached storage (NAS) or using a USB drive connected to your Control4 system.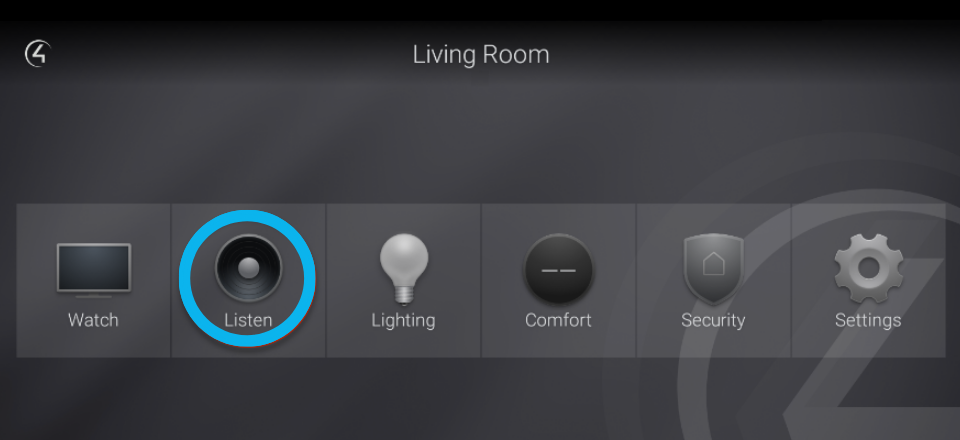 How Do I Play Apple Music on Control4?
Apple Music is not a native service for Control4 and is not compatible with any touchscreen interface offered by the brand.
You can AirPlay from any Apple device to Control4 if you have a C4 Wireless Music ShairBridge installed. You must be on the same network as your C4 device, simply tap the AirPlay icon in the lower-right corner and select the Wireless Music ShairBridge to stream through. Though, this can only be controlled through your Iphone and not the Control4 interface.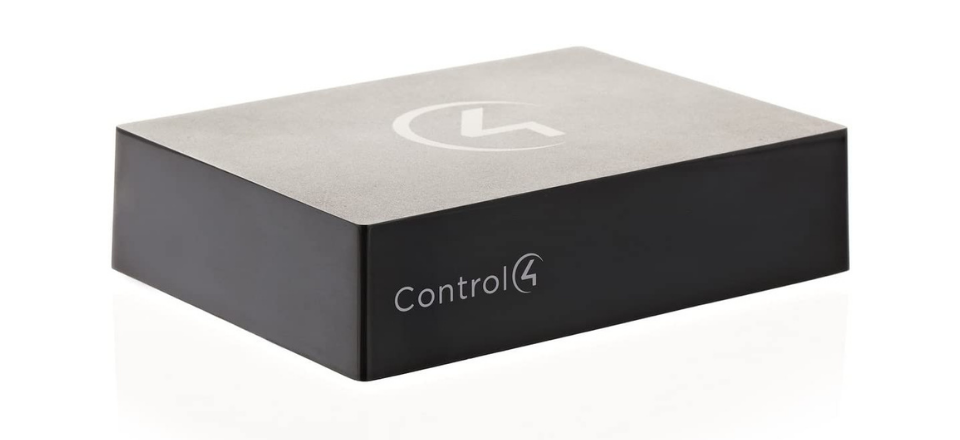 How Can I Connect Spotify to Control4?
1. Using the Control4 interface in a room with connected audio devices (speakers, receivers, TVs), open the Room menu and select the Listen feature.
2. Select 'Add Music'
3. Select Spotify from the drop-down list of music streaming services, give the service a name and then press Enter or Done. You can repeat this process to add/manage multiple Spotify accounts for different users. Such as 'Dad's Spotify' or 'Kitchen Spotify'.
4. Select the new Spotify icon on the Listen dashboard and follow the on-screen prompts to enter your log-in details and sign in.
5. To add Spotify to the room dashboard, press and hold its icon.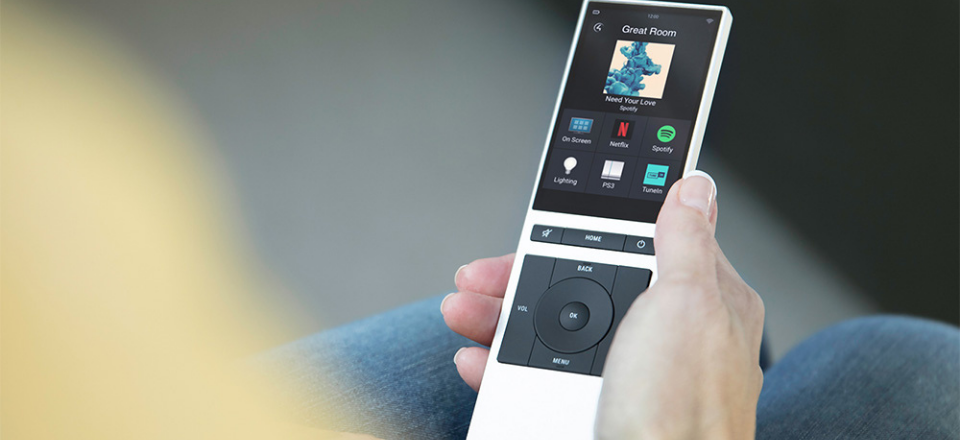 How Does Sonos Integrate With Control4?
With Control4 x Sonos integration, you'll be able to adjust multi room audio from the same interface used to control lighting, security, climate control and more.
Users will also be able to create custom one-touch 'scenes' - specific lighting control, music settings - that can be activated at the push of a button. For example, a 'Movie' scene, would tell the system to switch the input to your home cinema, adjust the high resolution audio levels for cinematic surround sound and dim the lights for the perfect movie watching experience.
How Can I Pair Apple TV to Control4?
Apple TV is not a native service for Control4, so is not a simple integration or set-up. However, it can be achieved with a third-party driver. We advise getting in touch with a reliable Control4 provider to discuss this home entertainment integration.
Will Control4 Work With Apple Homekit?
In short, yes. It is possible to integrate Control4 with Apple's Homekit using specific third-party drivers like Homebridge or Varietas Home Hub OS. Though, this is a complex set-up, so we suggest contacting your Control4 Dealer to discuss your requirements in more detail.
Final Thoughts
Looking to install, upgrade or maintain your home's Control4 system? We can help.
As a Control4 Platinum Dealer, we're here to help you in all of your smart home endeavours. With over 10+ years of experience with Control4, we're early movers in the smart home field, and our technicians are able to bring a variety of projects and integrations to life - from the wacky to the wonderful.
Through our rigorous training scheme, our engineers have the knowledge, skill, ability, and expertise to design highly specific Control4 set-ups. It all starts with you.
---
Get in touch with our team today to discuss your requirements.
Submit the below form and we will get back to you very shortly.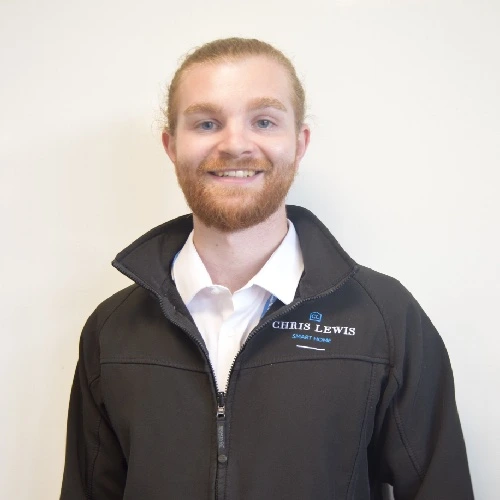 I design new installations, specify system upgrades and support and maintain clients' Smart Technology. My background is high-end Hi-fi systems, but I have upskilled to become an expert in all smart home systems. I pride myself on a personal, practical service that turns complex systems into simple solutions.
One of the most common questions on the internet with regards to smart home technology is the cost. Obviously pricing for a design and installation will differ greatly between projects, but "it.
On its own, a smart home system can transform your day-to-day life, massively improving the comfort and convenience of your property. The more systems you add, the greater the improvements.
When looking for smart home technology to improve your property, it's tempting to purchase the most popular option on the market. Many of the smart home devices currently available to the general.