Professional Fire Alarm Monitoring
An extra pair of eyes on your property. Fire alarm monitoring is vital for any property owner who takes their fire protection seriously. By investing in high quality monitoring, you can be sure that your property will be safe, around the clock, whether you're in or on the go.
Chris Lewis Group provides a range of fire alarm monitoring packages for businesses, places of learning and homes. We combine 24/7 coverage with our industry expertise to offer customers full peace of mind as well as rapid detection response.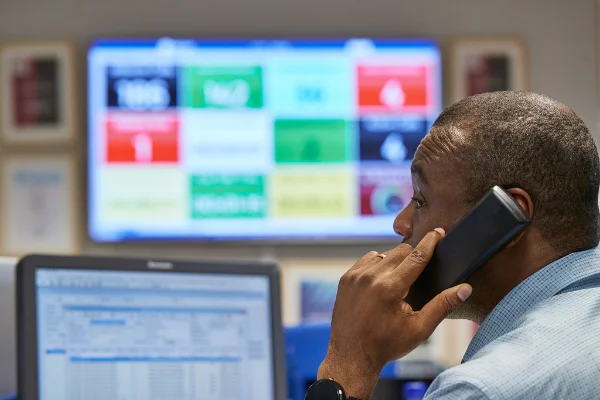 Monitored Fire Alarms FAQ's
Fire alarm monitoring is the act of having your alarm system professionally monitored by a chosen third party to increase your safety. By nature, fire alarm monitoring systems give greater protection outside of work hours, and a quick response time if something should go wrong.
A monitored fire alarm will be connected to a dedicated third party through cloud networking, 3G/4G control or a landline. Once an alarm triggers inside the monitored building, the third party will receive an alert, so they know to call or notify the emergency services.
Legally, no: fire alarm installations do not need to be monitored by a third-party - but we highly recommend it. Over 60% of commercial fires happen when buildings are empty. With a monitoring package, an alarm won't ever go unnoticed as the alarm will be connected 24/7 to a dedicated expert, who will respond with no hesitation.
Alarm monitoring usually incurs an extra monthly cost on top of the upfront cost for the alarm system itself. This expense will change depending on the installers, the equipment and the monitoring package you have chosen.
Benefits of Monitored Fire Alarm Systems
Over 60% of commercial fires happen when a business is empty. It is very costly to repair a fire damaged property, with an eye-watering average cost per incident of £657,074. When you rely on a fire alarm monitoring service, you can rest assured that your site will be watched over at all times. This means faster emergency response to save lives, assets and buildings, to minimise the risk that fire poses.
No need to rely on sounding the alarm yourself

Peace of mind, 24/7, 365 days a year

Reduce false alarms & unnecessary call-outs

Minimum impact to your business

Protect data & assets

Full uptime
Speak to our residential & commercial fire safety experts
Submit the form below and we will get back to you very shortly.
Latest Fire Protection News
---