Forget living rooms! Summer is here. With the weather getting warmer, many of us are prepping our gardens for friends and family to enjoy.
One way to keep your guests entertained during these sunny months is to invest in an outdoor home cinema. It doesn't matter if you watch sports events, revisit your favourite films, or get glued to the latest blockbusters. You can now do so from the comfort of your own garden.
Jump To
To create an outdoor cinema isn't as complex or expensive as you might think. Today, the range of options is bigger and more accessible than ever. These give you the chance to turn your garden into the perfect amusement hub. This blog will explain how to build the perfect garden cinema. It will cover all the major parts you need and how they work to give you the best viewing experience.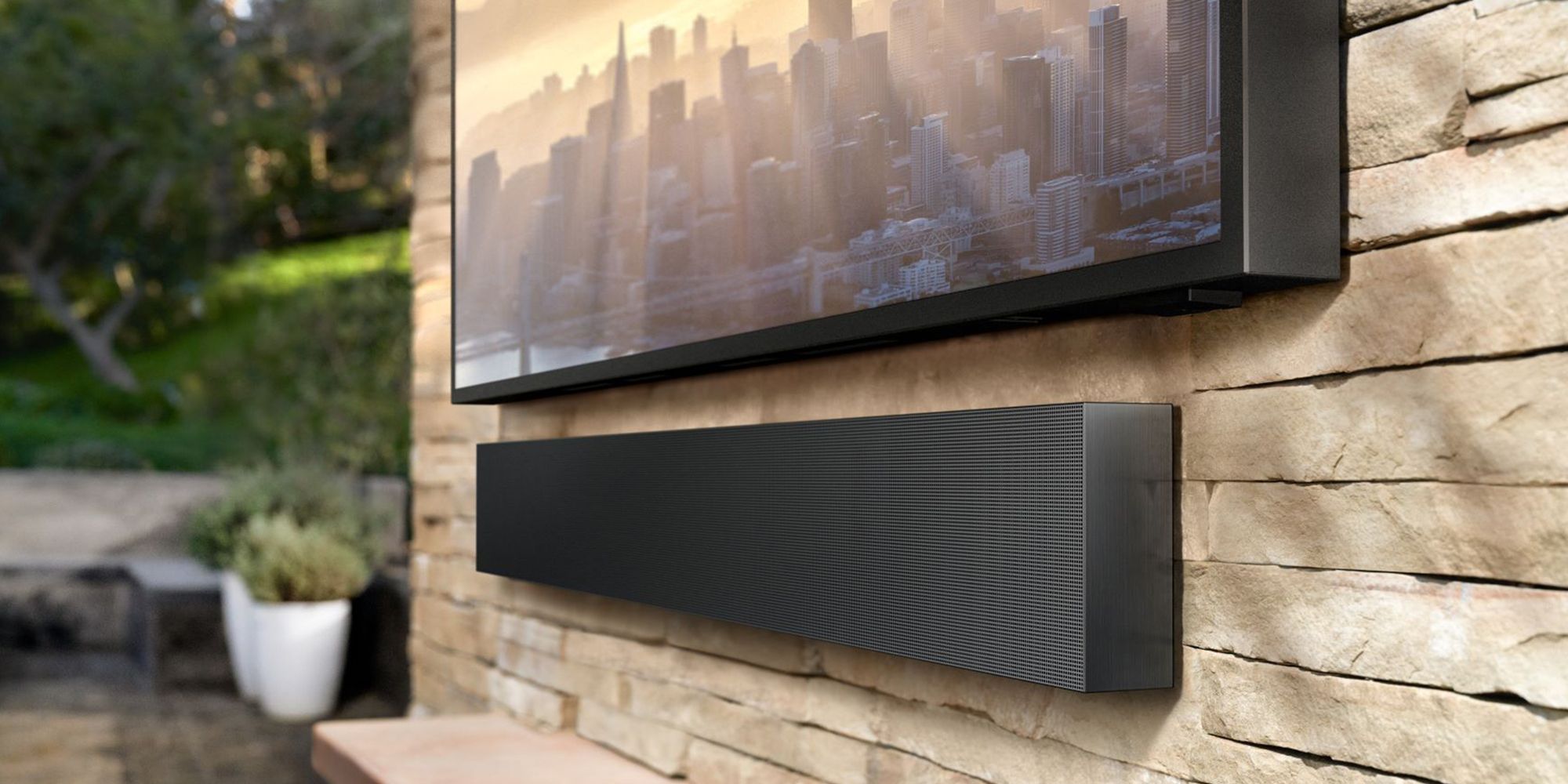 What Do I Need to Build an Outdoor Home Cinema?
Setting up an outdoor cinema experience isn't hard. First, you'll need to display whatever you're watching on a big screen or projector. You'll also need speakers for sound, and a media device to stream or play what you want to watch. Of course, there are many options to choose from, so we'll recommend some of the best available.
There will be those who have already boosted their homes and gardens with the latest smart tech. It's worth thinking about the number of integration options available when you create a home garden cinema.
Which Outdoor Home Cinema Screen Should I Choose?
When it comes to choosing a display there are two main options. You can pick from a growing range of full HD and 4K outdoor televisions. Or, you can opt for a projector which will need a screen to project onto. There are pros and cons to both setups you will need to think about. When you design a system with our smart garden experts, we can advise you on a solution to suit your exact needs.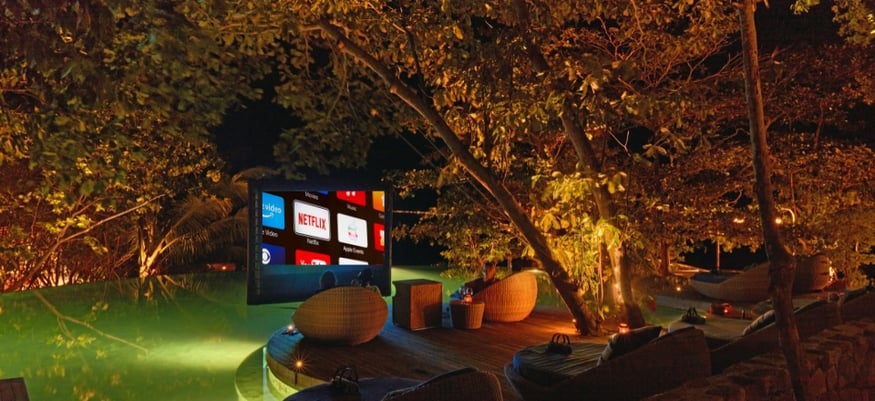 Outdoor TVs
If you have ever tried to watch a regular TV outside, you will know just how poor the image quality can be. These screens just aren't built to show a good image image in bright, outdoor settings. This means that the picture is extremely hard to see, especially when in direct sunlight. Not only that, standard TV sets can easily overheat in hot weather. They usually aren't suitable for colder climates either.
As the name suggests, outdoor TVs have been designed for use in gardens and by the pool. You'll often see them in resorts and luxury hotels, as well as bars that boast state-of-the-art outdoor terraces. Some of the best lines we work with (and recommend) include the Samsung Terrace range and Videotree. Here is a run-down of the benefits of choosing an outdoor TV for your garden cinema:
They come in a range of sizes, typically between 55 and 100 inches.
Screens are designed to put out a much greater brightness than normal televisions. They boast crystal clear picture quality, even in the brightest of daylight conditions.
They are designed to integrate with entertainment systems and have many ways to connect.
They can withstand both hot and cold temperatures. Some use heat sinks and pads to ensure the best performance.
Outdoor TVs have fully sealed weatherproof casings designed to protect against moisture, dirt, and dust.
Slick screen and frame aesthetics are available to suit any outdoor environment.
If you're hunting for the ultimate solution then look no further than the C SEED 201, the world's largest outdoor TV. This is one for the lottery winners out there: a staggering 201-inch LED screen standing at 15 feet (4.57m) tall. The C SEED is built in partnership with none other than Porsche's own design studio. This is truly a dream screen, though you may need a bigger garden...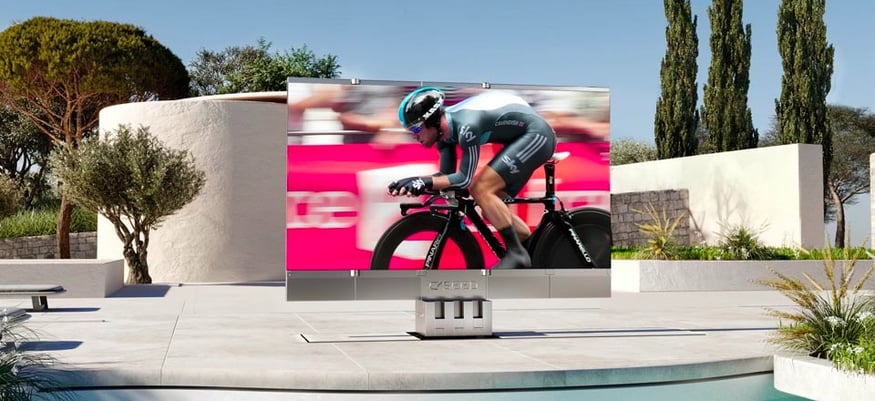 Outdoor Projectors & Screens
A more accessible alternative many will be familiar with is the use of a projector and screen. The main advantage is that this system can be tucked away when not in use. The other major benefit is that bigger screen sizes are available. This allows you to upgrade more affordably than with other large format displays.
There are four styles of projectors. While they all do the same job, they each have different ways of projecting an image. Some of them are more advanced and versatile than others.
Laser Projectors
Laser projectors are at the forefront of this tech. They do not require a lamp, power up faster, and can achieve a higher brightness output. They also last much longer than ordinary projectors with a lifespan of ten plus years.
For the best results, we'd recommend outdoor projectors from reliable brands. Top brands include LG, Optoma, and Anker's Nebula range. What you need to know for this is how many lumens your projector can put out. We recommend you install one that is capable of at least 3000 lumens. This will help retain the brightness and clarity of an image or video when watching during the day.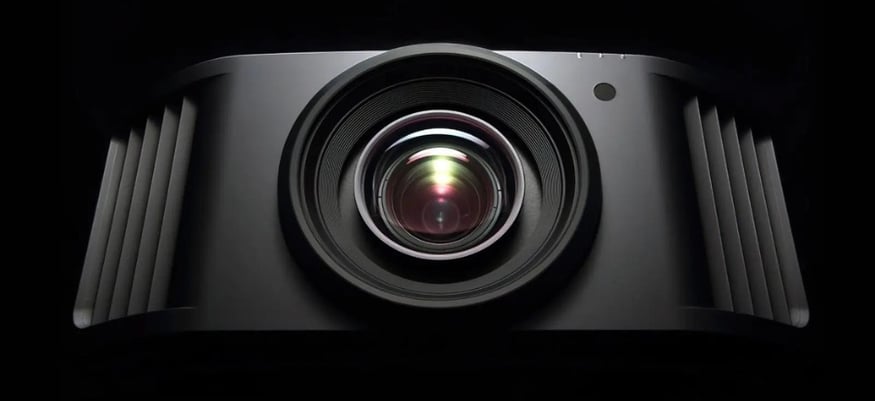 The position of your projector and screen is another vital detail. Think about the orientation of your screen and the arc of the sun in the area you want to set up your cinema. This will help avoid any direct sunlight on the projected screen surface. Again, this is something our smart garden installers can advise you on, along with the ideal location to ensure your projector screen is sheltered from the wind.
Modern projectors can connect with a variety of devices. From laptop DVD players and Amazon Fire TV sticks to Apple TV and smartphones, there's a growing number of convenient options. When consulting with Chris Lewis, we can help you to get the best results from your setup.
How to Enhance Your Outdoor Home Cinema Experience
A home cinema in your garden is nothing without great audio. There are a number of outdoor speaker systems available to suit your exact needs. These include sound bars and subwoofers. When expertly designed and installed, these can help to create that cinematic surround sound quality.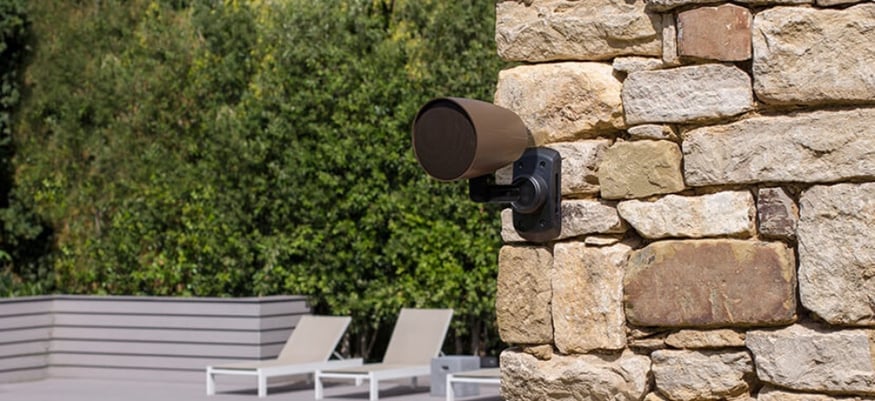 They can also be discreet, blending into the current style of your garden. Built in speakers designed for outdoor use can mount on walls or subtly hide amongst greenery. Not only are they weather resistant, they can also pair with indoor smart home systems.
If you prefer a bit of illumination to a night under the stars there's a wide range of smart outdoor lighting systems that can help boost your home cinema. But these aren't simple strings of fairy lights! They can help create the perfect atmosphere and are both weatherproof and energy efficient. Advanced systems can be setup to quickly change brightness and colour. Imagine how this can transform an outdoor space for the every day as well as your movie theatre!
Having something to actually watch is just as crucial to having the perfect setup. If it wasn't obvious, online streaming is fast becoming the most popular way to watch a movie or TV show. As of 2021, Netflix has 203.66 million subscribers who, on average, watch 3.2 hours of video a day. There are more options available than ever with a growing range of quality streaming services including Apple Movies, Amazon Prime, Now TV and Disney+. And of course, there is on-demand TV via the BBC iPlayer, All 4, and others. Whether catching up on soaps or watching sports, you can do it all from the comfort of your garden. To reduce the risk of streaming quality issues, you may want to invest in smart Wi-Fi for your home, to improve connection speeds, even when outdoors.
To give your outdoor cinema a true wow factor, you might even consider upgrading from fire pits, blankets and cushions to smart controlled outdoor heaters and luxury seating.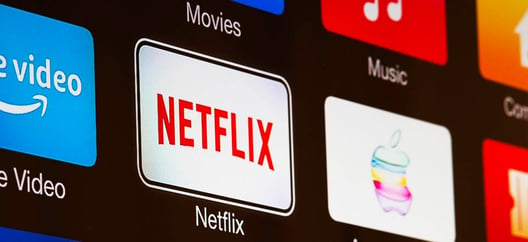 Treat Yourself to an Outdoor Home Cinema
With garden home cinemas more affordable and accessible than ever before, it's time to treat yourself. Add value to your home and provide an exciting new amusement space for you and your family. It will be the envy of neighbours and an exciting summer fixture for many years to come.
As we've discussed, you should bear in mind your proposed setting. Think of how much space you have to install any screens, projectors, speakers etc. If you are serious about creating that iconic outdoor movie night, a professional setup is always advised. This will make sure every part is set-up to achieve the best quality results. Chris Lewis can install systems as well as upgrade and maintain them through our support and care cinema packages.
---
Talk to us about your Outdoor Home Cinema requirements
Submit the form below and we will be in touch shortly.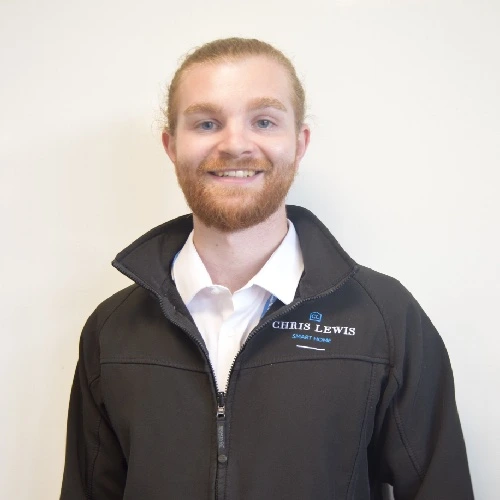 I design new installations, specify system upgrades and support and maintain clients' Smart Technology. My background is high-end Hi-fi systems, but I have upskilled to become an expert in all smart home systems. I pride myself on a personal, practical service that turns complex systems into simple solutions.
One of the most common questions on the internet with regards to smart home technology is the cost. Obviously pricing for a design and installation will differ greatly between projects, but "it.
On its own, a smart home system can transform your day-to-day life, massively improving the comfort and convenience of your property. The more systems you add, the greater the improvements.
When looking for smart home technology to improve your property, it's tempting to purchase the most popular option on the market. Many of the smart home devices currently available to the general.