Summer is here. With lockdown restrictions easing, many of us are prepping our gardens for friends and family to enjoy.
One way to keep your guests entertained during these sunny months is to invest in an outdoor home cinema. Whether watching sporting events, revisiting your favourite film classics, or glued to the latest blockbusters. You can now do so from the comfort of your own garden.
Many cinemas remain closed for business, making it hard to access that authentic movie-going experience. According to Cineworld it looks as though the cinema industry isn't expected to recover until at least 2023. With cinema fans having to travel further, more of us than ever are watching from home. There's also the rapid growth of video streaming services to consider. As a result, the demand for home cinemas has ballooned. Sony's Adam Dover expects us to invest even more in home cinema setups this year. This is mainly thanks to the return of major sports events, including the Olympic Games and UEFA Euro 2020.
Building an entertaining home cinema isn't as complex or expensive as you might think. In 2021, the range of options available is bigger and more accessible than ever. These present the opportunity to turn your garden into the perfect entertainment hub. This blog will detail how to build the perfect garden cinema. It will cover all the major components needed and how they work to bring the best viewing experience possible.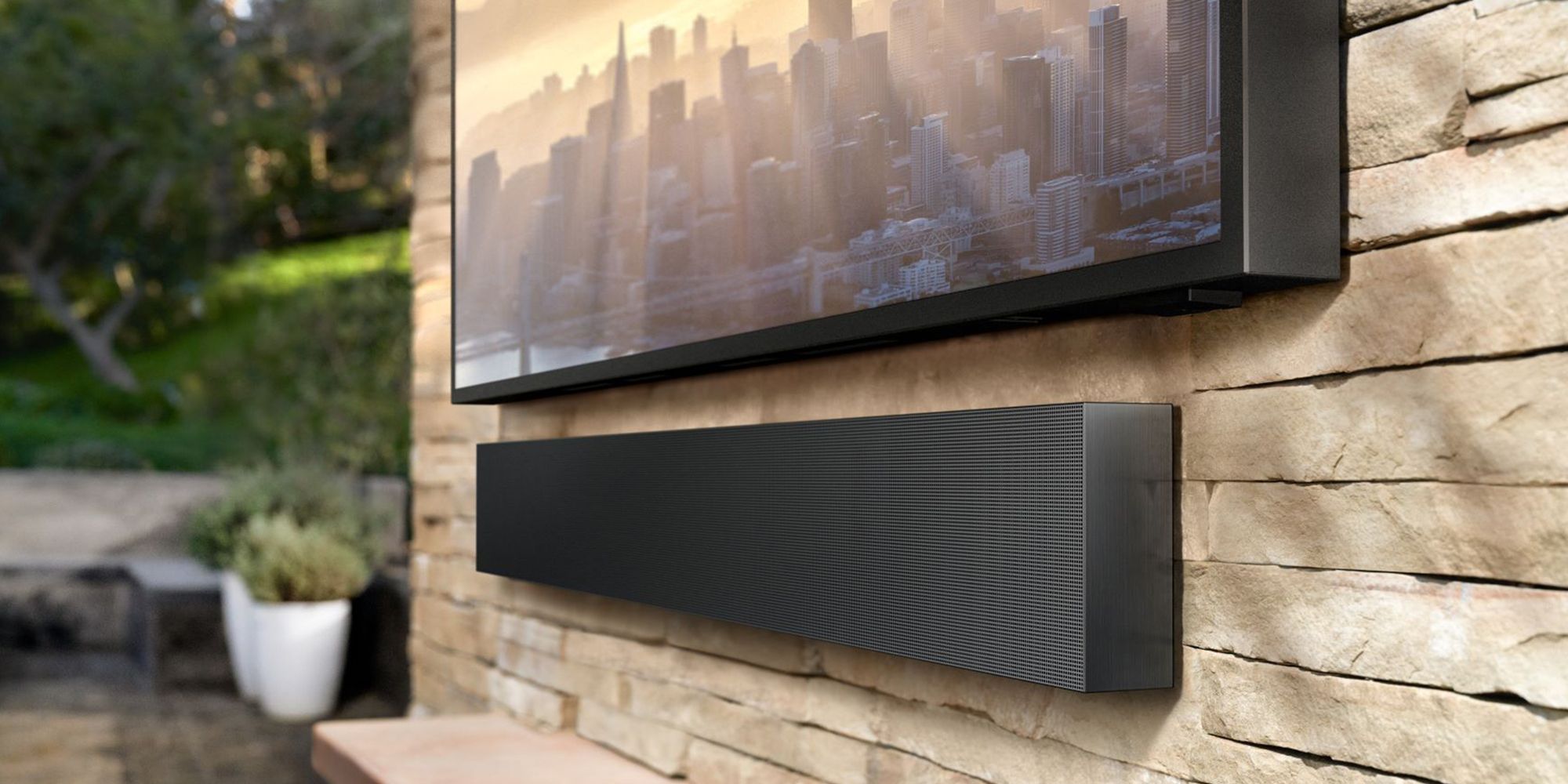 What do I need to build an outdoor home cinema?
Creating the ideal garden cinema isn't complicated. First, you'll need to display whatever you're watching on a large format screen or projector. You'll also need speakers to listen from, and a media device to stream or play what you want to watch. Of course, there are many options to choose from, so we'll be recommending some of the best solutions available.

There will be those who have already enhanced their properties and gardens with the latest smart home technology. It's worth considering the number of integration options available when installing a garden cinema.
Which screen should I choose?
When it comes to choosing a display there are two main options available. You can select from a growing range of full HD and 4K outdoor televisions. Or, you can opt for a projector which will require a screen to project onto. There are pros and cons to both setups you will need to consider. When designing a system with our smart garden experts, we can advise you on a solution to suit your exact requirements.
Outdoor TVs
If you have ever tried to watch a regular television outside, you will know just how poor the image quality can be. These screens aren't built to display an image in bright, outdoor settings, meaning that the picture is almost impossible to see, especially when exposed to direct sunlight. Not only that, conventional TV sets can easily overheat in hot weather and aren't suitable for colder climates either.
As the name suggests, outdoor TVs have been designed specifically for use in gardens and by the poolside. You'll often see them in resorts and luxury hotels, as well as bars that boast state-of-the-art outdoor terraces. Some of the best brands we work with and recommend include Samsung (Terrace range) and Videotree. Here is a summary of benefits when choosing an outdoor TV for your garden cinema:
Available in a range of sizes that typically scale between 55 and 100 inches.
Screens are designed to output a much higher luminosity than conventional televisions. They boast crystal clear picture quality, even in the brightest daylight conditions.
They are designed to integrate with entertainment systems with multiple ways to connect
They can withstand hot and cold temperatures. Some use heat sinks and pads to ensure the best performance, regardless of climate.
Outdoor TVs have fully sealed weatherproof casings designed to repel moisture, dirt, and dust.
Slick screen and frame aesthetics are available to suit any outdoor environment.
If you're hunting for the ultimate solution then look no further than the C SEED 201, the world's largest outdoor TV. This is one for the lottery winners out there: a staggering 201-inch LED screen standing at 15 feet tall. The C SEED is built in collaboration with none other than Porsche's own design studio. This is truly a dream screen, though you may need a bigger garden...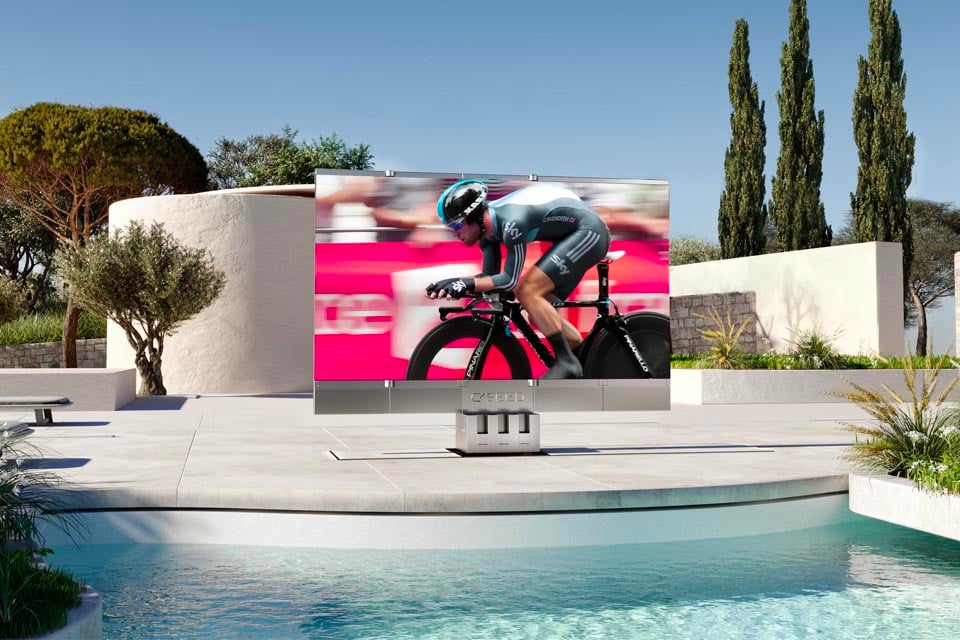 Projectors and Screens
A more accessible alternative many will be familiar with is the use of a project and screen. The main advantage is that, when not in use, the system can be tucked away to make the space more multi-purpose. The other major benefit is that bigger screen sizes become available, allowing you to upgrade at a more affordable price compared to large format displays.

There are four styles of projectors. While they all perform the same function, they each have different methods of projecting an image. Some of them more advanced and versatile than others with laser projectors are at the forefront of this technology. They do not require a lamp, power up faster, and can achieve a higher brightness output. They last much longer than ordinary projectors with a lifespan of 10 plus years.

For the best results, we'd recommend outdoor projectors from reliable brands. Top brand include names such as LG, Optoma, and Anker's Nebula range. What you need to for is how many lumens your projector can output. We recommend you install a projector that is capable of at least 3,000 lumens. This will help retain the brightness and clarity of an image or video when watching during the day.

The position of your projector and screen is another vital consideration. Think about the orientation and the arc of the sun in the area you want to set up your cinema. This will help avoid any direct sunlight on the projected screen surface. Again, this is something our smart garden installers can advise you on.

Modern projectors can connect with a variety of devices. From DVD players and Apple TV, to laptops and smartphones, there's a growing number of convenient options. When consulting with Chris Lewis, we can help you to get the best results from your setup.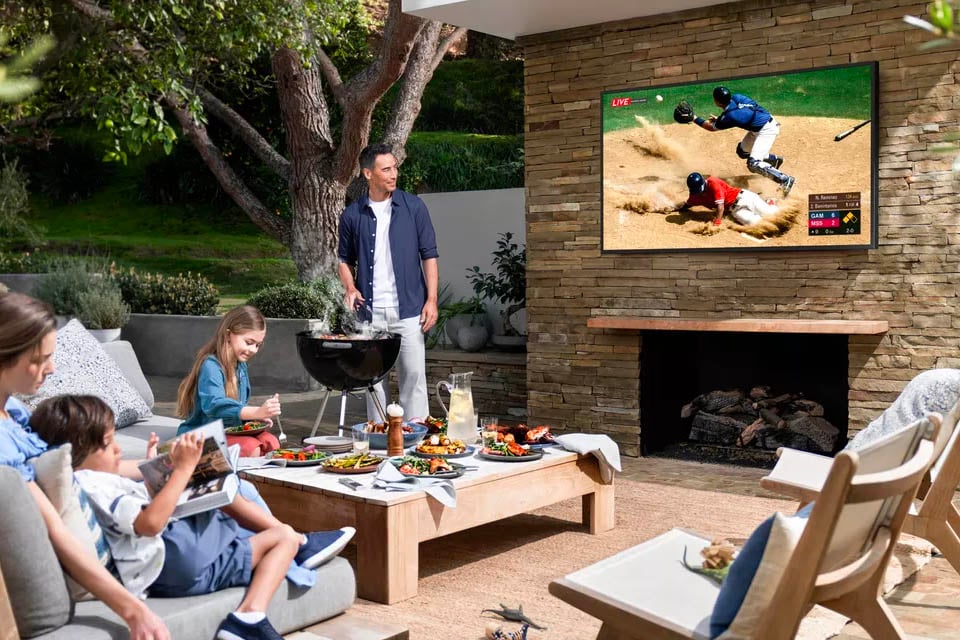 How to enhance your outdoor home cinema experience
An outdoor home cinema isn't complete without immersive audio. There are various outdoor speaker systems available to suit your exact needs, including sound bars and subwoofers. When expertly designed and installed, these can help reproduce that cinematic surround sound quality.

They can also be discreet, blending into the current aesthetic of your garden. Built in speakers designed for outdoor use can mount on walls, embed in planters, or subtly hide amongst greenery. Not only are they weather resistant, they can integrate with indoor smart home systems.

Another consideration is lighting. There's a diverse range of smart outdoor lighting solutions that can help elevate your home cinema. They can help create the perfect atmosphere and
are both weatherproof and energy efficient. Advanced systems can be programmed to dynamically change brightness, pattern, and even colour. Imagine how this can transform an outdoor space for the everyday as well as your cinema environment.
Having something to actually watch is just as crucial to having the perfect setup. If it wasn't apparent enough, online streaming is fast becoming the predominant way in which many of us watch films and television. As of 2021, Netflix has 203.66 million subscribers who, on average, watch 3.2 hours of video a day. There are more options available than ever with a growing range of quality streaming services including Apple Movies, Amazon Prime, Now TV, Curzon Home Cinema, and Disney+, as well as on-demand TV via the BBC iPlayer, All 4, and others. Whether catching up on soaps, engrossed in a dark thriller, or watching sports, you can do it all from the comfort of your garden. To reduce the risk of buffering and streaming quality issues, you may want to invest in smart wi-fi and internet for your home to improve connection speeds, even when outdoors.
To give your outdoor cinema a true wow factor, you might even consider smart controlled outdoor heaters and luxury seating.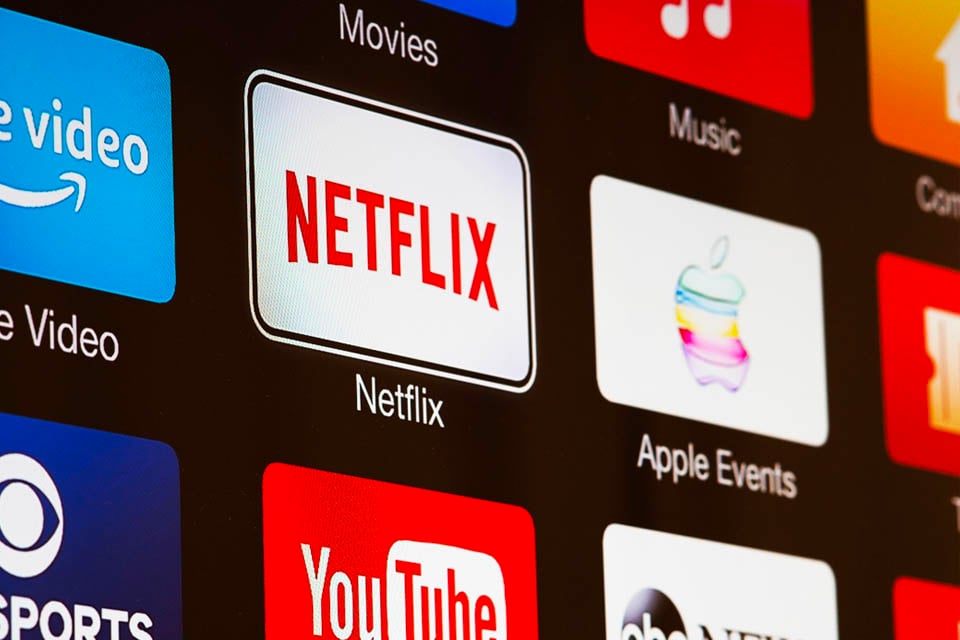 Treat yourself to an outdoor home cinema
With outdoor home cinemas being more affordable and accessible than ever before, it's time to treat yourself. Add value to your home and provide an exciting new entertainment experience for you and your family. It will become the envy of neighbours and a permanent summer fixture for many years to come.
As we've discussed, you should be mindful of your proposed setting. Think of how much space you have to install any screens, projectors, speakers etc. If you are serious about creating that iconic movie night experience, a professional installation is recommended. This will ensure every component is installed to achieve the best quality results. Chris Lewis can install systems as well as upgrade and maintain them through our support and care packages. We believe that when investing in a garden cinema, you should have the peace of mind that it's operating at its highest performance.
---
Talk to us about your Home Cinema requirements
Submit the below form and we will get back to you very shortly.
Looking to give your guests an evening to remember? It may be time to upgrade your home's technology.
With approximately 53% of all UK households subscribing to at least one on-demand streaming service, the demand for home cinemas is higher than ever before.
Summer is finally here. With the days growing longer and temperatures set to soar again, it's the perfect time of year to enhance your garden.