When looking for smart home technology to improve your property, it's tempting to purchase the most popular option on the market. Many of the smart home devices currently available to the general public are no doubt solid choices. However, they will still have their drawbacks, and a professionally designed smart home system, even at an equivalent price point, will offer a superior final product.
Jump To
In this blog, we explain where DIY smart home technologies succeed and where they fall short, while presenting a comparison with professionally installed systems, so you can make a truly informed decision.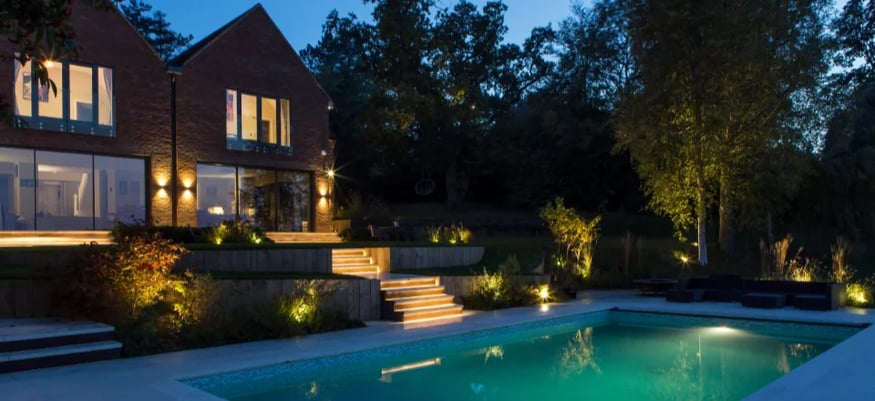 Video Doorbells & Video Intercoms
The DIY Options
The Ring doorbell was created in 2013, and its successors have been the go-to for homeowners who want to improve their home security in the decade since. In addition, competitors such as Arlo, Google Nest and Ubiquiti have released alternatives that are as good, or in some cases, even better than the original.
Video doorbells solve multiple problems by being a combination of doorbell, peep hole, CCTV and intercom systems. They can ensure you don't miss a delivery, show you who is knocking on your door at 11pm, record potential burglars or porch pirates, and let you inform visitors that you're running a little late.
Cameras are activated based on movement and the motion detection zones can be customised, to prevent unnecessary notifications caused by people simply passing by. In addition, many smart doorbells are able to distinguish between humans and other moving objects, further refining the detection process, ensuring you only receive a notification when someone is actually coming to your door.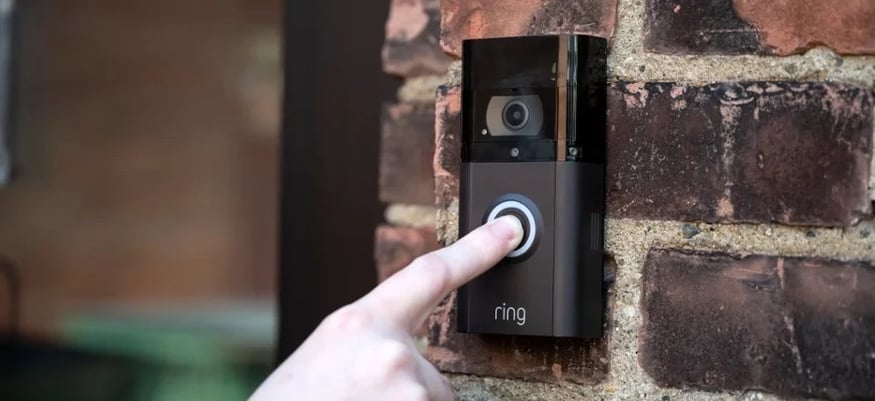 As a DIY option, video doorbells are a great solution to many problems, and are a worthwhile investment for the sake of convenience and safety. However, there are some drawbacks. For many options on the market, a subscription is needed to be able to record video footage, as the doorbell has no internal storage.
This has also created concern from some about privacy, as several of the companies that produce video doorbells have a poor track record when it comes to safeguarding their customers' data.
Additionally, the increasing commonality of video doorbells means that burglars are becoming better informed on the best ways to bypass them.
Finally, no DIY video doorbell on the market currently has the ability to lock or unlock your front door/gate. For that, you will need a professional system
A Professional Alternative
There is currently only one professional video doorbell on the market - the Chime, from Control4. This state-of-the-art doorbell can be seamlessly integrated into a Control4-based smart home, giving you direct control over your alarm system, heating, lighting, and door locks from anywhere in the world.
On top of this, the Chime's 5 Megapixel camera has a 180° field of view with highly customisable motion zones and sensitivity controls, so you will be notified when it matters most. Unlike other video doorbells, there is also no monthly subscription to add a Chime to your Control4 system.
Alternatively, if you want an intercom system more in line with commercial-grade security, you can opt to avoid the doorbell entirely and instead opt for a Video Intercom Panel. This will give you the option to use a code or mobile phone to open your front gate/door.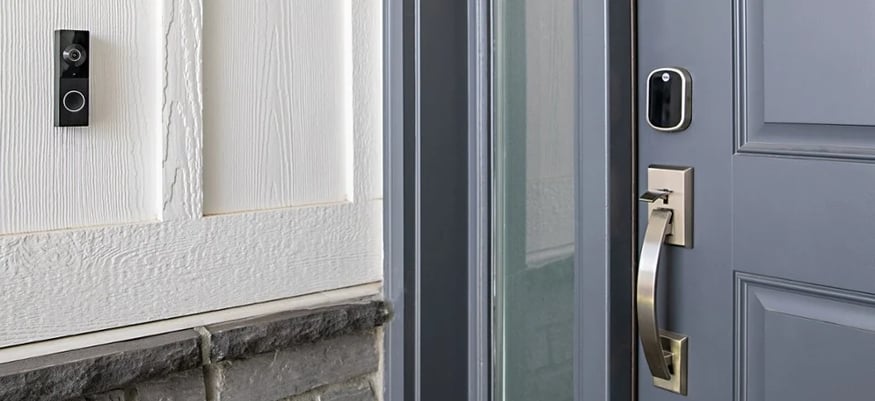 Multi-Room Wireless Speakers
The DIY Options
Multi-room bluetooth speakers are an excellent option when it comes to creating a whole-home audio setup without breaking the bank. These systems work by connecting to your home WiFi, and can be accessed from your phone with their respective app.
This allows you to control your music anywhere in the house, without even getting out of bed if you so desire! You can play the same song in every room to create a unified soundscape that flows through the whole home, or different tracks in different spaces to cater to the whims of the various occupants or guests.
Many people will also hook these systems up with their home voice assistants, such as Amazon Alexa or Google voice control for added convenience. However, this can lead to situations where multiple people fight for control of the music being played by demanding songs from your Amazon Echo or Google Home speaker.
As a first experience in creating a whole-home sound system, though, these smart speakers are fantastic. However, they are not without their drawbacks.
For starters, a Sonos speaker, or any other popular wireless speaker on the market will need to be plugged into a socket. This can greatly limit your scope for positioning the speaker. If you have a home whose aesthetics you've worked on for a long time, a speaker parked in a spot it doesn't fit can stick out like a sore thumb.
Additionally, Sonos systems can be difficult for a DIY installer to integrate with other smart home systems, and there can be much more cost-efficient ways to scale up your sound system than those Sonos supply.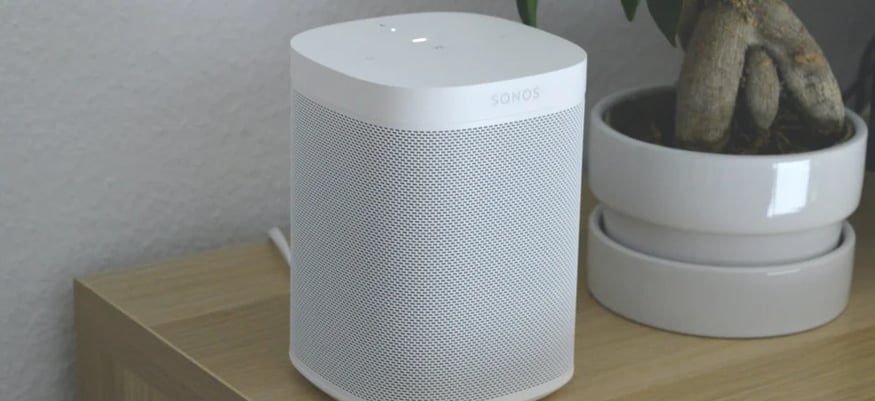 A Professional Alternative
By contrast, with even an entry-level professionally designed system, you have more capacity to add in third party devices. You could have items like turntables or CD players connected, and if you wanted to integrate your sound system with your smart lighting, doorbell or other smart home systems, it would be incredibly simple for your installer to do.
This also opens the doors for control options like automatic sleep timers, or the ability for announcements to be played around the home. All these benefits will cost little more than a wireless speaker set up, and simply require adding a streaming amp with a processor, such as a Control4 rack unit.
This rack unit will also act as a single, centralised point of control over your whole sound system (as well as any other integrated smart home systems). This means that if you're rushing out the door, all that's required to turn off the entire system is to press one button on your app, rather than powering down each speaker individually.
There are power saving opportunities with intelligent power supplies, software updates and changes to the system that allow for remote support from a trained dealer.
As an additional benefit of a professional installation, your system will be designed by an expert who understands the configurations required to eliminate - or at the very least minimise - audio dead zones. These are a common pitfall of DIY sound systems - points at which two sound waves of an equal pitch meet and cancel out, resulting in a limited sound palette in that zone.
If you would like to learn more about the benefits of a professional installation over a DIY job, check out our blog, "Home Sound Systems: DIY vs Professional Installations".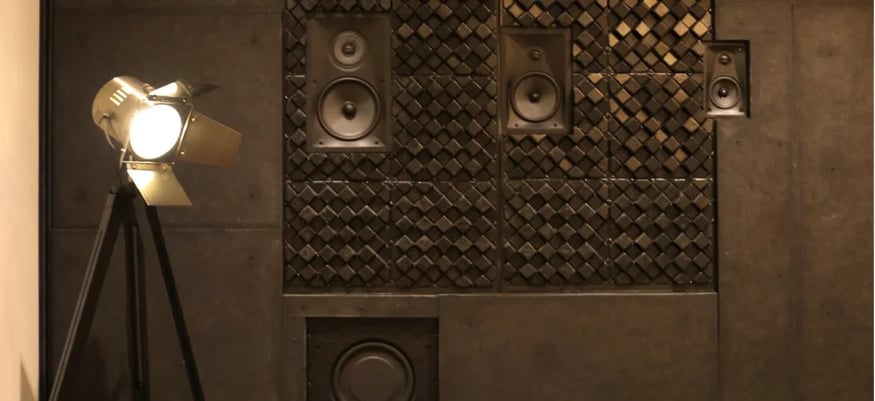 The Ultimate Installation
Ever dreamed of a sound system that's totally invisible? Companies such as Sonance offer speakers which are designed to be plastered into your walls and painted over.
This is perfect for people who have spent tens or even hundreds of thousands on their interior decor, and don't want it ruined by intrusive speakers. For example, imagine you have a floor-to-ceiling window where you want to sit and enjoy the view while listening to music. You wouldn't want massive standing speakers obstructing your view, but also wouldn't want to compromise on sound quality.
With in-ceiling or plaster-in speakers, you can have the incredible sound quality you would want in this situation, with none of the inconvenience and obstruction created by most high-end floor-standing speakers.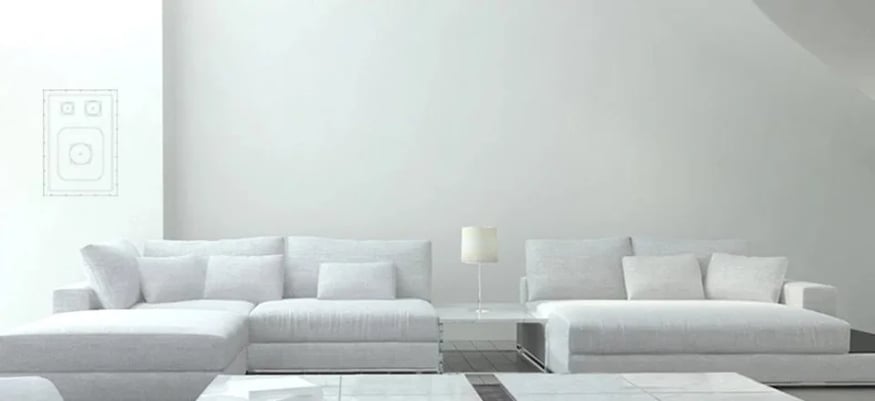 Home Cinema Systems
The DIY Options
When it comes to DIY home cinema systems, the most popular items on the market are OLED (Organic Light-Emitting Diode) TV screens, with soundbars and subwoofers providing audio.
OLED TVs are renowned for their exceptional picture quality, making them a popular choice for home cinema enthusiasts. Each individual pixel can be turned off completely, creating a more vivid and lifelike image, regardless of the brightness levels in different parts of the screen. LG's OLED TVs, in particular, have consistently received top ratings for their clear and vibrant picture quality.
However, while offering sleek designs and space-saving benefits, OLED TVs often lack space for effective speaker systems, resulting in compromised sound quality. To address this, many people opt for a soundbar and subwoofer combination to improve depth of sound.
The soundbar, typically positioned beneath the screen, houses multiple speakers that direct sound towards the viewer. Higher-end soundbars may even incorporate "Dolby Atmos" speakers that bounce sound off the ceiling, creating an immersive overhead soundscape. The addition of a subwoofer further enhances the audio experience by producing deep, low tones, intensifying the impact of pulse-pounding scenes.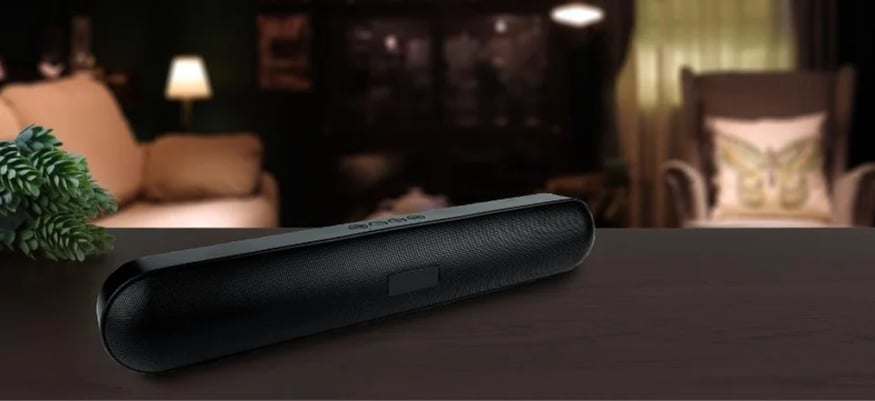 A Professional Alternative
As a first step, we would suggest switching from a TV screen to a projector. The image created by TV screens, even OLEDs, can be quite bright. One major advantage of a projector is a much softer quality of light, as the image is reflected instead of being shone directly at you. This creates a much more natural picture, and can make viewing much more pleasant for those who struggle with light sensitivity.
When it comes to audio, the obvious improvement is to switch to a surround sound system. This can cause problems when it comes to layout, however, especially for smaller rooms, or spaces that are being kept multi-purpose, rather than becoming dedicated home cinema rooms.
In a small living room, you're likely to use a short- or ultrashort-throw projector, but where do you then put the speakers? You can't stick them in front of the projector because they will block the image. Do you instead mount them on either side, or place one under the screen, which will look very odd when your screen is retracted?
Solutions we would consider involve placing speakers behind the short throw projector or employing acoustically-transparent screens.
Another option we may utilise is installing speakers into the ceiling. When paired with a motorised projector screen and a powered lift for a projector, this gives your home cinema system a true "wow" factor. This setup is also fantastic for a multi-purpose room, as it means your speakers, screen and projector won't ruin the aesthetics of the room when you aren't watching a film.

The Ultimate Installation
If you're building a truly top-end system and money is no object, it's always worth investing in a professionally designed home cinema. If you plan to spend hundreds of thousands on a cinema system, and build it yourself, there will come a point where the quality of your technology will be restricted by your ability to install and integrate it.
A professionally designed system could include speakers designed to look like your room's coving, that are hydrodipped to blend into your furnishings for a multipurpose room, or even speakers behind fabric walls for an invisible but cosy cinema room.
If you require assurances that you are getting exactly what you want, a professional installer can provide you with 3D designs for how your cinema system will look. Alongside this you can get a full design of how the audio system will work so you know that it will meet your requirements exactly.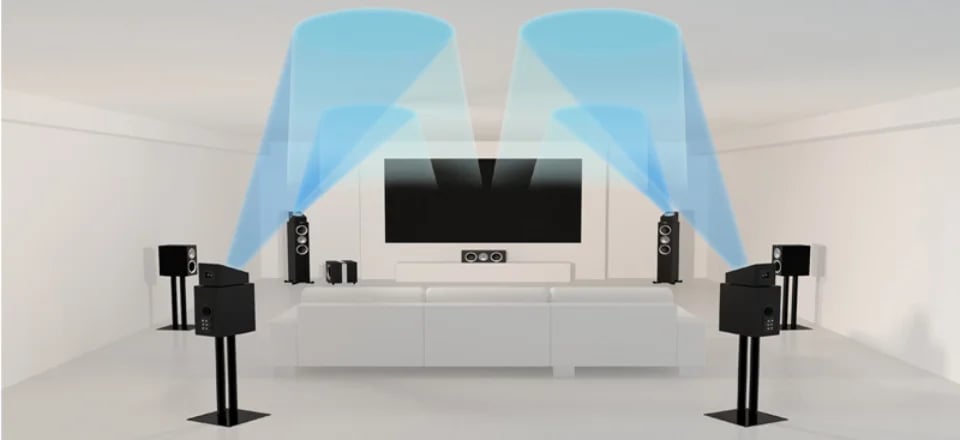 This is one of the greatest contrasts between a DIY project with expensive tech, and employing a professional company to install your system. For a similar amount as you would have spent on your equipment alone, you can have a higher-end final product installed, using less expensive tech.
Think of it like the difference between a kit car and a high end sports car. With a professional company, you can rest assured that you are getting the complete package, rather than a number of expensive individual pieces that don't amount to the sum of their constituent parts.
A crucial part of creating a high-end home cinema system is to ensure the acoustic performance of the room you have chosen is as close to perfect as possible. There is little point in spending thousands on a high-end sound system if the acoustics of your room make it hard to differentiate from a much cheaper setup.
Everything in a space, from the walls, windows and doors, to the floors and ceilings, has an effect on how sound behaves. And of course the size and shape of a room plays a huge part too.
Acoustic treatments are used to adjust the sound quality of a room, reducing echo and preventing dead zones. A film's soundtrack will be much more accurate to the director's vision in an auditorium that has been professionally treated than in one that is untreated.
With analogue systems, acoustic treatments were used mainly to deaden sound and to stop unnecessary echo. However, digitisation has made this far more important. Controlling reverberation is vital if you want to achieve true cinema-quality sound.
For more thoughts on how to create your dream home cinema system, check out our blog, Home Cinema Design: Ideas & Inspiration.
Smart Home Security Systems
The DIY Options
Several companies, including Ring, have diversified from video doorbells to providing smart home security systems. These offerings are relatively inexpensive and can be a great choice for owners of smaller homes who would like to keep their property protected with a simple and easy to use system.
These setups will typically consist of one or more motion detectors, contact sensors and indoor cameras. They can be either battery powered, or - for those more confident with electrical work - hardwired to mains power. Ring also offers an external siren that can be attached to the exterior of your property and alert your neighbours in the event of a break-in.
However, as practical as these systems may be for smaller homes, for owners with larger properties, or more valuable possessions, it is worth spending a little extra for a more sophisticated home security system.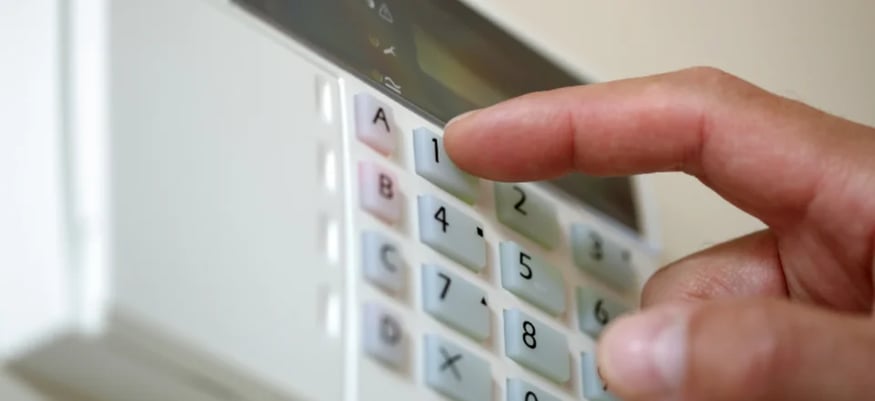 A Professional Alternative
A professionally installed system will give you the option to have your security system monitored by a third party security company, or send alerts directly to the police.
As opposed to using your WiFi to connect to the internet, a professional smart home security system will be hard-wired. Hard wiring security equipment is far more reliable than using a WiFi connection, as, if your router goes down for any reason, your property may be left without any protection. Your security is far too important to be dependent on a stable WiFi connection.
While this may be a more expensive option than a DIY smart security system, the extra cost can be offset. Many insurance companies will reduce your home and contents insurance premium if you have a system installed and certified by an NSI-accredited security installer.

The Ultimate Installation
For the ultimate in protection and convenience, your system can be integrated into your smart home control app, allowing you to view and control your alarms and CCTV from a single location.
This also gives you the option to connect your CCTV to your TV, so you can view the feed from any camera through your television at the touch of a button, or a voice command.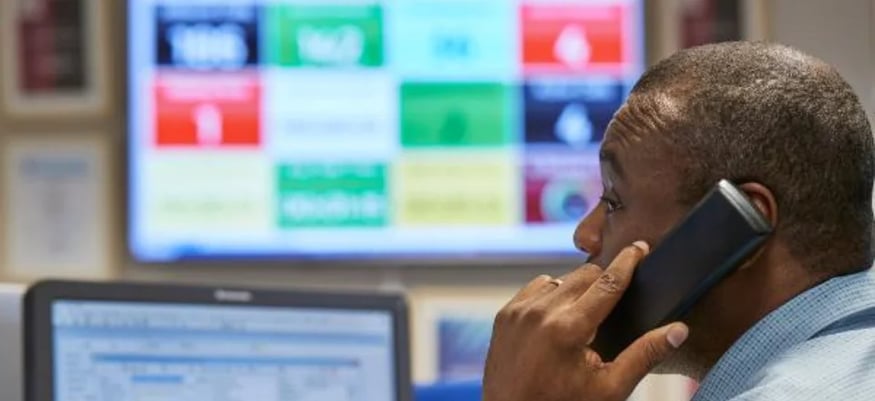 Smart Lighting
The DIY Options
Smart lighting has become increasingly popular over the past few years, with Philips Hue being the most common choice. Philips Hue bulbs connect to the internet via wifi and allow the user to customise their home lighting colour, either between different shades of white, or a range of colours. This enables them to create the desired lighting atmosphere, whether it's a vibrant and colourful setting for parties, or a relaxing and cosy ambiance for winding down in the evening.
Hue smart bulbs can be placed on schedules to wake you up gradually in the morning as the lights brighten, or simulate occupancy when you are away from home for added security. These bulbs can also be integrated with other smart home systems such as security motion sensors and doorbells, creating a connected and cohesive smart home ecosystem.
They can also be controlled by app, even when you're away from home. So if you're in the habit of leaving lights on when you go out, with smart lights, all you need to do is check the app and press a button to turn them all off.
In order to make switching to Hue easy, Philips bulbs come in a range of different types, which can be swapped out for conventional bulbs with ease. This makes scaling from a single room to a whole-home setup easy.
However, despite all these benefits, this is one of the best examples of being able to use a professional company to create a smart home system that costs less but does more.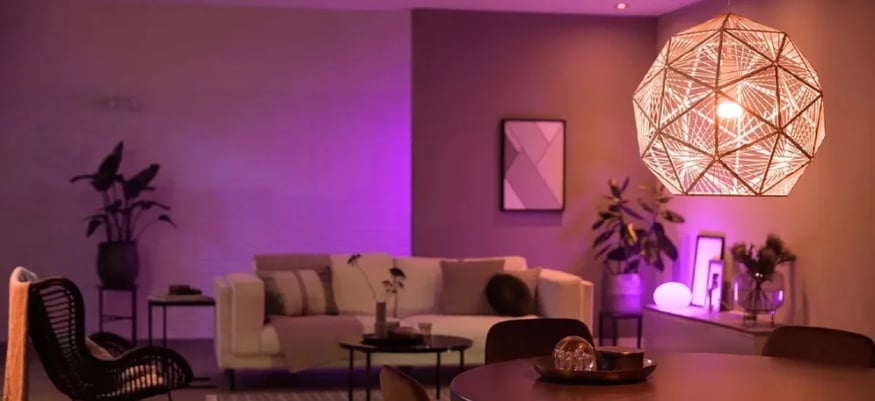 The Professional Alternative
To contrast, the entry level smart lighting system we would install would be a Lutron RA2 setup. One of the major drawbacks of Philips Hue bulbs is their WiFi connection. If your internet should go down for any reason, you will be left with very limited control over your lights. Lutron RA2 doesn't have this problem, as all components communicate with each other via radio, giving you consistent and reliable performance, even in larger homes, or those with more unreliable WiFi.
As opposed to individual bulbs that each require programming and controlling, Lutron RA2 allows you to place a module on each circuit, so each set of lights is under its own unified control.
A RA2 system also gives you smart control over your lighting, even if you still use more conventional LED bulbs, so you can have the quality of light that you enjoy, with the granular control of a smart lighting system.
If you would like to learn more about smart lighting systems, we have blogs that explain:
The Ultimate Installation
This will differ between installers, but our personal approach would be to take a customer to the Lutron experience centre to get a good grasp on the various systems available (including natural lighting control systems, such as blinds). We would then recommend a lighting designer who will be able to design intricate and personalised lighting scenes.
This would be the best option for aesthetics and design, as they will have access to a far greater range of keypads and controls, light fittings, and integration opportunities with other systems. This makes it ideal for a larger property which has more than 100 lighting devices.
With a high-end Lutron system, colour, circadian rhythm and natural lighting can all be integrated and balanced to create the ideal lighting for you.
Finally, dimming is far superior with a module system, such as this, and the entire setup can be programmed for added granularity and ease of control.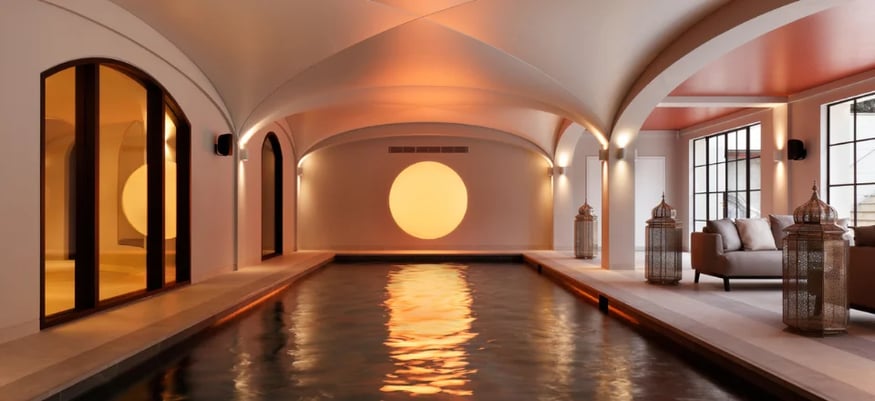 Final Thoughts
Smart home systems of all types are becoming increasingly popular, with almost 50% of homes in the UK predicted to be smart in the next 5 years. While this has meant an explosion in off-the-shelf products, from smart animal feeders to smart thermostats, if you are looking to maximise the functionality and ease of use of your smart home, these are still no substitute for a professionally designed and installed system.
At Chris Lewis, we have been creating and tailoring cutting edge smart home solutions for over 15 years, having installed systems in homes ranging from studio flats to enormous country mansions. If you are interested in how we could transform your property with a smart home system, simply fill out the form below, and we will be in touch.
Let us bring your new system to life, get in touch with our experts today:
Submit the form below and we will reach out to you shortly.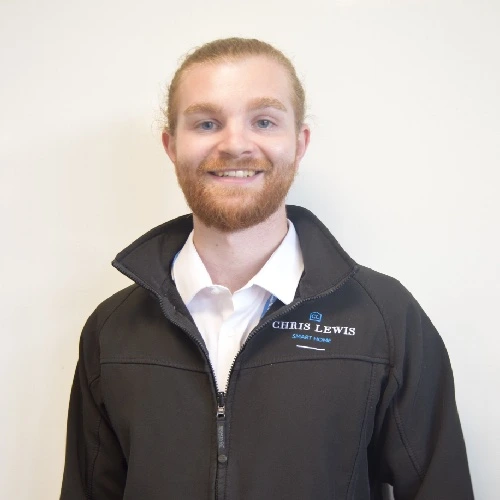 I design new installations, specify system upgrades and support and maintain clients' Smart Technology. My background is high-end Hi-fi systems, but I have upskilled to become an expert in all smart home systems. I pride myself on a personal, practical service that turns complex systems into simple solutions.
One of the most common questions on the internet with regards to smart home technology is the cost. Obviously pricing for a design and installation will differ greatly between projects, but "it.
On its own, a smart home system can transform your day-to-day life, massively improving the comfort and convenience of your property. The more systems you add, the greater the improvements.
It's predicted that within the next 5 years, almost 50% of homes in the UK will be smart homes. With multiple devices now needing a stable internet connection, as well as the huge rise in people.