Lutron solutions are one of the biggest smart home trends at the moment, taking home automation to a new level. Forget about leaving your lights on or hunting around for the light switch at night, with a Lutron system, you can customise your home's illumination to your exact needs.
Considering joining the Lutron lights and shades revolution? That's a real light bulb moment! Since the 1960s, Lutron have been leading innovators in the lighting control market, completely changing the way we think about artificial light in our homes.
Jump To
If you're looking for an easy-to-use, intuitive system that seamlessly integrates with just about every smart home platform out there (and dramatically boosts your home's style!) this article is for you.
Our latest blog explores the key benefits of Lutron's smart lighting and blinds. We'll look at how they can help improve any home through innovation, automation and elegance.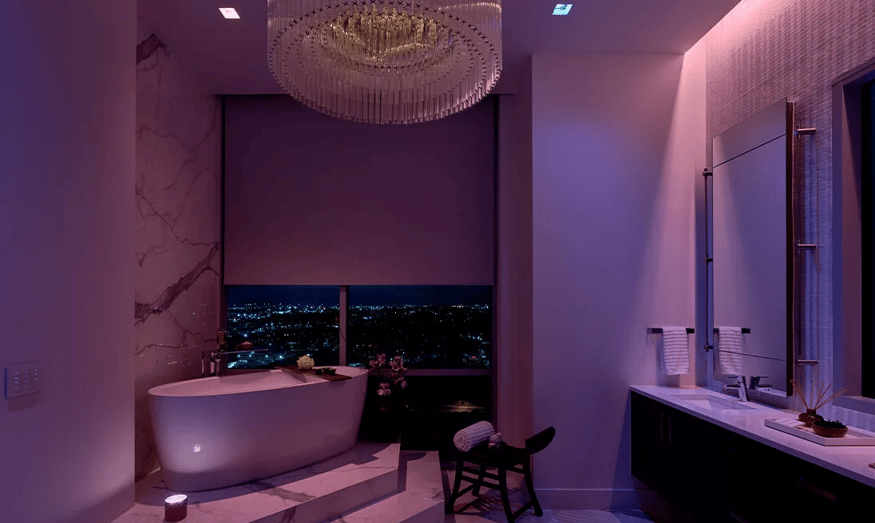 What Is Lutron Lighting?
Lutron's light control solutions give users complete control over the ambience in their homes. Their products offer the flexibility to set automated lighting schedules and edit light intensity, shade levels, temperature and mood in every room.
These lighting control systems are designed to tie a home's illuminations together. With precise control from a single device, this makes it easier to adjust lighting levels and control blinds and window coverings, open motorised roof lights and vents.
Hang on. Surely that's no different to a bog standard dimmer switch? Well, not quite. Above all, Lutron's pioneering tech is built to bring the humble (and outdated) light switch into the 21st century. It's about making everyday lighting control more in touch with the way we live our day-to-day lives.
It all started in 1959, when Lutron founder Joel Spira invented the very first solid-state lighting dimmer. Fast-forward to the present day, you'll find variations of Spira's trailblazing invention in buildings across the globe. So, when you invest in a Lutron system, you're investing in a 60-year heritage of innovation in this space. Something that no other supplier can give you.
How Does Lutron Lighting Work?
Lutron lighting systems and blinds are controlled by stylish keypads installed into walls of the home that allow for brightening and dimming of lights and raising and lowering of shades to balance natural and artificial light. Depending on the system you choose, you'll be able to set preset lighting scenes or create automated lighting sequences based on your preferences - to reduce energy costs, increase comfort and more.
These features can also be linked to a centralised home automation system with wall mounted touch panels like those offered by Control4. Users can also use a smartphone for on-the-go remote lighting control.
More advanced fittings even tie in other automation systems to add intelligent control to gates, bollards, garage doors, fountains and water features and even motorised wine cellars!
Lutron offers a wide variety of system packages that are split between building size, spec, and of course, user budget. At the entry-level, there's the Radio RA2 automation system. This gives homeowners an impressive level of control and integration
Lutron's flagship home automation platform is HomeWorks, designed to offer a luxury lighting solution with almost endless programmable features. With Homeworks there is a huge range of keypads, wireless controls, accessories, and the most advanced shades and blinds available. It includes features such as venetian blinds that can be raised, lowered and tilted easily as well as adjusting automatically.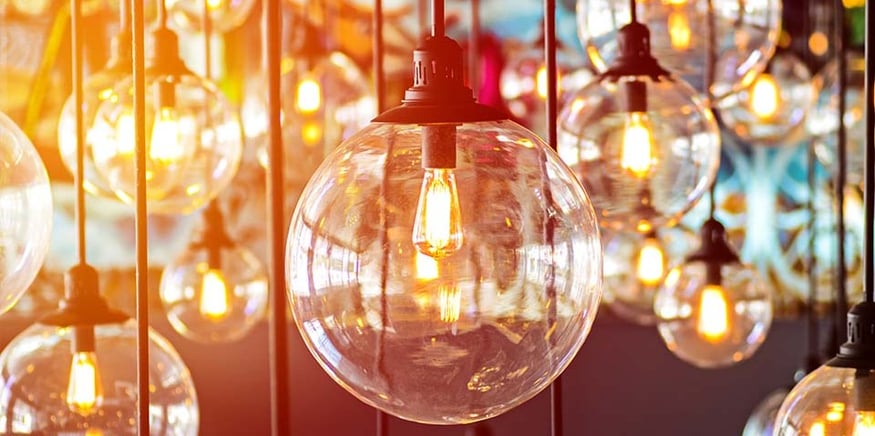 Benefits of Lutron Lighting Systems
With a wide range of light control solutions, Lutron products offer many additional perks, such as energy saving benefits, mobile app control, lighting customisation, keypad control, daylight automation, increased security and personalised home style.
Many homeowners are installing more glass to improve the natural light in their homes. Think: bi-fold and sliding doors. This raises a major problem: how do you safely install blinds to give privacy and comfort at night? Lutron's range of motorised blinds solve this with elegant concealed motors and no dangerous cords getting in the way.
Beyond controlling light quality on an ad hoc basis, you'll be able to create entire home lighting scenes and automate your lights to fit your daily routines - helping you to maintain light levels and limit energy waste.
Still not convinced? In the following section, we'll explore the benefits of Lutron light systems in further depth.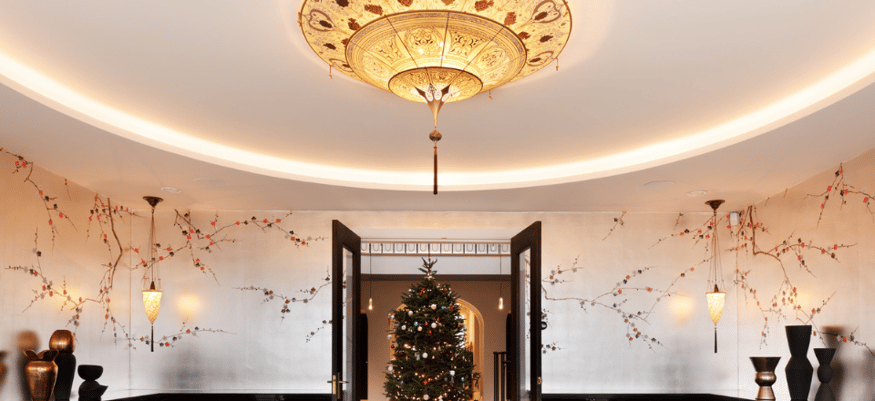 Convenience
One of the major attractions of a Lutron system is the freedom it gives you to control your home's illumination and blinds. Using slick and easy-to-use keypads or their excellent mobile app, you can adjust every area of your home, without needing to tirelessly traipse up and down the stairs.
One button press can switch on six dimmers, each to the ideal brightness for the task at hand. Whether that's relaxing with a great book, tuning into the latest blockbuster, or taking on the big spring clean. This greatly simplifies light switching.
Sounds great, right? Well, what if we could take that a step further. Systems like Lutron's Homeworks feature built-in timeclock automation, allowing you to set up schedules for your lights to change and blinds to rise/fall, without lifting a finger. These schedules can either be set manually, or in accordance to sunrise and sunset. This minimises energy usage and maximises natural daylight in your home. We call it daylight automation, we'll touch on this later.
And, the convenience of Lutron engineering doesn't just end there. Users can also set up geofencing to naturally detect when your connected phone enters the property's boundary. The system will then illuminate your driveway and switch on hallway lights - making for a welcoming return to your home.
Plus, with the exceptional "all-off' button, you'll be able to power down your home on the go, in a rush out of the house or from anywhere with an internet connection. If you're notorious for leaving lights on while you're away, Lutron will be your Holy Grail!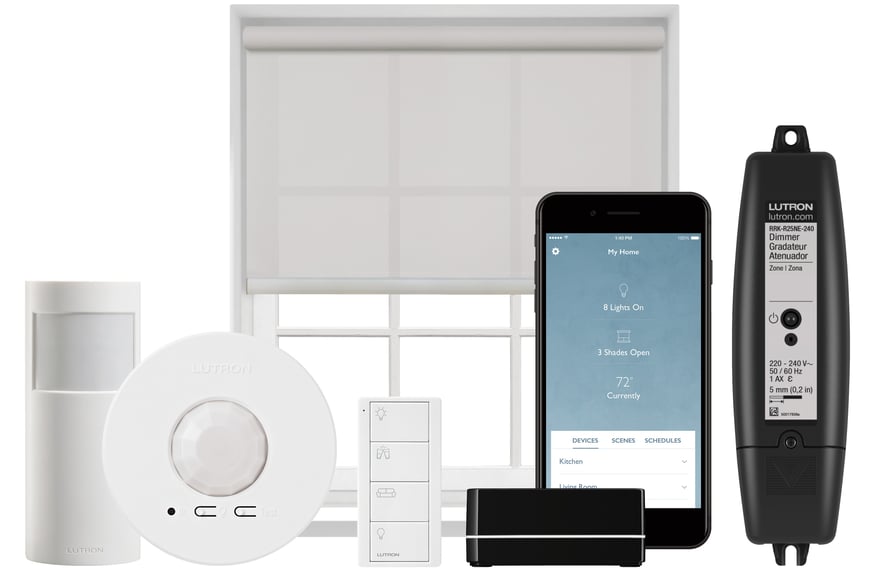 Natural Light & Wellbeing
Experts have long understood the effects of artificial lighting on the human body. When we spend time in a room with ultra-bright, cool-toned light during the daytime it can wreak havoc with our internal body clock, making it more challenging to sleep at night and feel awake in the daytime.
In fact, it isn't just the lux level that matters, it is also the hue, colour temperature, and amount of natural light that make a difference on our wellbeing. A Lutron smart lighting system is designed to overcome the wellbeing pain-points of artificial lights.
Lutron's daylight automation settings can be timed to mimic the outside natural light levels and colouration as closely as possible, using precise sensors and the built-in astronomic clock. This setup essentially works in the same way as a SAD lamp, just on a much larger scale.
Not to mention, through integration with any of Lutron's stylish smart blind products, users can seamlessly pair their systems to recognise changes in outdoor lighting. The system will respond with the right adjustments at the right time. Be that dimming a lightbulb and raising the blinds or vice-versa.
Want to find out more about the effects of smart lights on human wellbeing? We've covered all you need to know in our blog, "How Smart Lighting Can Affect Your Wellbeing in the Home".
Home Design & Style
Forget what you know about dimmer control. With Lutron light controls, you get the ultimate mood light platform for your home.
As any designer will tell you, illumination makes a huge difference on home aesthetic. Lutron systems are designed to boost the elegance, style and class of your property, providing finely-tuned lighting scenes and presets to elevate ambience and decor of your living space.
Plus, if you're chasing complete home style, Lutron provides sleek, elegant switches to suit a wide variety of interiors. There's no place for a confusing bank of light switches in the modern home. Lutron dimmers and keypads are built in a stunning range of colours, textures, and finishes to blend into each room seamlessly, or add a touch of character including options for dolly switches and heritage bell-press type faceplates.
Increased Safety & Mockupancy
One perk of a light and blind control system you may not be familiar with is the safety assurance it can add to your home.
Maybe you're at home. At the office. On-the-go. Whatever it is, Lutron's remote control system means you can manage your home's lights and blinds from anywhere with an internet connection.
Let's say you're having an unexpected late night at the office. Using the integrated Lutron app on your smartphone, you'll be able to switch on your home lights with the press of a button, making it seem as though you're home and the house is occupied.
Or, for longer periods spent away, Lutron's Smart Away lighting setting is the perfect addition to your home's security system. Using a feature known as "mockupancy", Lutron systems intelligently monitor your lighting behaviours and mimics them at slightly randomised timings.
This way, your home appears to be in normal use, warding off prying eyes and deterring burglars from striking.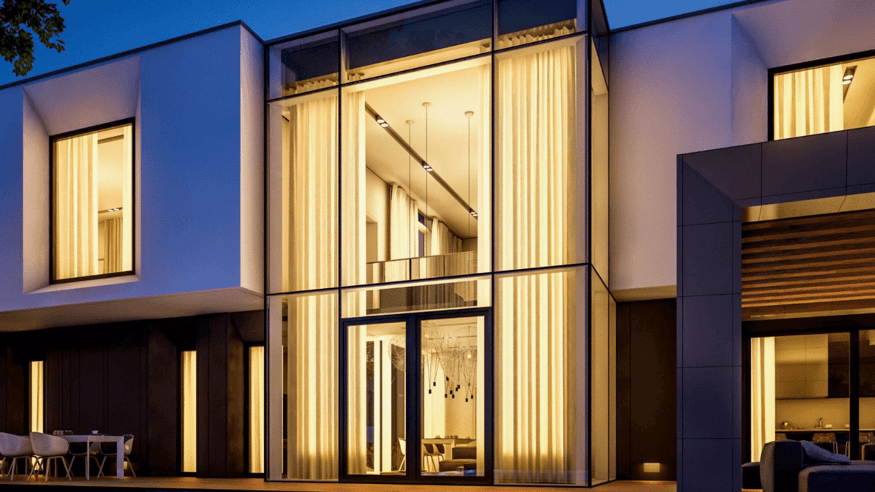 Final Thoughts
Ready to brighten up your home with Lutron light and blind controls? Make sure you do it right. Before contacting any trusted installer about a Lutron installation, make sure to ask yourself the key questions:
How many rooms am I looking to add Lutron to?
Which Lutron system would suit my home?
Which benefits am I most eager to implement?
Am I looking to integrate with my other smart technology?
How will I manage light control solutions in my home?
Do I know where to find a trusted installer who can service, support and maintain my system for years to come?
At Chris Lewis Group we're a Certified Lutron Installer, meaning our experts are highly experienced in the specification, design and installation of Lutron technology.
Maybe you're looking to revamp your home's style or squeeze every last drop out of your monthly energy bill. Or just increase home comfort or manage lighting in each room. We can design residential and commercial solutions that help you do just that. If you can imagine we can bring it to life.
We're also a leading smart home maintenance provider with clients who have remained with us for many years over several properties. Got a problem with an existing Lutron system? We can help.
Get in touch with our design experts today:
Submit the form below and we will be in touch shortly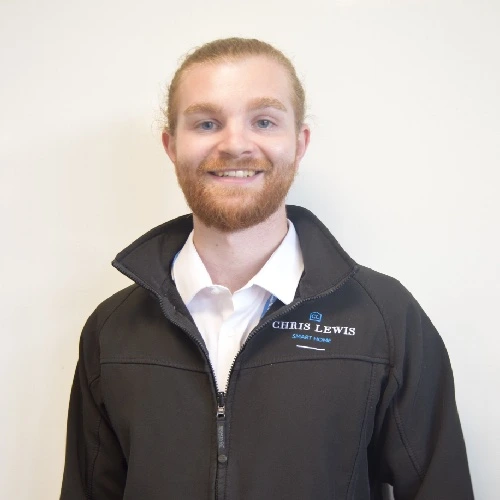 I design new installations, specify system upgrades and support and maintain clients' Smart Technology. My background is high-end Hi-fi systems, but I have upskilled to become an expert in all smart home systems. I pride myself on a personal, practical service that turns complex systems into simple solutions.
One of the most common questions on the internet with regards to smart home technology is the cost. Obviously pricing for a design and installation will differ greatly between projects, but "it.
On its own, a smart home system can transform your day-to-day life, massively improving the comfort and convenience of your property. The more systems you add, the greater the improvements.
When looking for smart home technology to improve your property, it's tempting to purchase the most popular option on the market. Many of the smart home devices currently available to the general.