Are you taking control of your smart home in the most convenient way?
We've all been there. Wet hands. Full arms. Juggling five things at once. Sometimes, pressing a button on a device can feel way more complicated than it needs to be. Sure, it may sound like a dramatic, first-world problem, but the reality is there are just faster, easier and far more convenient ways of living in 2023.
Jump To
Voice control platforms are one of the greatest inventions in the smart tech world, offering a hands-free way to control the things that matter to you. In fact, more than 50% of internet households in the UK now own a Smart Assistant and home app.
If you're interested in adding voice commands to your smart home, this article is for you. We'll explore the benefits of smart home voice commands and how it can take your dream home experience to the next level.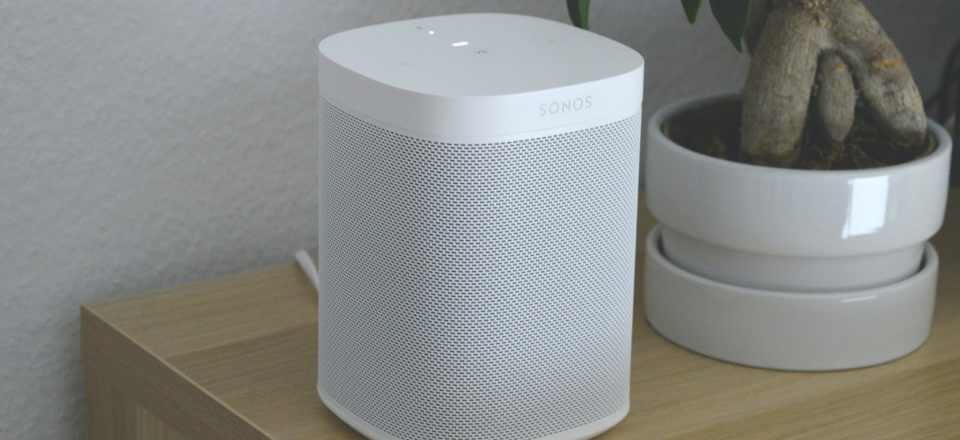 What Is Smart Home Voice Control?
Smart home voice control gives users the freedom to control devices around their home without lifting a finger. Using a WiFi network, a smart assistant like Apple Homekit and Google Assistant can control each device. All you need to activate them are voice commands.
Households can introduce a smart speaker such as the Amazon Alexa to control devices. From home cinemas, thermostats and lights, to locks and security appliances. You can control your home with ease - Alexa, turn on the lights!
How Do Smart Voice Control Devices Work?
Voice-activated devices record a user's audio commands, once a 'wake word' has been spoken. Recordings are then sent to remote servers for instant translation. This process is called Automatic Speech Recognition (ASR).
Most smart speakers are often built with a software known as Natural Language Processing (NLP). This is designed to translate text to understand meaning. Our everyday language is filled with slang, regional terms and short-forms. Using AI and machine learning, NLP helps to analyse natural languages to drive more accurate actions. It's the thing that makes Siri and Alexa so precise.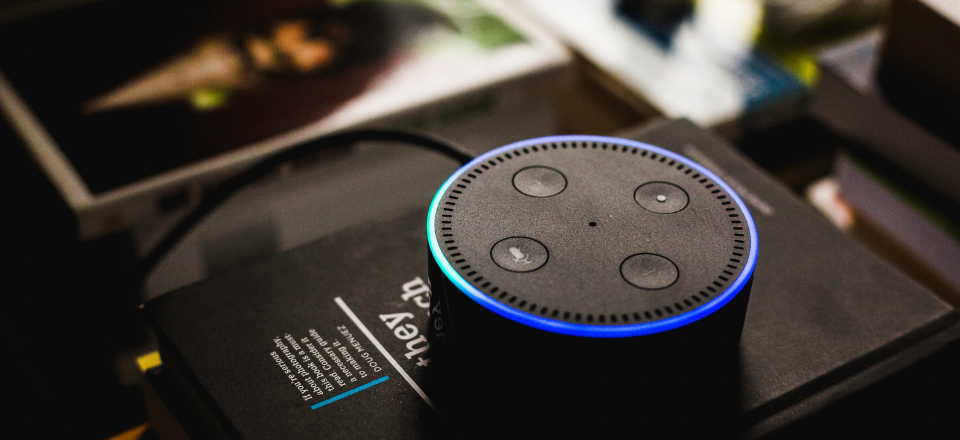 Which Smart Home Devices Can Be Voice Controlled?
There are a huge range of home devices that can be controlled with the voice. From microwaves to doors. The growing demand for voice controlled products has driven exciting new uses for this technology, with thousands of compatible devices.
Control4 are just one of the brands leading this movement. They've partnered with the world's leading brands to make voice control more useful and accessible. The potential applications of voice controlled technology these days are unlimited. Below, we've listed some of the most popular uses of voice activation in the home.
The potential applications of voice controlled technology these days are unlimited. Below, we've listed some of the most popular uses of voice activation in the home.
Sound Systems
Home surround sound systems from brands like Sonos are incredibly Smart Assistant friendly. Sure, every Google Home will be able to play music, but the quality is nowhere near as clear as a good surround sound system.
Using voice commands, users will be able to control volume, playlists, or even more specific controls to shape the sound of their music, like treble and bass. Plus, it's a really simple and quick integration to set up. Any half decent surround sound system will be able to pair with your voice assistant for instant control and audio playback.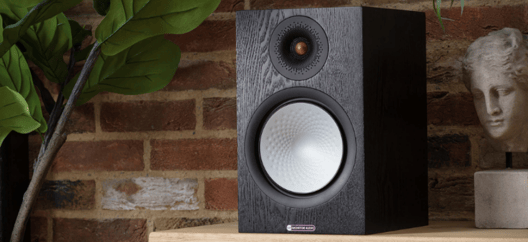 Smart Lighting
Light control solutions from brands like Lutron and Philips Hue allow the owner to refine the ambience within their home using their voice.
While these systems are more commonly controlled using sleek keypads installed into the walls of the home, more homes than ever are moving towards voice control activation for more convenient, hands-free lighting design.
Connecting Lutron lighting to a smart voice control service such as Google Assistant is simple. The Connect app allows you to turn all lights on or off, as well as selecting specific rooms and changing colours or dimming. All you need to do is use simple commands like "Ok Google, dim the lights by 25%".
Heating & Air Conditioning
Smart home heating solutions like Heatmiser's Neo offer smart home owners multi-zone control over radiators and underfloor heating. When paired with voice control, heating and cooling becomes far easier and more convenient.
Homeowners no longer need to rely on ugly thermostat dials jutting out from walls. With smart heating voice control connected to a Smart Assistant, simply use commands for full temperature control with ease, on a room-by-room basis.
For example:
"Ok Google, set the temperature in the living room to 23 degrees"
"Ok Google, turn off the heating in the basement"
"Ok Google, turn off all thermostats"
"Ok Google, what's the temperature in the kitchen?"
"Ok Google, what's the set temperature in the living room?"
Sure, voice control might not be the most informed way of heating your home... but that's not really its job. Like everything voice activated, it simply adds extra convenience to an already feature rich system.
Lutron Automated Curtains & Blinds
Voice activated curtain and blind technology is one of the more popular additions to the modern smart home. With a bedroom smart speaker, users can trigger their blinds to rise or fall from the comfort of their bed.
The wellbeing benefits of this technology go beyond just comfort. With whole-home shading and Smart Assistant integration, users can increase the amount of natural light in their homes. This can improve productiveness in the daytime, sleep quality at night and boost mental wellness.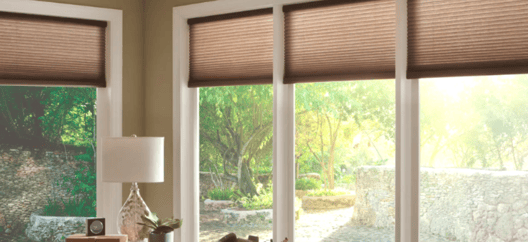 Are Voice Activated Devices Secure?
With any voice controlled device, there's always room for concern over data privacy. While Smart Assistants are generally thought to be secure, there's never any guarantee. It's essential that users follow basic security advice to make sure their data is safe.
So the big question is: are our Smart Assistants always listening to us? The short answer is yes. These devices are always listening, waiting to be activated by a wake word, like 'Ok Alexa'.
There's a method in this madness. Without saying the wake word, the device shouldn't record anything - though this is only true for major models from known brands. We would strongly advise against choosing a Smart Assistant from a brand you don't recognise.
Smart home devices can also allow you to buy products from Amazon or other stores. Naturally, there's always going to be some risk to this. There have been many instances of children using the family Alexa to spend money online. It's crucial that these features are only usable for the owner of the device using voice pin codes on the connected app.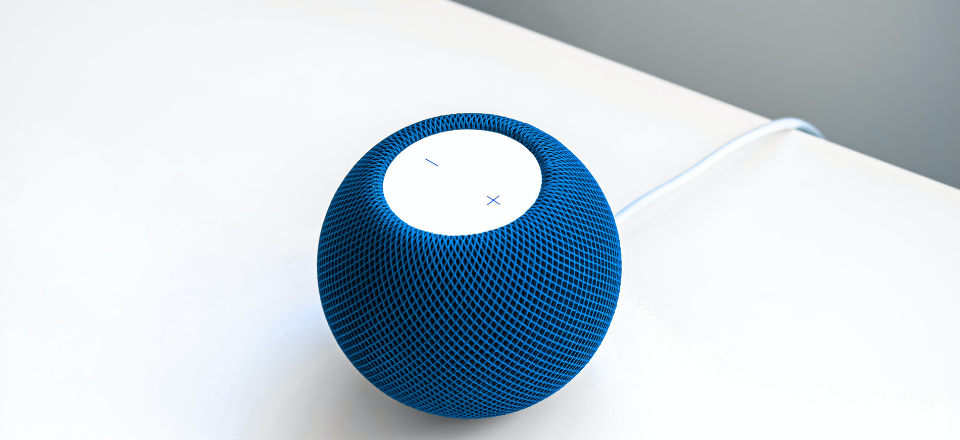 Considerations
Many smart home devices are available off-the-shelf; but be careful what you buy into.
Many have managed to introduce smart speakers to their home on a low budget. Though this only offers a glimpse into the full smart home package. To get the most out of your smart home technology, it's best to choose a professional installation.
Going through a trusted installer will ensure that your smart devices are ultra-secure. Both from a physical and data security point of view. A confident installer will understand how to personalise your voice control to suit your needs. They can design a system that boosts your home security, rather than one that opens the door to nasty risks.
Smart home technology is only continuing to develop and expand. Setting up the basics within your home will create endless uses for the right now, whilst also offering a foundation to add to in the future if you so wish.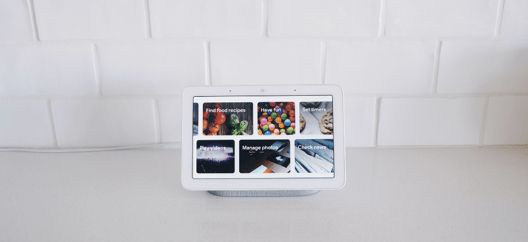 Ready to Upgrade Your Home?
Smart home technology is a great investment which can turn your home into the perfect living space for your family. Installing smart home devices is only the first step. To get the most out of the technology and your budget, it's really important to understand how the devices can integrate, to get the most from the experience.
The entire premise behind smart home technology is to add extra lifestyle convenience to the home. To free up time. To make life simpler. We can help move your home towards this future.
At the Chris Lewis Group, we've been a leading smart designer and installer for over ten years. Our expert engineers have been trusted by South East homeowners to work on a range of buildings. From fascinating period properties to everyday family homes looking to bring their properties into 2022.
Get in touch with our design experts today:
Submit the below form and we will get back to you very shortly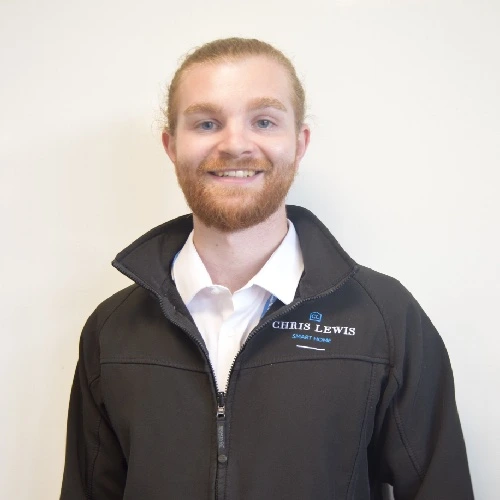 I design new installations, specify system upgrades and support and maintain clients' Smart Technology. My background is high-end Hi-fi systems, but I have upskilled to become an expert in all smart home systems. I pride myself on a personal, practical service that turns complex systems into simple solutions.
One of the most common questions on the internet with regards to smart home technology is the cost. Obviously pricing for a design and installation will differ greatly between projects, but "it.
On its own, a smart home system can transform your day-to-day life, massively improving the comfort and convenience of your property. The more systems you add, the greater the improvements.
When looking for smart home technology to improve your property, it's tempting to purchase the most popular option on the market. Many of the smart home devices currently available to the general.