Advising on and Installing Fire Extinguishers for Over 30 Years
There are an estimated 150,000 uncontrolled fires in UK buildings each year, many of which could be entirely preventable with proper care and respect for fire safety.
Choosing the right fire extinguishers for your building can prevent small fires from getting out of hand. For over 30 years, our BAFE qualified engineers have supported businesses in the selection, installation and maintenance of extinguishers, protecting thousands of buildings and lives in the process.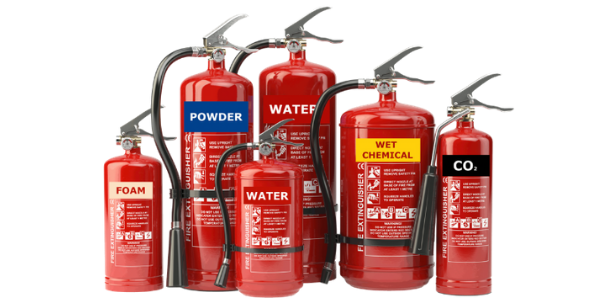 Understanding Fire Classes
When dealing with any type of fire the main priority, once everybody is safe, is to act accordingly based on the type of fire you are dealing with. There isn't one prescribed way to put out every fire. As an example, if you were to throw water over an oil fire this would worsen the flames and cause the fire to spread faster. Property owners should assess the risk their building poses before settling on an extinguisher.
IMPORTANT: You should only consider using a fire extinguisher once everybody has been alerted to the fire and the fire brigade have been called. You should also ensure you are safe from smoke and that the fire is not between you and your only escape route.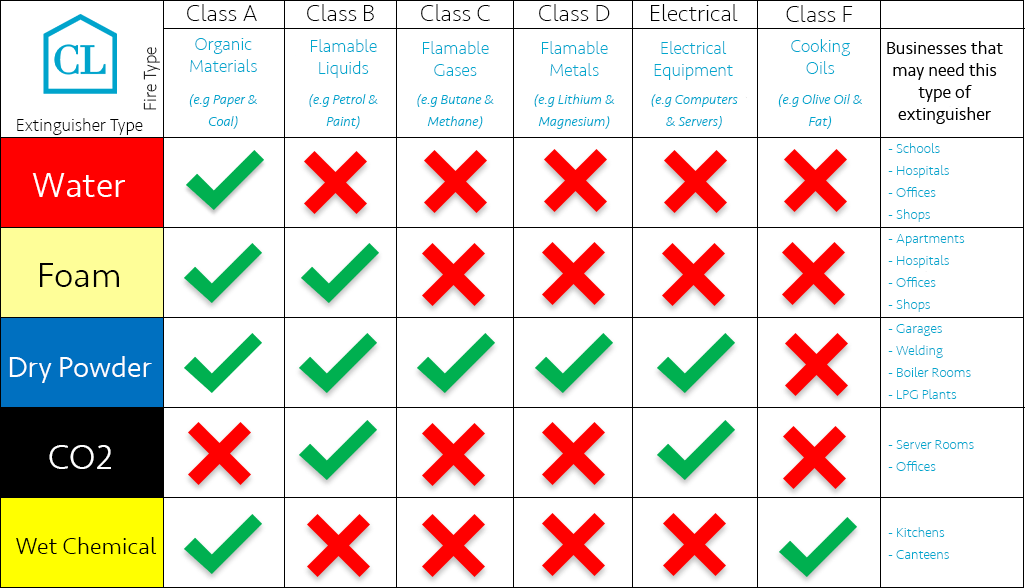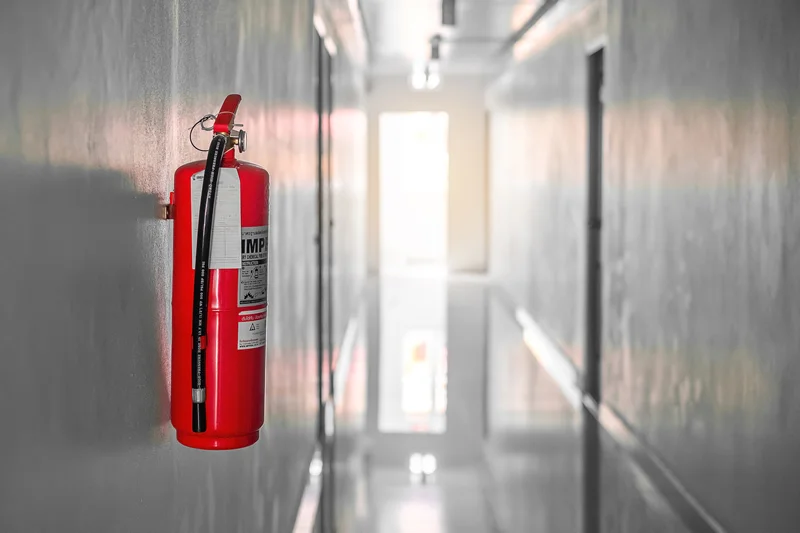 Commercial Fire Extinguishers
It's a legal requirement that all commercial premises have a minimum of two class A fire extinguishers on every floor of the building unless it is a very small premises, in which case one may be acceptable. It's also a legal requirement that they have at least two, 2kg CO2 extinguishers on every floor, and these have to be 5kg extinguishers if there is any 415-Volt rated equipment.
As commercial buildings get bigger, their requirements get more complex. At Chris Lewis, we're here to advise you on your legal responsibilities, helping you to determine the most appropriate extinguishers for your business.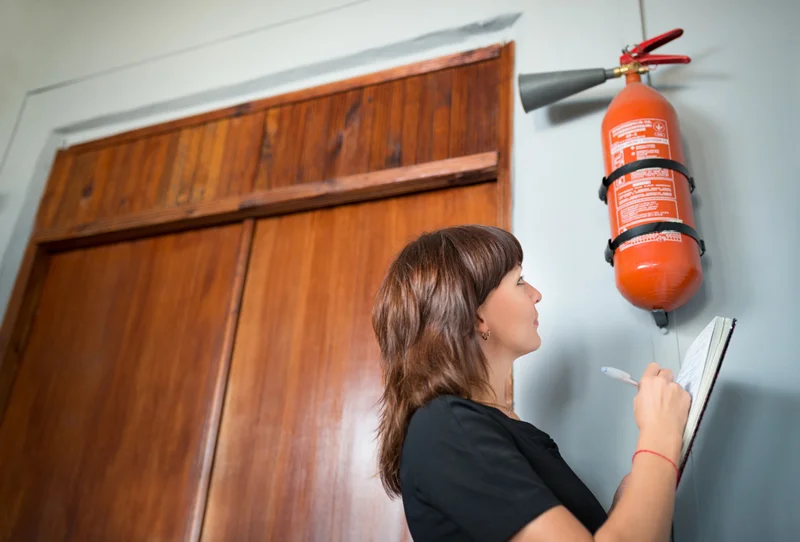 University, College & School Fire Extinguishers
In educational facilities, one of the first things you must do is undertake a risk assessment. This will involve assessing your premises and discovering what safety measures you need to take and where extinguishers are needed. As a general rule in schools, colleges and universities, there should be one Class A fire extinguisher available every 200m2, with at least two of these per floor.
Naturally, every building will present its own unique risks, and the specification process can quickly become complex. As BAFE registered school fire extinguisher specialists, we can help you keep it simple. We're here to support you with specification and installation from start to finish.
Fire Extinguisher Commissioning & Servicing
Building owners need to have their fire extinguishers commissioned on-site by a competent person to the BS 5360-3 standard before you can certify that you have fulfilled your responsibility in accordance with your commercial fire risk assessment. This commissioning even applies to brand new extinguishers as they could have been damaged, discharged, or suffer pressure loss during delivery.

After the initial commissioning, in accordance with the BS 5036-6 regulation, you must visually inspect your extinguishers monthly to ensure they're in good condition. You must also have them undergo annual maintenance, and then an advanced service every five years. Note: CO2 extinguishers are higher pressure and so require different servicing, with an extended service required every 10 years.
What can Chris Lewis do for you?
At Chris Lewis Group, we recognise that every building is different. It can be confusing to know where to start with fire safety in your school, college, or university. Our expert technicians are here to help. We can advise you on the best fire extinguisher solution for your organisation, and your legal responsibilities moving forward.
Plus, with our extensive maintenance packages, including annual inspections, we can ensure your school remains safe and compliant both now and long into the future. Already have fire extinguishers not currently provided by us? No problem. We can service and commission fire safety equipment regardless of the original provider.
Looking to connect with one of our experts on your requirements?
Submit the below form and we will get back to you shortly to discuss your fire extinguisher requirements.
Latest Fire Protection News
---