Businesses are starting to rethink their security strategies thanks to new technology. This is especially true when it comes to CCTV and access control.
Jump To
Like other building systems these become less effective over time with newer, more robust solutions on the market. Upgrading your security is essential to keeping your building and its occupants safe. That also goes for any valuable equipment and assets.
Where CCTV monitors potential security threats, access control authorises entry to your premises. Integrating these two technologies opens the door to a wider range of security features.
Instead of managing them independently, these systems can work together. In turn this makes them more convenient to use and easier to manage. Not only that, integration can also help future proof buildings as we adopt more IoT (internet of things) technology. Investing now could help enhance the effectiveness of your security strategy.
This blog explores how CCTV and access control can integrate. We'll explain the benefits this creates and what you should consider when upgrading.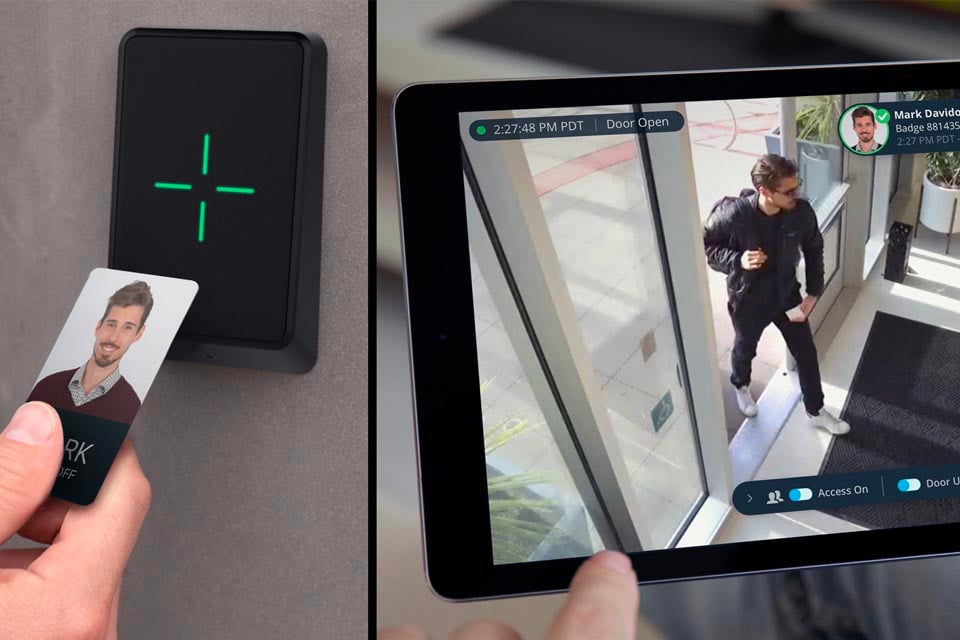 Pairing Access Control and CCTV - How Does it Work?
The purpose of access control is to prevent intruders from entering a building or specific rooms. Meanwhile, CCTV offers around the clock surveillance to visually identify security threats. It's not hard to imagine how the two can converge to offer a better level of security
In the past these have been separate, each with their own management system. Now they can integrate in a number of ways, depending on whether you use proprietary or non-proprietary hardware.
What do we mean by this? With proprietary hardware you are locked into that manufacturer's ecosystem. However, non-proprietary hardware can pair with solutions offered by other manufacturers. This enables wider integration opportunities which tends to be more cost-effective.
Firstly, you can pair IP cameras with access points to record when people are entering or leaving. This produces a timestamp that can then be cross-referenced with the access control credentials used at that time. Reviewing the access events list, you can click on the event and see 10 seconds of linked footage.
This is a simple method of integration that could benefit your existing security system. In the event of a breach, security managers can easily view who used the associated access point.
You can make this more proactive by using video software such as that offered by Verkada. Smart analytics unlock a wider range of features to add an extra layer of security to access control.
But how does this work in practice? Let's illustrate using some quick examples.
Video Verification
Let's say you have an access control system that has not been integrated with CCTV. It will rely solely on security credentials in order to grant or deny access to a building. These credentials will vary from older tech like keypads, key fobs and keycards, to more advanced contactless solutions. These include mobile credentials and even the use of biometrics.
In the event of a door being forced or left open, a trigger will be alarmed. If your access control system uses keycards, there's a chance intruders may enter your building via a lost, stolen, or replicated card. Operating on its own, an older access control system won't trigger an alarm or mark their entry into the building as a security breach.
However, if you were to pair your access control and CCTV, you can improve your security to be more proactive. For example, you can program CCTV to record when someone attempts to gain access via a control point. IP CCTV cameras with advanced video analytics can determine whether the credentials a person provides matches the person being recorded. You can set up the system to trigger an alarm in the event that an unauthorised person is using someone else's credentials.
Even in this one scenario, the benefits of pairing access control with CCTV are clear. Using older systems, you need to manually review events lists and CCTV video streams. This is an ineffective, reactive strategy. Meanwhile, integration allows you to be smarter and more efficient. You can combat security threats automatically, saving time and resources.
Tailgating
Integrating also highlights when there is a tailgating event. In these scenarios, one authorised person could enter, but is then followed by several other people. Old systems can't detect this though integration between CCTV and access control will spot tailgating.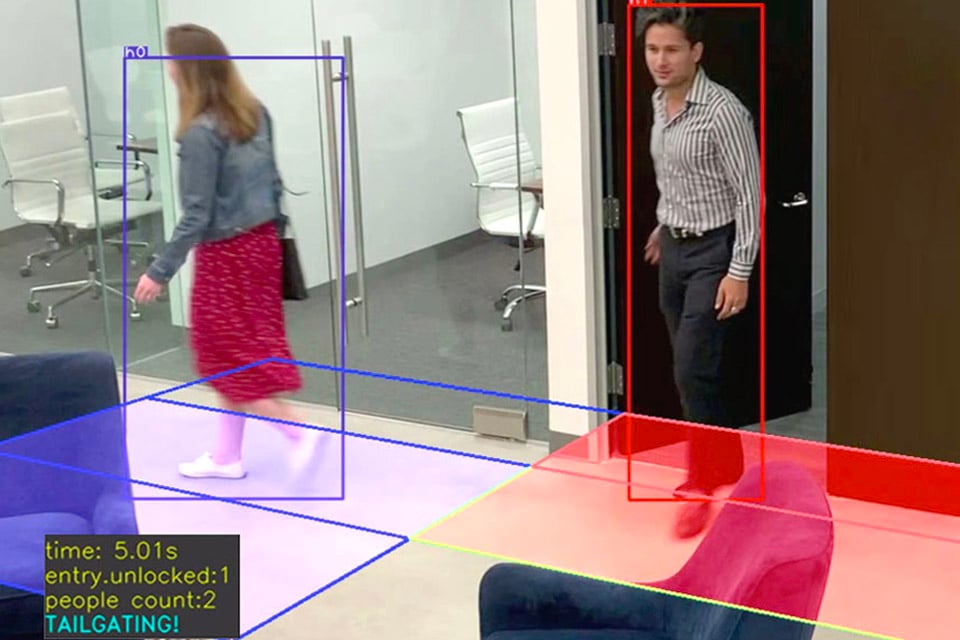 The Benefits of Integrating Your CCTV & Access Control
Creating a heightened level of security is obviously the major benefit here. You can integrate access control to improve the safety of occupants and any valuable assets. There are other advantages to consider.
Integration can help shift away from a reactive approach to a responsive one. Reactive security management is after-the-fact with staff reviewing footage for post-incident investigations. However, a responsive approach is driven by smart technology, monitoring and combating threats in real time. Automation can reduce the need for 24/7 security personnel, driving down the cost of your security operations.
Ease of use is another major perk that makes integration more attractive. Integrated systems allow you to manage and monitor the physical security of your premises through a single platform. This comes complete with a powerful database of trigger events and videos.
As an extension, CCTV and access control now offer greater cloud integration opportunities. This allows remote monitoring to review threats anywhere and at any time, without needing to be on-site. Cloud storage scales in a convenient and cost efficient manner, without the headache of installing hardware.
What Else Do I Need to Know?
The level of integration can vary depending on your own setup. Not all access control system manufacturers integrate with CCTV systems. Whether installing a new security system or upgrading, our security experts can help. We'll determine the most suitable option for your building, making sure they operate and integrate seamlessly. You can read more if you're curious whether it's time to upgrade your CCTV system.
To make sure your security solutions are truly robust, you should stay aware of technological developments. Access control trends for 2023 are centred around contactless functionality and implementing better security credentials. Keypads, fobs, and cards are steadily being phased out in favour of newer alternatives. These include mobile credentials and biometrics such as iris scanning, fingerprints, and voice recognition. These can be made even more secure via two-factor authentication (2FA). These solutions may seem futuristic but are becoming more accessible to security managers.
Meanwhile, CCTV cameras are becoming more adaptable to our everyday needs. Cloud storage is completely changing the way we store, process, and review video data. Storing footage on remote servers introduces a number of perks for those wanting to upgrade their security systems. It can remove the need for expensive proprietary hardware along with the costs of maintaining them. For more information, here's an expert's guide to cloud CCTV storage.
Finally, it's important to consider other integration opportunities. Smart building solutions can help with occupancy monitoring, fire safety, and creating a better working environment through the automation of heating and cooling.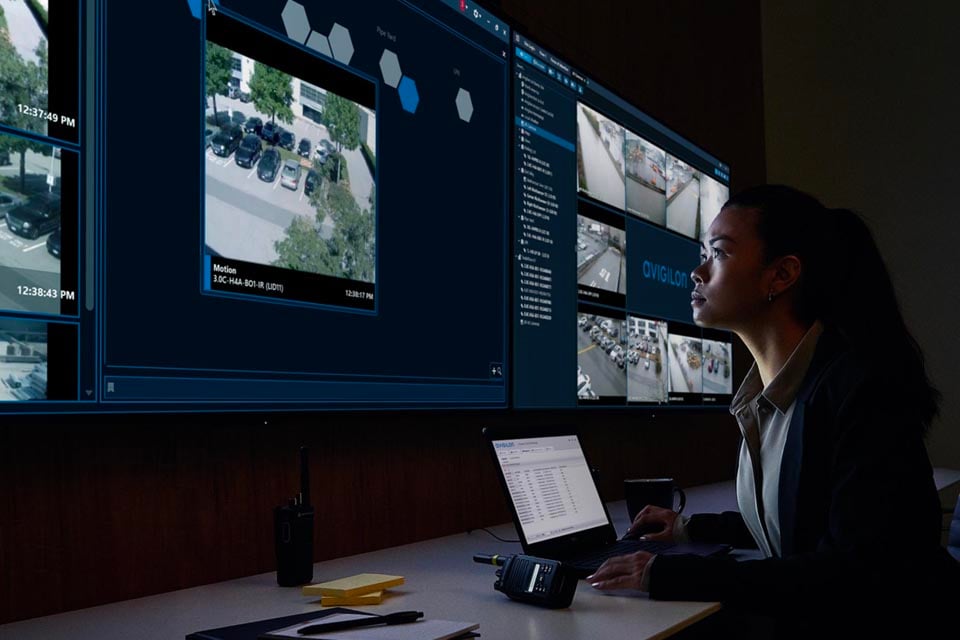 It's Time to Integrate Your Access Control & CCTV
Smart integration between systems is the future of security. Upgrading or installing new systems may come at a cost, though the convenience and effectiveness can far outweigh your initial investment.
Integration provides a range of benefits, creating a more reliable, proactive security strategy. Other advantages include improved convenience and cost efficiency. However, to reap these benefits you need to make sure your systems are compatible. With years of experience working with the latest smart security technologies, Chris Lewis can help. We will provide access control and CCTV solutions to suit your exact requirements, giving you peace of mind.
Whether installing or upgrading, we will support you in getting the most out of your access control and CCTV. We're also happy to advise on other smart building solutions to help future-proof your premises.
---
Talk to us about your CCTV and Access Control requirements
Complete the contact form below and we will get back to you very shortly.

I run our sales, technical design and marketing initiatives for the business. I work closely with manufacturers and trade associations to keep abreast with the latest technology and regulations making sure our clients are getting the very best and latest systems available.
Are you looking for a new CCTV system and want to know if Cloud is right for you? After relying on NVR storage for the best part of 50 years, homeowners and businesses are moving their security.
When considering which CCTV cameras and systems to install, security is paramount.
The cloud-based security market was worth over $46 Billion in 2022, and that value is expected to more than triple in the next decade. The shift to cloud rather than on-site data storage has.