Security Systems
Chris Lewis is one of England's most trusted security companies. For over 30 years we have specialised in providing security systems for commercial properties, homes, schools, colleges and universities. No matter the venue, Chris Lewis Security Systems are dedicated to keeping what's important to you, safe.
Chris Lewis Security
Whether you're looking for a full design, installation, and care plan package, or just someone to maintain your existing security system, our team of dedicated experts are here to provide the best security equipment and services available today.

CCTV Systems
We supply high quality CCTV installations, bespoke to your building or requirements and completely free from blind spots. As an authorised reseller partner to Verkada, Avigilon and Hikvision - we supply and install some of the finest CCTV systems in the U.K with high definition recording. We can also offer cloud CCTV options with unlimited storage capacity.

Intruder Alarms
Chris Lewis burglar alarm installations provide many benefits and features, from 24/7 monitoring services to automatic police response and remote operation. Chris Lewis advanced intruder alarms are supplied with door and window sensors, and can include pet-friendly sensors, smartphone functionality, or even biometric access control integration.

Access Control Systems
Our highly trained team of experts can design, install and maintain access control systems with a wide range of features. We can supply everything from basic fob and key card security access through to advanced biometric access control systems or smartphone security tokens/credentials. Our highly experienced and NSI accredited security system installers are on-hand and dedicated to ensuring your premises are fully secured against any threat.

Security Gates & Barriers
Our security gates and barriers provide unrivalled security against intruders. From commercial and education settings to homes and residential properties, Chris Lewis security gate and barrier installations are custom designed to keep your premises fully secure. With ANPR integration, video intercom systems or programmable opening and shutting, our security gates and barriers aren't just convenient, but can also be as discreet as they are secure.

Security Shutters
Chris Lewis Security Doors feature custom sizing options and can be designed to secure any type of property. Our high security doors are purpose-built to deter any intruders and can be installed with motorised locking, sound insulation, or even fire resistance - providing secure access points that can resist almost anything.

Security Doors
At Chris Lewis, we offer custom sizing and bespoke designs for security doors, all of which are purpose-built to deter any intruders. Not only that, we can install doors with motorised locking, sound insulation and up to FD240 fire resistance to ensure your door can withstand anything.

Security System Monitoring
Chris Lewis security services don't end once we have installed your security system. We offer long term system maintenance and support packages to all our customers, and are dedicated to making sure your security systems remain online and effective. We also provide security system upgrades, health checks and system takeovers.

Keyholding Services
With over 30 years experience in the security industry, Chris Lewis keyholding services are always on hand to protect and safeguard residences and businesses. Whether you need professional key management, emergency access or property checks, we provide rapid response, 24 hours a day, 365 days a year.

Security Technology
At Chris Lewis we are official partners and suppliers of leading global security equipment bands, ensuring that every aspect of the security systems we supply and install are effective, long-lasting and high quality. From the smallest CCTV camera, to industrial access gates, Chris Lewis Security equipment is trusted across the UK.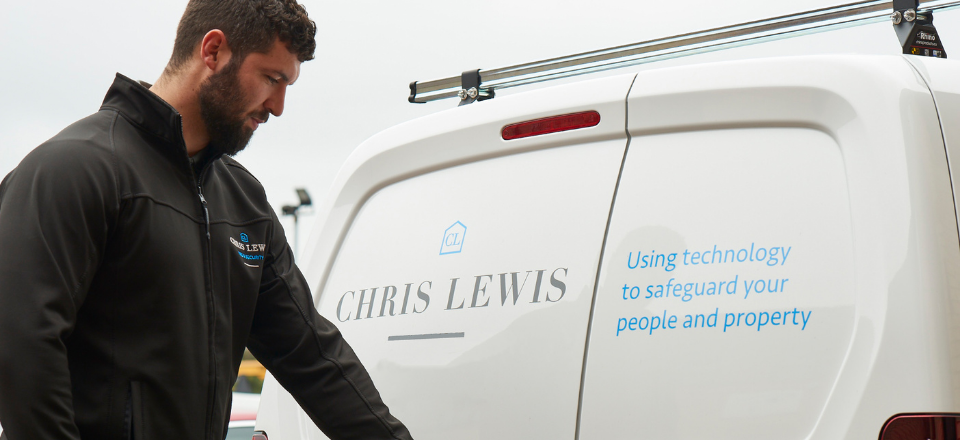 System Maintenance
It's our duty to uphold strict security standards to ensure your system is there for you when you need it most. Our professional security system engineers are here to support all your security system maintenance needs. With a range of maintenance packages to suit any budget, and 24/7 callouts, we ensure your security system is proactively guarding your premises at all times.
Contact Chris Lewis Security Services Today
Submit the form below and one of our security system specialists will be in touch shortly.
---