A bespoke turnkey home cinema can be one of the most rewarding investments for the modern homeowner. Whether you're an avid gamer or a keen blockbuster-er, those who have the space (and time) to build their dream home cinema system can indulge with high quality sound and entertainment.
Of course, it doesn't always come cheap. Audio visual tech moves at an incredible pace - and those who invest in the wrong places will be left in the dust. So, where do you start?
From sonically-perfect surround sound to 4K projectors with crisp, clear motion; today, home cinema means more than just a big TV and some movie posters. Powered by countless AV systems, here's our list of everything you need to think about before you build your ultimate movie room.
Jump To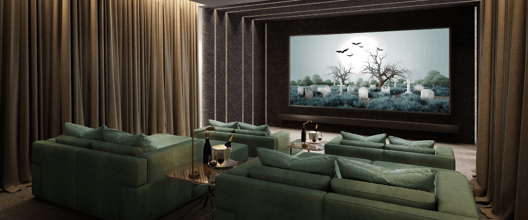 Consider Your Home Cinema's Location and Layout
The room and setting should be the first concern for your new cinema. Most customers will have a place in mind, though not everyone is blessed with an abundance of free space. Luckily, a great home cinema project doesn't always depend on space. There's a huge range of impressive tech from leading AV companies to suit rooms of any size. They can even work within standard living room setups.
Location
Home cinema setups can vary wildly. Many customers will convert an existing room into a dedicated cinema room. They may use spare bedrooms, office spaces, basements or even garages. While often more expensive, these offer a more unique, authentic cinema experience. Other customers choose to go for a TV-based cinema system in their living room for a less costly option.
Before you proceed with the install, think about the rooms that connect to your cinema space and weigh the risk of distractions that could affect the viewing experience. Some media rooms will need to be soundproofed with acoustic panels to stop sound leak and bass boom, and increase sound clarity.
Layout
Layout is incredibly important to the design of your home cinema. The shape of your home cinema room - and the empty space within - will influence everything. It will affect the AV tech you can install; the size of your screen; the type of sound system you use; the interior design; and even if your seats can recline. Certain AV techs like Dolby Atmos also require specific calibration to deliver surround sound and directional audio. The amount of space in your room will impact how effective this is.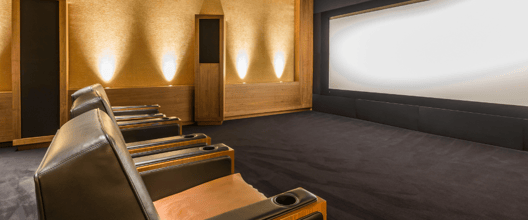 Home Cinema Screens and Projectors
The screen is the centrepiece of any great home cinema. Whether you stream Soccer Saturday or blockbuster films - pristine, crisp resolution sets an outstanding cinema system apart from a standard 1080p/4k TV.
Customers have two options when it comes to cinema visuals: projectors and projector screens, or standard TVs. This will depend on the size and space of the room, and the preference of the homeowner. High-end projector setups cost more than their TV counterparts, due to the extra components needed, but there's no real substitute if you want to build a "real-life" cinema inside your home. This setup is about as close to the cinema movie watching experience as you can get.
Television Cinemas
Television cinemas are the go-to for those with limited space or a more modest budget. While they may not be what most would define as "home cinema", today's high-end TVs stream in stellar quality and offer a fantastic experience for all types of content. The LG OLED series is a great example. With 4K HDR, rich colour palette and contrast that brings visuals to life beautifully, the OLED series is perfect for living room cinemas and gaming rooms.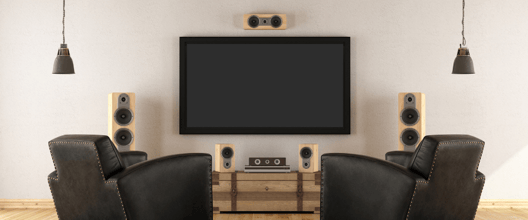 Projectors
Projection tech is now more available to the homeowner than ever - and it's quickly improving too. Cutting-edge projectors like Sony's Professional range and the JVC DLA-NX9 have transformed the home cinema game. Using 48Gbps-capable, 8K/e-shift HD, they reproduce images with amazing precision and high dynamic range at scale. They also use a laser light source to ensure complete screen brightness and clarity - a known drawback of older setups. Some companies even offer ultra short throw projectors which can sit below a screen to display an impressive 100" picture from only 30cm away.
Projector Screens
The choice of which projection screen to use is also important. The "gain" factor of the screen you use (which measures how much light is reflected) will affect the final result. Most cinema rooms are dark spaces, meaning a low gain factor is best for peak picture quality. We often recommend products such as Projecta's HD Progressive screen material. This is an incredibly smooth surface, free of microscopic dips and grooves, that guarantees no loss of detail to your picture.
Not all Cinema rooms will be a dedicated, cinema-style space. For multi-purpose rooms with higher natural light, Screen Innovations' fabrics can reject ambient light in the room by up to 85%. We have even used these setups in gardens with great success. Another option for a more multi-purpose space is an acoustically transparent screen that allows you to place speakers behind it with no loss of sound quality.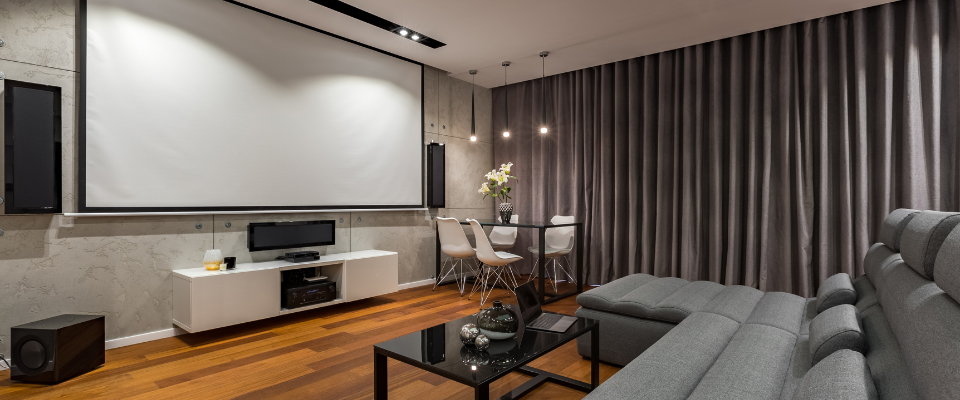 Speakers and Surround Sound Systems
Sound systems can make or break your home cinema setup. An audio system is maybe the most vital feature of any cinema experience. If your cinema doesn't offer an immersive, all-encompassing soundscape, then you're missing a trick.
Surround Sound
For an immersive, cinematic experience we recommend a simple surround sound system. It should be installed at ear level around the room to direct sound towards the viewer from a range of directions. Thankfully, with most makers and packages, surround sound systems can be scaled to suit your needs and budget. So, you can start small and expand over time.
Many customers start with a 5:1 arrangement (3x front speakers and 2x surround) and grow into a 5:2:1 setup (five surround speakers, two overhead speakers, 1 subwoofer). There are even 7:2:1 setups, which add two additional speakers to the mix. Ultimately, your setup will depend on what you want to achieve, and the size and shape of your room. It's worth asking your supplier to assist you in the design process.
For a best-in-class system, we recommend looking at Dolby Atmos systems. As a new standard, Atmos can process 128 channels of sound at once that can be received by up to 64 speakers in your setup. The room receives a complete calibration, so audio mixers can precisely place vivid, realistic sounds and voices at exact points in the sound field, rather than through a single channel.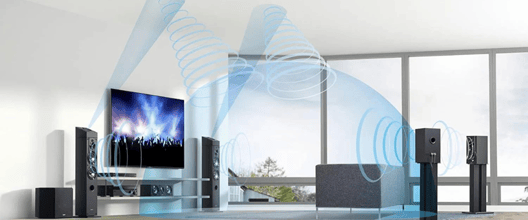 Living Room Speakers
While living room cinemas can be fitted with more premium speaker arrangements, many opt for more budget-conscious and space-friendly choices like soundbars.
There are a variety of off-the-shelf soundbar, bluetooth or stereo speaker options on the market for smaller living room setups. While these will offer better audio than the in-built television speakers, be careful what you buy into. There are no real conditions for what can be labelled as "home cinema" or "surround sound". For the real deal, we'd advise you invest in a bespoke option from Bowers & Wilkins, Triad, Sonos or Monitor Audio.
Otherwise, for those who want something more profound, in-ceiling speakers are a great way to boost the cinematic feel. Paired with a soundbar, you'll be able to experience the full effects of directional surround sound. Plus you can do this without speakers placed at floor-level around the room. Sonance's plastered-over invisible ceiling speakers are a great option for those looking for surround sound without impairing style or perfect placing. This is most true in period homes or more traditional living spaces.
Smart Lighting Systems
Dedicated cinemas are designed to be dark and free of light. Lighting should ideally be subtle, and controlled/automated in line with the experience. It shouldn't distract from the entertainment system. Your best bet is to install dimmed illuminators that don't distract, but help people to find their way around the room. If your cinema room has windows, it's worth buying blackout fittings such as blinds and curtains to remove the intrusion of natural/external light.
Dimmable LEDs are often used in overhead lighting or built into the floor around the seating. Both of these can be used with wall lights to provide extra lighting when needed. By integrating smart lights and an operating system like Control4, users can even set custom lighting and light or dark colour "scenes", based on the content they are viewing.
Or, for those looking for extra pizazz, starlight ceilings are also an option. This lighting design features hundreds of miniature fibre optic LEDs (stars) to perfect the room's ambience, that reminds you of a stunning, cloudless, starry night sky. Starlight panels can also be acoustically treated to complement the audio surround sound in your home cinema, and tailored to suit both modern and retro styles. This can give you the perfect balance of ambience, aesthetic and quality.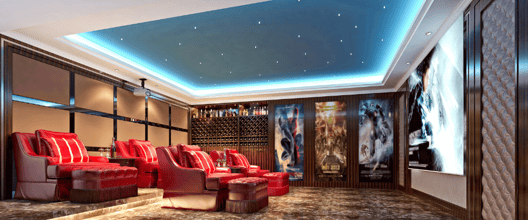 Home Cinema Seating
Home cinema seating isn't a standard living room affair. Customers like to invest in seating that adds to the cinema experience. This could be anything from top-grade leather armchairs, to powered footrests and swivel trays.
Buying single recliners can quickly become expensive. It's worth working with a provider to discuss your options. Examples include single-seat recliners, luxury twin seats, or armless models that can create a row of seats for your family and friends to use. Plus, modern cinema seating can come with built-in drinks holders, hidden storage, USB charging ports and all manner of other additions. Habitech's DayBeds are a popular choice, with tailor-fit options on offer with a range of accessories.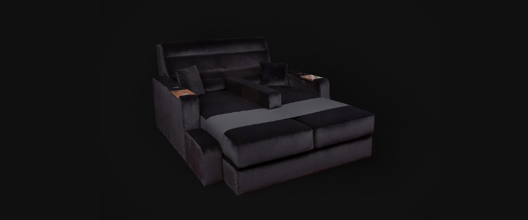 Home Cinema Automation
Home cinemas work best when they integrate with smart home tech and use what your operating system and control panel have to offer. Automation can turn a good home cinema into a great one. They can seamlessly combine all of your AV tech into one slick and easy-to-use dashboard, control panel or remote. Plus, with operating systems like Control4's OS3, you can switch between your favourite streaming services, thanks to native integration with Prime Video, Netflix and even Spotify.
Instead of juggling several clickers, one click on your remote or a touch of an app can kick-start the entire film setup. Many automation systems can extend beyond just streaming content. They can be set up to trigger blackout shades, dim room lights or change to certain colours. Or they can turn on the surround sound, the screen or projector and start the film with just one tap or press. Control4 offers extra layers of complexity: you can configure an "Intermission" that lights a pathway to the exit; a "Clean-up" scene that triggers the lights at full brightness or even a "Game Time" scene to keep front lights activate, so gamers can see their controls.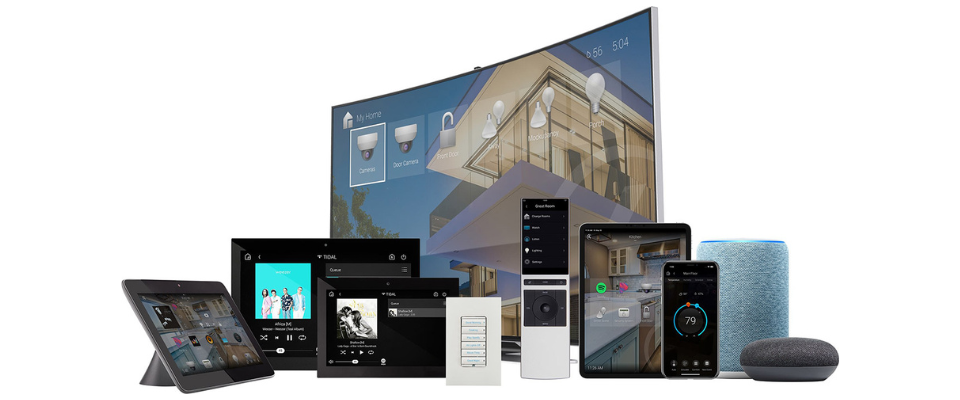 How Much Does a Home Cinema Cost?
A bespoke cinema installed by a professional does not come cheap, but it beats the DIY option every time. Depending on your specs, there are more budget-friendly alternatives that can make your build cheaper. It's worth setting aside your budget and getting a grasp on what you want to achieve before you invest in any technology.
Our professional home cinema installation service is available in four tiers. These scale up depending on your budget and the tech you want. We will have an option suited to your needs.
System Cost

Seating Cost

Room Acoustics

Bronze

£25,850 + VAT

Starting from £3,200 + VAT

Starting from £20,000 + VAT

Silver

£43,450 + VAT

Gold

£63,745 + VAT

Platinum

£141,350 + VAT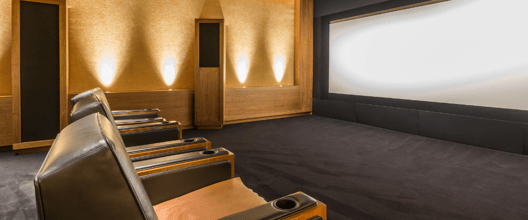 Final Thoughts
A luxury home cinema design provides homeowners with the quintessential entertainment room. It's a place where you can enjoy some quality alone time, be with family or entertain friends.
Judging the different tech, lighting and sound systems, and how they will work in your space is much easier when you work with professional home cinema experts. Chris Lewis Group can help you through this process. We install systems and provide upgrades and maintenance as you need through our home cinema care plans.
No matter your specs, our specialist design team can work with your space to install systems that deliver the highest possible quality in a style that works for you.
If you'd like to learn about other smart home technologies that can transform your property, check out our Ultimate Smart Home Design Guide.
---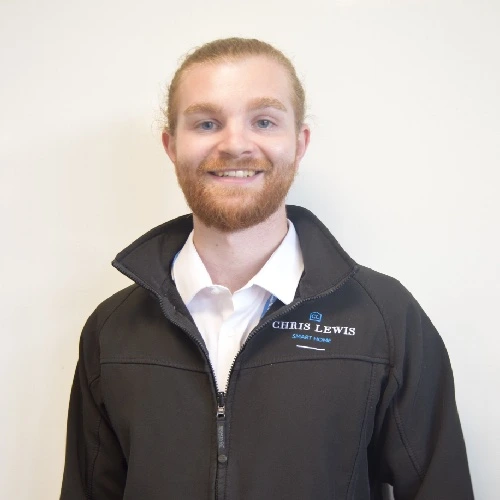 I design new installations, specify system upgrades and support and maintain clients' Smart Technology. My background is high-end Hi-fi systems, but I have upskilled to become an expert in all smart home systems. I pride myself on a personal, practical service that turns complex systems into simple solutions.
A new home sound system can overhaul the feel of your home. Whether perfecting the vibe for hosting or adding depth to the latest blockbuster, great surround sound can totally transform your home.
Summer is finally here. With the days growing longer and temperatures set to soar again, it's the perfect time of year to enhance your garden.
More businesses in the UK are now leasing their fire, security, and AV systems in the same way that they might lease vehicles, equipment, and machinery needed in their day-to-day operations.