Does your current intruder alarm system feel outdated? With UK crime rates rising year-on-year, there's no room for taking chances.
In fact, a staggering 265,508 UK burglary offences were reported in 2021 alone. At least 74% of police forces across the country have reported a rise in the last three months.
Jump To
While many home and business owners rely on their traditional intruder alarm systems to keep them safe, these systems are still far from fail-safe. The blaring sirens of a "bells-only" alarm may not be enough to deter thieves. Many serial burglars will already know what they're dealing with.
If you're concerned about the security of your burglar alarm, it may be time to consider a smart upgrade to protect your home.
But what is a smart alarm? What can it do for you? How does it differ from a normal "bells-only" alarm?
Fear not! We've got you covered. In this blog, we'll explore the benefits of installing a smart alarm, and how it can take your building's security to the next level.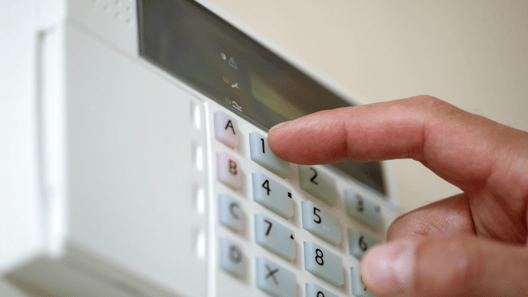 What Are Smart Alarm Systems?
Smart alarms are WiFi-based intruder detection systems that make it easier to monitor and secure your site. These systems often have a range of benefits when compared to standard alarms:
Monitor Your Home Remotely

Instant Alerts & Notifications

Motion, Glass Break & Door Sensors
Remote Troubleshooting
Integration with other Security Devices
Smart alarms connect the user straight to their security alarm through a smart app. They can alert you to movement out of hours, and give you the ability to monitor the situation in real-time. You can also arm and disarm the system through the app from anywhere in the world.
When your alarm is triggered by a door sensor or motion detector, you'll get a push alert to your phone that tells you exactly when and where this happened. You can even sync a camera to the app to show you video footage of the event.
So, what makes these systems 'smart'? Good question! Unlike traditional systems, smart home alarms aren't designed to be used on their own. Through integration with other smart home devices, you can design a powerful setup that actively guards your property around the clock. It doesn't matter whether you're at home, or on the other side of the world.
Take integration between CCTV, intruder alarms, and access control systems, for example. Your systems can alert you to an intruder on site as soon as they cross the boundary. You can then check live CCTV footage, lock your doors, and call the police. Peace of mind - all at the touch of a button.
But what makes smart alarms more secure? And how do they differ to the traditional burglar alarms we're used to?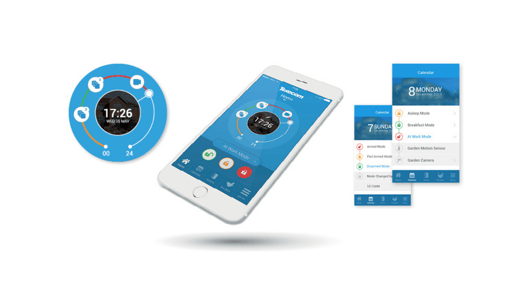 Traditional Intruder Alarms vs Smart Intruder Alarms
Unlike traditional burglar alarms, smart alarms offer a more proactive approach to security.
A standard alarm system only sounds once the building has been broken into. This is one of the technology's greatest flaws.
On average, it takes less than a minute for an intruder to break into your home, and 8 to 12 minutes to get out. This leaves a brief window for police or security staff to respond. The average police response time in 2021 was 11 mins 51s to rural sites and 7 mins 56s in cities. By the time they arrive, it's often too late.
Smart alarm tech can speed up this process greatly. With window/door vibration sensors, a user can be alerted to suspicious activity before a break-in even happens. They can then confirm the threat, call the police, and stop the crime from taking place at all.
The key to this is integration. By syncing a smart alarm with outdoor cameras, users can set up virtual zones and video tripwires that will trigger when a boundary is crossed.
Or, if you want to go the extra mile, smart alarms can also pair with SmokeCloak to fill the room with fog when activated. This is designed to stop intruders from stealing valuables and make it harder for them to get away. Its DNA-laced smoke will attach to intruders, so the police can identify them later on.
But there are many other useful benefits that go beyond just stopping crime. Standard alarms can't tell what is and is not a threat. This is a huge flaw. Not only are false alarms stressful, they can also be a waste of police time. More than that, false alarms can disturb your neighbours.
Smart alarms make this problem a thing of the past. There's no way to stop false alarms entirely, but most systems contain built-in visual confirmation tech. This means, if a breach is detected, the alarm will ask the user to confirm the threat. This reduces the chance of the wind or wildlife causing a false-positive.
Also, unlike standard alarms, these systems are mainly cloud-based. This means your security provider can troubleshoot or silence false alarms remotely. Being able to review false alarms remotely means there's no need to send out a technician. This saves you both time and money.
Are Smart Alarms Safe?
One of the biggest concerns with any internet-connected security device is that they may be hacked. However, you'll find that smart alarm makers like Texecom update their tech constantly, so users are kept on the front foot against hackers. These alarms don't just detect physical intruders, they also guard against digital threats.
In fact, smart alarms that use cloud-based operating systems receive constant software and firmware updates to guard them against new cyber threats. These regular patches mean their systems are able to handle nasty network breaches. As a result, the odds of these alarms being hacked are very low.
So, what happens if your internet goes down? The good news is that modern smart alarms will continue to protect the building, even with no internet. Of course, you'll lose out on phone notices and trespasser alerts while the net is down. However, the sensors and sirens will stay active, so the system will be no less secure than a 'bells-only' alarm. Despite this, we always recommend that you bring your WiFi up to speed prior to installation.
With an app-based control panel, you will also cease to be at risk of your control fobs and key cards being stolen. High quality alarms come with secure, password-gated user interfaces that can only be controlled by authorised persons. This makes it near impossible for them to be compromised by theft or cloning.
Which Is the Best Smart Burglar Alarm?
If you're looking for a quick 'smart' security system for your home or workplace, you'll find a wide range of DIY smart alarms that can be bought directly "off-the-shelf". However, these are rarely as reliable as the sellers would have you think.
Most burglars won't be put off by the presence of an alarm system, and many will know what to look out for. Cheap, plastic Amazon Alexa security tech, or smart plug alarms are a dead giveaway a site is an easy mark. Plus, their prevalence and modest price point means that many serial criminals will have experience in deactivating them.
Remember: there's no point cutting corners when it comes to the safety of your site and occupants. Perfecting your alarm setup takes time and thought to get right. Think: camera placement, alarm activation, and sensor positions. These are all points that will make or break the sureness and strength of your smart alarm system.
To make the most of your system and make sure it meets its full potential, it's always worth using a professional installer. An expert will be able to pick, design and install a smart alarm system that works with the other security tech in your site. Together they can form a network of integrated security to keep your people, property and visitors safe.
A reliable security installer can also offer a continued care package programme to resolve your queries. At the same time, they can make sure that your system is kept up to date and in full working order.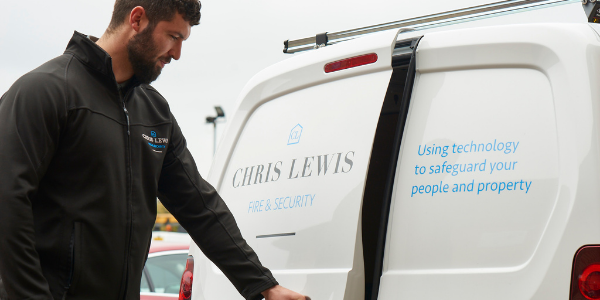 Police Response vs. Keyholder Response
You'll also want to think about the type of response your alarm system needs. Through connection to a third party alarm receiving centre (ARC), you'll have two means of dealing when an alert sounds on your site. These are: keyholder response or police response.
With keyholder response alarm systems, the alarm is monitored 24/7 by a receiving centre. When the alarm triggers, the ARC will respond by alerting your pre-defined keyholders. They're then given permission to respond to the signal.
On the other hand, you may prefer a police response. This is a monitored alarm response where the police are alerted directly in the event of an alarm.
Police response alarms are often used in businesses who need contents insurance for high-value items. You will find them in most banks, jewellers, museums, and car dealerships.
There are three levels of alarm police response in the UK. The levels are dependent on the number of false alarm call-outs that occur on your premises:
Level 1: Immediate Response
Once installed, an alarm triggering will result in immediate police response.
Level 2: Resource Permitting
False alarm dependent. If you have 2 or more false alarms within the year, police will attend - but not on an immediate basis. (Scotland only, in England and Northern Ireland 3 false alarms in each year means a downgrade to level 3).
Level 3: Visual Confirmation
Level 3 alarm systems have no police response, unless a crime or break-in is seen. Level 3 alarms can regain level 1 response, but only after 3 months with no false alarm call-outs.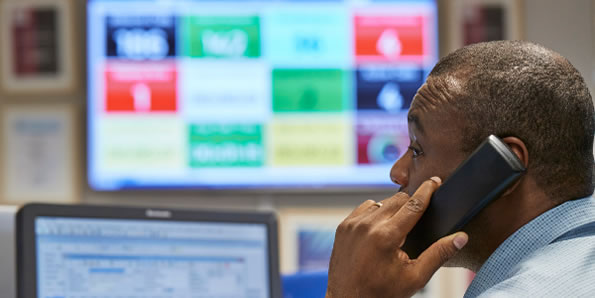 Final Thoughts
If you're looking to take your security up a level, a smart alarm system is a great place to start.
At Chris Lewis Fire & Security, we've seen the emotional effects of burglary first-hand. We understand how important it is to have a reliable intruder alarm in your setup.
Our experts have years of experience designing and installing cloud-based alarm systems. We work with top security brands to keep your site safe around the clock. No matter whether you're inside or on-the-go. Our smart home security systems will give you the proactive protection you want, and the reactive responses you need.
Ready to make the switch to smart? Get in touch with our team today:
Submit the form below and we will get back to you shortly.

I run our sales, technical design and marketing initiatives for the business. I work closely with manufacturers and trade associations to keep abreast with the latest technology and regulations making sure our clients are getting the very best and latest systems available.
Are you looking for a new CCTV system and want to know if Cloud is right for you? After relying on NVR storage for the best part of 50 years, homeowners and businesses are moving their security.
Last year set a new record for burglaries in the UK. 407,189 cases were reported during 2022 - a sharp 7% increase on the previous year. Despite year-on-year spikes, only 68% of businesses are.
Is your business doing enough to protect its assets? While magnetic stripe cards and low-frequency fobs were once considered a huge step forward from locks and keys, this tech has quickly become.