Smoke detection & Monitoring
Using our Very Early Smoke Detection Apparatus (VESDA) you can be alerted to the presence of a fire or potential fire before it fully develops.
VESDA works by continually analysing the air inside your commercial premises, identifying any changes which may indicate the presence or potential for a fire with reliable high sensitivity.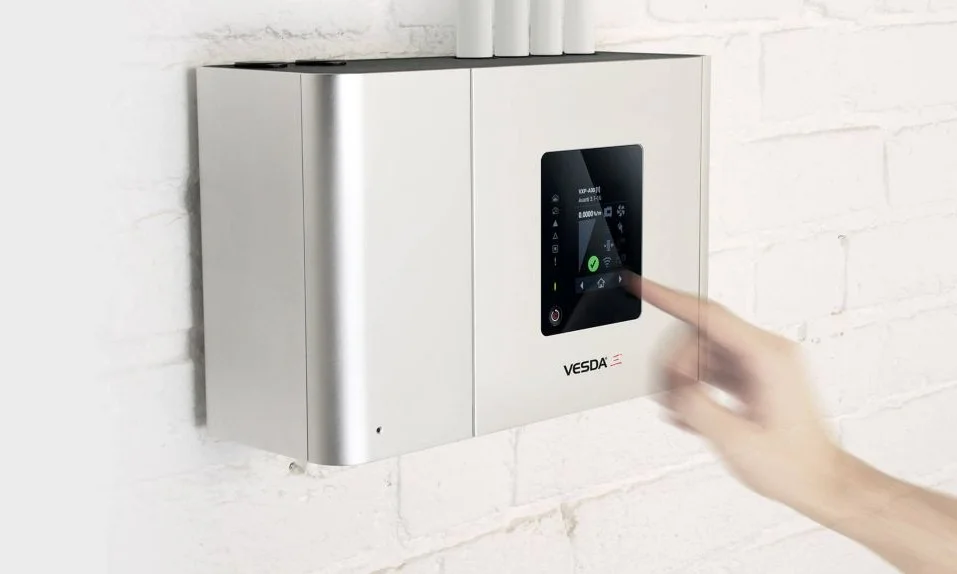 The Benefits of VESDA Systems
Early warning and detection is crucial in minimising the impact of a fire to your business and, most importantly, human life. VESDA can be used in almost any application, but there are a few specific reasons why they offer a better solution to traditional spot detectors.
Early detection is crucial in minimising the impact of a fire to your business and, most importantly, human life. The sooner a fire is detected, the sooner emergency protocol can be activated and emergency responders can attend the scene and react accordingly.
VESDA is useful in environmentally challenging areas where smoke is difficult to detect, like large open spaces, wind tunnels and very hot environments. Dust can also clog the receptors of a traditional alarm. VESDAs are designed with pipe purging systems to reduce this risk.
VESDA detectors are ideal for buildings that require concealed detection, whether for aesthetic or practicality. Detection solutions can be installed into the aesthetic of a property without compromising sensor effectiveness, keeping style and safety at the forefront.
In a lot of scenarios, unnecessary pressure released from suppression systems or extinguishers can cause serious damage - particularly in environments housing electrical infrastructure or important documents. VESDA alerts a responder to environmental changes immediately, helping them to react before an agent is released.
VESDAs are useful for businesses which are in need of a very early warning to smoke or the possibility of fire. For instance, museums with high value assets or hospitals/residential homes which need suitable time to evacuate patients who lack mobility.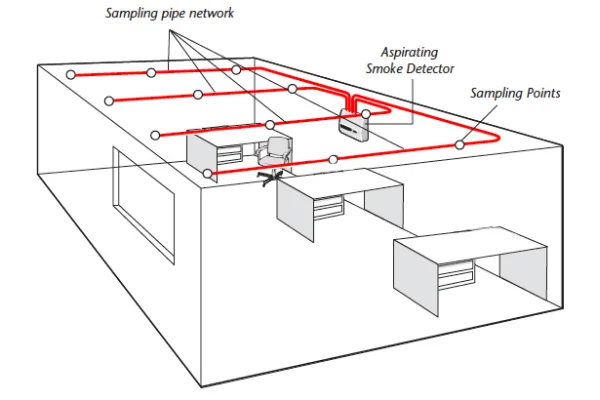 Addressable Aspiring Systems
The addressable aspirating smoke detection system works by using multiple air sampling points located around your premises, with each point pulling air back through via a network of piping. The air is then sampled through the aspiring smoke detector and analysed. If smoke is detected, this information is relayed to the control panel and an alarm is triggered, giving you the precise location and allowing you to act quickly and effectively.
Can be deployed in a wide range of different applications.
Multi-port addressability.
Unparalleled connectivity and expansion opportunities.
Field upgradability.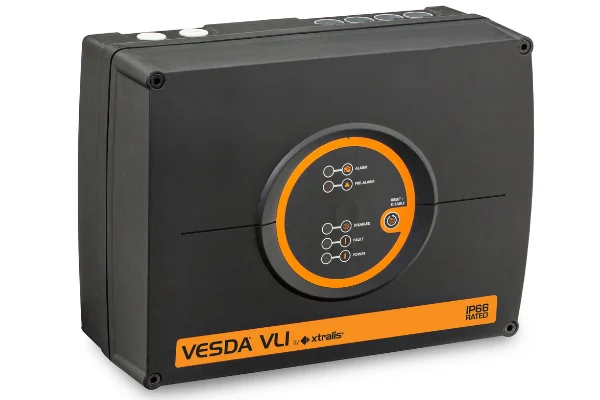 Warehouse (Industrial) Systems
The VESDA Laser Industrial Aspirating Smoke Detector is ideal for use in industrial applications and harsh environments, supporting everything from warehouses to mines, and even livestock/animal facilities. The VLI detector combines a fail-safe Intelligent Filter (patent pending) with an advanced clean-air barrier for optics protection, enabling absolute detection and a long detection chamber life, without the need for re-calibration.
Can be applied to an enormous number of situations.
Suitable for Class 1 Division 2 applications- Groups A,B,C, & D.
Up to 2000 m2.
Five relays (fire, fault, and 3 configurable).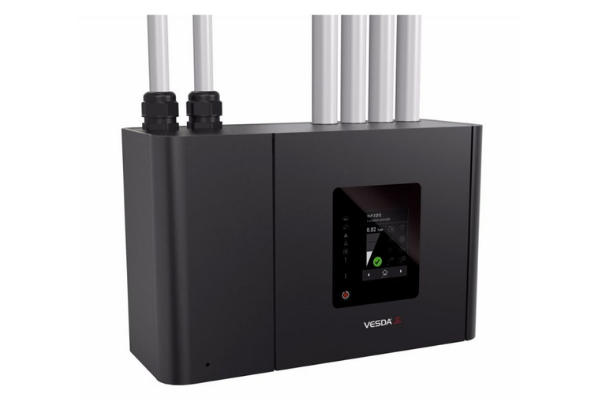 Gas Detection Systems
Invisible hazards can originate from the release of combustible gases/vapours. VESDA ECO (Ex) uses an existing VESDA pipe network to actively sample air for the presence of these flammable gas/vapours (alcohols), protecting life safety and property whilst ensuring business continuity. This product must be used in conjunction with an existing VESDA but is suitable for use in almost every environment.
Does not require major retrofitting as it leverages existing systems.
Provides non-intrusive detection.
Approved for Class 1 Div 2 applications.
Enables centralised monitoring and communication with building systems for real-time awareness.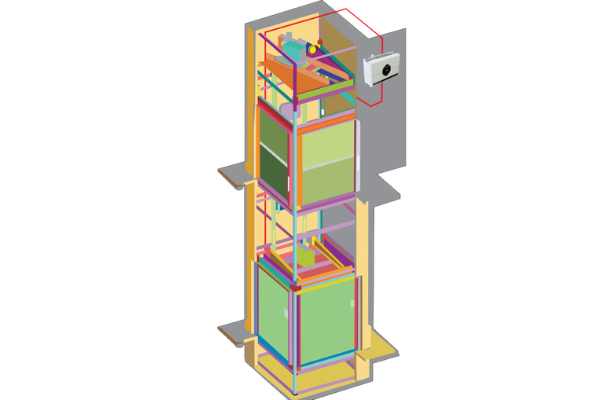 Elevator Shaft Protection
VESDA ASDs work by actively drawing air through sampling holes in a network of pipes that are installed along the elevator shaft and in the elevator machine room. The sampling pipe is connected to a detector with a powerful aspirator that draws the air into a detection chamber to analyse for the presence of smoke.
Can be connected to a building management system via an existing fire alarm control panel or operate independently to provide alarm information.
Placed outside the machine room and in shafts to ensure the detector is always accessible for testing and maintenance.
The sampling holes are typically located at the top of the elevator shaft. In tall buildings, the pipe runs down the shaft vertically to ensure sampling at multiple levels.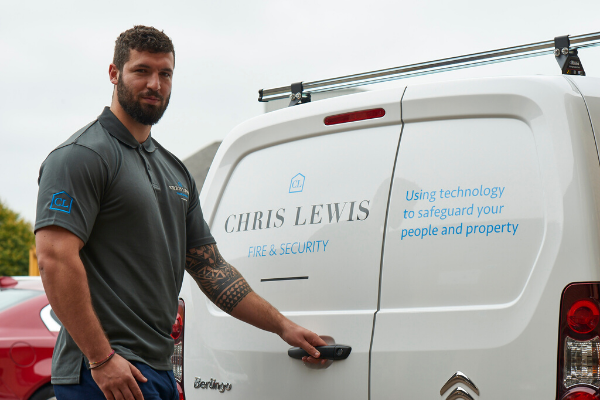 Servicing & Maintenance
To maintain a VESDA at optimal performance levels, building owners are advised to schedule regular maintenance and servicing visits through a dedicated provider. The frequency of this servicing will depend on the application. For example, factories or settings with high vehicular traffic will require more frequent servicing since they commonly have higher levels of smoke and pollution.
At Chris Lewis, we can support you with all your VESDA maintenance and servicing needs. From filter replacements to remote work, our expert technicians are highly qualified in the repair of air sampling systems, having worked on a variety of solutions in a variety of buildings. Contact our team today to see how we can support you.
How Chris Lewis Group Fire can help you
At Chris Lewis, we understand that every building presents its own unique challenges, risks and demands. Our VESDA installation and maintenance services are designed to work on your terms, helping to meet your expectations and the latest regulations, without any compromise on practicality or aesthetics.
Not sure what you're looking for? No problem. Our friendly technicians are on-hand to support you in the specification of a VESDA system. We can visit your premises, assess your requirements, and listen to your limitations and budget before installing a system to suit your needs, building and people. It's the reason we've been South East England's most trusted provider for over 30 years!
Speak to our expert fire safety team today
Submit the below form and we will get back to you shortly to discuss which type of VESDA system is best for you.
Latest Fire Protection News
---