Looking to give your guests an evening to remember? It may be time to upgrade your home's technology.
Jump To
We've all been to (or even hosted!) terrible parties, some homes just aren't suitable for entertaining. Of course, personality and planning go a long way, but it certainly helps to have a space that's designed for hosting.
Sure, we all know what the dream entertainment setting feels like, but it can be difficult to know exactly what goes into building this feeling - and where to start. We've got you covered.
This blog takes a closer look at four smart automation systems you can use to transform your home into the ultimate party-pad. We'll cover the most popular systems and how they help to leave a lasting impression with your guests. Let's dive in!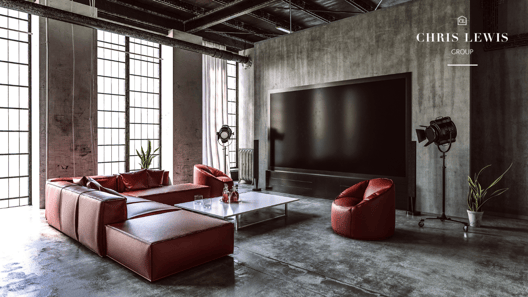 Multi-Room Audio System
Entertaining just isn't the same without a great sound system by your side. A good audio system makes the difference between a legendary party, and one that fails to live up to expectations.
We know what you're thinking: 'can't I just use my Bluetooth speaker?'. Well, not really. As convenient as smaller, wireless smart speakers like Google Home or Amazon Alexa are, they're generally only designed to be used in one room, rather than across the entire home. If you're looking for seamless, room-to-room audio playback, with centralised volume control, you're better off investing in a fully integrated multi-room audio system like Control4 Audio.
Never heard of Control4 multi-room audio?As the name suggests, these speaker setups use multiple audio channels to create totally immersive music streaming throughout the home - with a number of key benefits.
The primary one being: convenient control. Users can take full direction of the music playing in their property from a range of devices including smartphones, tablets, wall-mounted panels and tabletop touchscreens. Or, if that's not your style - voice control. Control4's home audio solutions can be paired to any existing technology from the Amazon Alexa family, making it one step simpler to stream music with natural, verbal commands.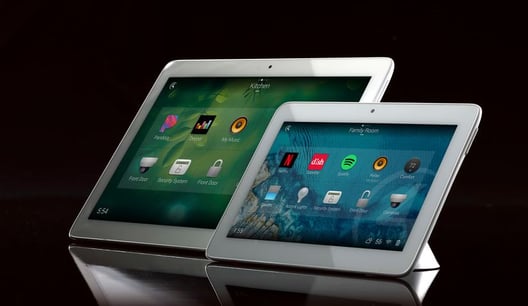 So where does the music come from? Any sophisticated multi-room audio system will be designed with leading streaming services in mind, easily linking to existing Spotify, Apple Music and iTunes accounts to deliver music straight from your library across the home. This means that whether your guests are in the living room, kitchen or even the garden, your music will cut through the chatter, delivering audio with clarity and superb quality.
And, if you're an audiophile chasing peak high-definition audio streaming, you'll be able to make the very most of your multi-room audio system with MQA Tidal. It's a method of digitally capturing original master recordings in a format that is convenient enough to stream, without the quality sacrifices associated with MP3s and other compressed audio files, allowing users to tune-in to their favourite artists' back catalogue with the highest quality achievable.
Hosting a big event or large party in your home? No problem. With a multi-room audio solution you can even go the extra mile and set a new party playlist for the different zones in your home, at specific volume levels. Think: keep the kids sweet with a chart-topping playlist in the kitchen as you get your groove on to 80s classics in the lounge.
And the perks don't end there. When integrated with the rest of your smart home technology, you'll even be able to create and edit the vibe in each zone in your home. Control4 audio's 'Party Mode' feature is one such example, allowing the user total customisation over their smart lighting design, creating 'scenes' that are completely responsive to the audio being streamed.
Smart Home Cinema Systems
Home entertainment doesn't just mean hosting the ultimate party. In fact, it's often the nights spent with the family that we value most - and nothing quite brings the family together like a great movie.
With a smart home cinema system, you'll be able to take these cosy nights-in up a gear, bringing that authentic, theatre experience straight to the comfort of your home.
With 8K projection auto-tone mapping and improved motion blur technology, smart projector systems bring the big screen to life. Whether watching live sport, gaming on your PS5 or Xbox, revisiting timeless classics or settling in to the latest blockbuster, projectors ensure every guest has the best seat in the house.
But why draw the line there? Think: specially-designed Dolby ATMOS surround sound, Control4 cinematic smart lighting integration or even motorised reclining seating. These are all additions that will take your home cinema closer to the real deal, leaving an unforgettable impression with friends and family.
ATMOS surround sound is one element in particular that will undoubtedly take your cinema experience to new heights. Coming from Hollywood post-production suites into the home setting, ATMOS refers to a range of specifically calibrated speakers, positioned to 'surround' the viewer in sound. This allows audio mixers to place incredibly realistic sounds and voices across the room - in the way they were intended to be heard.
In fact, you've likely come across Dolby ATMOS sound before without even realising it. It's the one element that makes cinema movie sound effects feel so vivid and realistic.
But before we step any further, let's address the elephant in the room: the price-tag. Well, despite what you may have heard about the upfront cost of home cinemas and the variety of add-ons, there are actually systems to suit a whole range of budgets.
From high-end home theatres to affordable spare-room bedroom systems, when installed professionally a smart home cinema will offer impressive entertainment for all seasons. All that's left for you to do is kick back, relax and enjoy.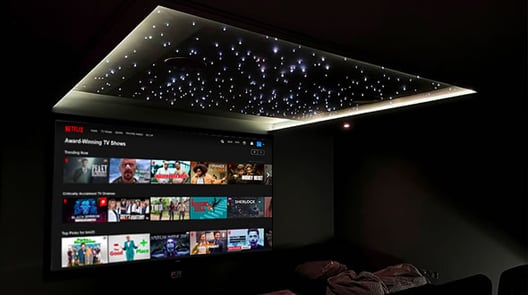 Smart Lighting Systems
Whether you're hosting dinner for six or cocktails for 30, you'll want your guests to feel right at home and set the scene with the right lighting levels for each room and the time of the day. The easiest way to do this is through a smart lighting system.
Experts have long understood the relationship between the human body and artificial lighting systems, which have a habit of making guests anxious and on-edge. With proper lighting use, you'll be able to set the tone for the entire evening, making your guests feel relaxed with the right mood lighting adjustments at the right time.
But of course, you don't want to be twiddling with a dimmer switch all night, you've got guests to entertain after all! For the ultimate automated lighting setup which removes this hassle, it's always worth looking at smart lighting integration.
Using a variety of LEDs, panels, strips and fittings, smart lights give you total control over the atmosphere profile of each room from a single button or smartphone app. Systems from industry-leading brands like Lutron can even automate lighting based on room occupancy, the time, temperature, motion and natural light detection - making it even easier to perfect the vibe without lifting a finger.
And the possibilities don't just end there. Through integration with a smart TV or home cinema system, you'll be able to design a setup that is responsive to the content you're watching, adding drama to the latest blockbuster or relaxing the mind for those well-earned evening chill-outs.
Here's a stunning example of a Starlight-Cinema system that Chris Lewis engineers worked on recently:
Outdoor Smart Technology
British people are keener than ever to invest in their gardens. In June 2021 for example, UK house prices jumped by a staggering 10.9% as buyers looked for properties with more garden space.
As a result, a whole range of smart outdoor entertainment systems are now available for outdoor settings, with the durability and water resistance to last across the seasons.
One of the best ways to improve your garden space - big or small - is by installing an outdoor smart speaker system. These devices have all the perks of the latest indoor smart speaker technologies, such as:
Pristine Audio Quality
Improved Sound Distribution
Controllable from app or Wall-Mounted Panel
These systems are designed to integrate with a smart indoor sound solution to offer a seamless flow of audio between your house and garden. And there's no need to worry about these systems clashing with your outdoor aesthetic either. Speakers from brands like Sonance are discreet and coming in a variety of shapes, colours and sizes to blend into greenery or camouflage as rocks.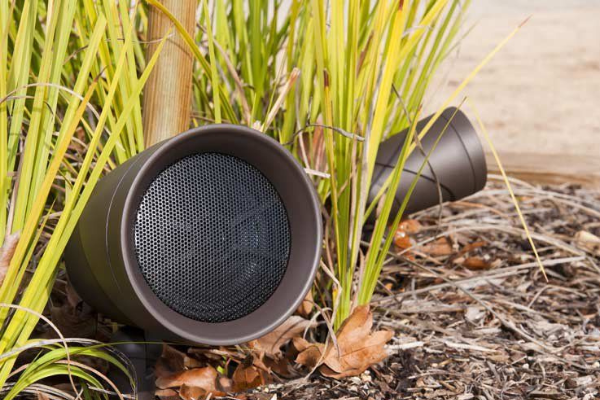 Or, if you're serious about designing the ultimate outdoor entertainment station, you may even consider an outdoor home cinema. Using a much higher brightness output, outdoor home cinemas are designed to reduce screen glare by adjusting to daylight variation and night-time viewing.
But for those with a smaller budget or less space, an outdoor projector may be a more sensible option. Projector screens are available in a range of sizes to suit any setting, boasting phenomenal image quality even when exposed to sunlight.
And as always, there are a range of integration opportunities available here. Integrate between your smart cinema and outdoor speakers to create an immersive surround sound experience in your garden. Or sync with outdoor smart lights to design mood-enhanced lighting and perfect the atmosphere for the moment.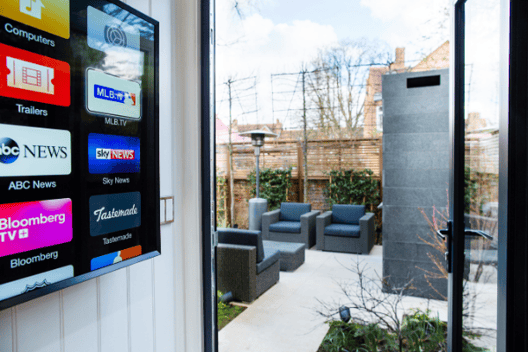 Ready to Level-Up?
If you've got a passion for hosting with style, elegance and comfort, smart technology makes for a great investment, adding to the value of your property and turning your living space into the ideal stage for parties or relaxed family get-togethers.
But remember: it's not just about simply installing these systems onto your property. it's understanding how they can combine that really makes the difference.
Push the party button on your lighting keypad, the lights set to the right scene and your party playlist comes on. Want to have music synchronised throughout the house? Click one button on your phone or touch panel and the same music will play at a consistent level all over your house.
At Chris Lewis our expert team of smart home specialists can help you to design a system that is tailored to your aesthetic, setting or general requirements.
Our expert insiders will talk you through the installation process, advising you on the best technology for your home. Our support and maintenance services ensure your technology is always running smoothly and meeting its full potential.
Get in touch with our smart home design experts today:
Submit the below form and we will get back to you very shortly

I run our sales, technical design and marketing initiatives for the business. I work closely with manufacturers and trade associations to keep abreast with the latest technology and regulations making sure our clients are getting the very best and latest systems available.
With approximately 53% of all UK households subscribing to at least one on-demand streaming service, the demand for home cinemas is higher than ever before.
Lighting. It's not just about illumination. Lighting is a powerful element in the human experience, affecting everything from our productivity to the way we feel emotionally.
Does your current WiFi system feel outdated? In 2021, connectivity is the foundation of our home working and studying experiences. That's why, if you're experiencing buffering, reduced network.