As we ease into a post-pandemic world, it's abundantly clear that our working habits have changed. More people than ever work from home or in a hybrid office/home environment and this is positioned to become only more prevalent.
But, as people begin to return to the office, now is the time to change how we think about our office workspaces from a digital perspective. Using the latest technology we can create a more comfortable, productive and streamlined working environment where employees can flourish through collaboration.
Jump To
Smart office solutions offer a number of ways in which we can work together more effectively. Methods of communication are constantly evolving and where we once thought that email was the solve-all solution for collaboration in the workplace, innovations such as instant messaging, sharing files via cloud storage, and video conferencing have completely changed our working experiences.
This latest Chris Lewis blog will explore the measures you can take to implement smart technology into your workplace and modernise your approach to work from top to bottom.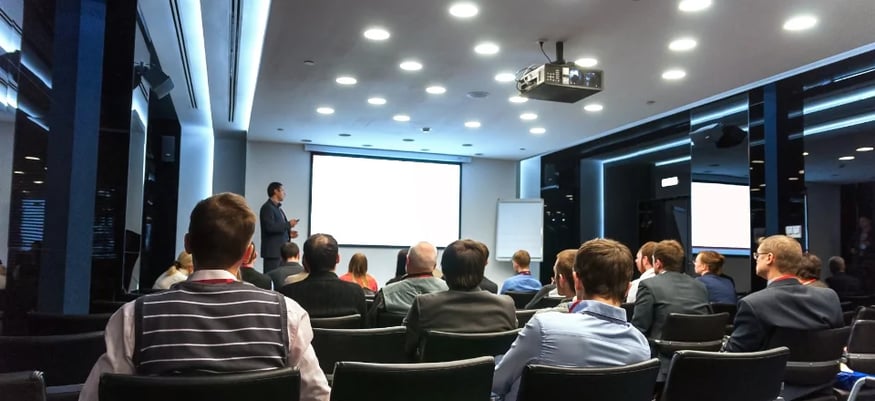 Smart Conferencing
Meetings and conferences are a mainstay element in the business landscape, but our communication habits have drastically evolved, meaning in-person meetings are no longer as essential to businesses as they were a decade ago.
Innovations in video conferencing technology allow us to communicate with clients and colleagues as if they were in the room, giving us limitless, seamless meeting possibilities outside of the usual traditional working environment. Not only is this convenient, it also helps us continue to grow, network and associate with people further afield with practicality and ease.
In the past year, video calling software has become an ingrained part of day to day life for millions of people around the globe. Zoom, for example, is now a household name, growing 4347% in monthly active users in 2020.
This increase simply corresponds to the change in our working experiences. As homeworking has rapidly become the new-normal, so has the demand for businesses looking to adopt effective video conferencing software, to elevate the way teams continue to collaborate digitally.
With an expertly installed system you can easily host meetings between employees who are both in office and working remotely, all communicating in real time. You can even capture and record meetings for those who are not able to attend, offering a straightforward, proven way to ensure teams are kept up to date and in the loop.
Alongside the rise in video conferencing utilisation, comes a series of considerations and challenges. One major reason why teams often dread using their existing meeting rooms is outdated screens and projectors, these often cause headaches with the number of wires and adapters needed, usually requiring a member from IT to solve any issues, eating away at valuable working time.
With a professionally installed video conferencing system, you can create a visually-enhanced and far more reliable way to communicate. Working with the best brands in conference room technology, we can ensure that connected devices integrate seamlessly with the highest quality results and less buffering. Smart video conferencing relies on the best quality cameras, microphones, and speakers to allow clear, concise communication - expertly simulating that in the flesh, face to face meeting.
Modern technology allows an increasing range of versatile setups to suit any office or boardroom. For example, smaller offices can have a huddle video conference room allowing for a small number of occupants and one screen. This can then scale up to accommodate wider spaces, adding additional, larger screens, ensuring that everyone is able to be seen and heard, even in the most populated meetings.
The video conferencing model has dramatically evolved with increased complexity, cameras such as those offered by Jabra can even intelligently track who is talking through digital automation.
An expert installer such as Chris Lewis can help you realise a bespoke video conference room or lecture theatre to fit your own requirements, making sure all audio-visual devices are all fully optimised. We can also upgrade and retro-fit existing setups to help bring your conferencing in line with modern advancements.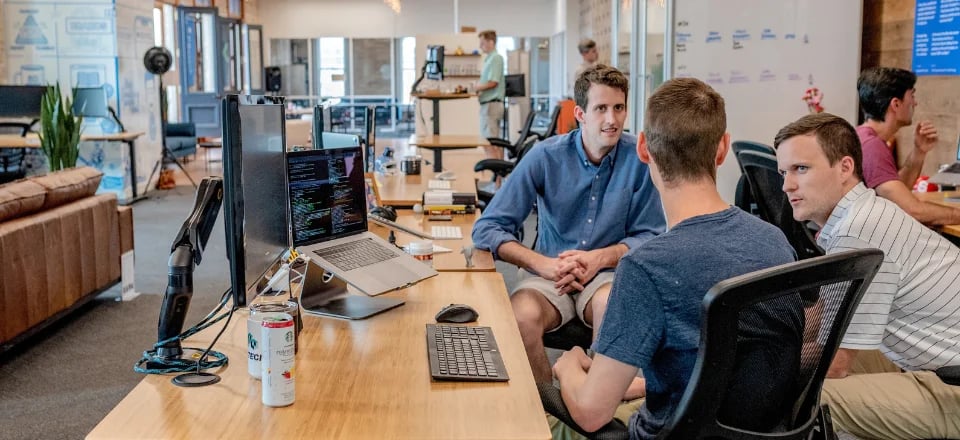 Smart Presentations
Smart office technology can do more than improve your video conferencing facilities, it can also evolve the way you and your colleagues are able to present in meetings and conferences.
Meeting rooms can be outfitted with a growing range of screens to help enhance communication and collaboration, allowing teams to better visualise ideas and share them to newer clients, partners or colleagues.
Smart workspaces and lecture halls enable you to present wirelessly during presentations and video conferences, using your own device such as a smartphone, tablet, or laptop, making the process even more streamlined and accessible for your colleagues.
Again, this helps eliminate the need for excessive wiring, letting you and your colleagues seamlessly share their screens with other team members for crystal-clear communication and work visualisation.
You can even go one step further to increase collaboration by integrating smart whiteboards within your smart office setup. Gone are the days of scrabbling for board markers and erasers. Interactive whiteboards are quickly becoming more widely adopted in offices the world over.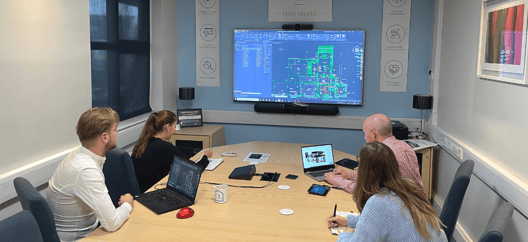 As the name suggests, these offer a digital alternative to traditional whiteboards, though they can do far more than simply display text and images. Available in a number of sizes to suit any office space or boardroom, these boards can enhance collaboration by allowing multiple team members to draw or make notes simultaneously, either remotely or by touching the screen itself.
Unlike other smart products, smart whiteboards don't require complex technical knowledge. Using either a pen or a fingertip to control, they implement the same touchscreen technology most of us are already familiar with.
Imagine being able to review a document or a design image, displaying it on a smart whiteboard then making annotations in real time. You could be sharing your screen with the entire room as well as with colleagues working remotely, all making notes and highlights together in real time while also being able to see and hear each other. This is work collaboration on an entirely new level.
Enhance your meetings with shareable content. Visualise your ideas better and clearer than ever before. Save time by immediately displaying web pages, videos, graphics, and documents on-screen instead of needing to physically draw them out. Even quicker than emailing them or sharing over instant messaging. The collaborative possibilities are limitless.
The newest smart whiteboards allow for 4K quality images and video to be displayed. Many now have improved ambient light sensors, smartly adjusting the brightness.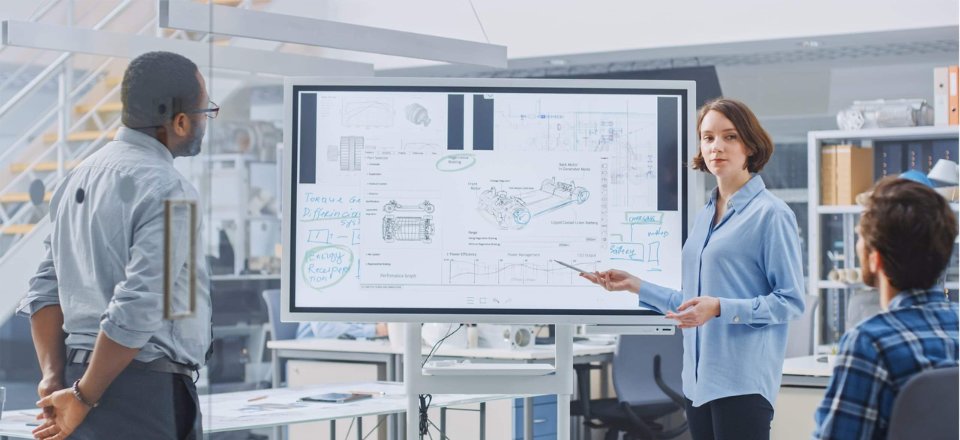 Smart Office Control
There is more to Smart workspaces than the technology you interact with on a day to day basis, and this opens up a vast selection of smart integration opportunities.
By implementing the latest smart office solutions you can build a better working environment to improve comfort, productivity, and efficiency amongst your workforce.
For example, you may intuitively manage your office better by integrating technology such as lighting, heating, blinds, and access control on one unified system, enabling crisp, clean and complete control at less than the click of a button.
Through office automation you can have your heating adjusted to suit any temperature, and adjust lights and blinds for any time of day or night, ensuring the best working atmosphere for employees. These systems have the added benefit of reserving energy by cleverly detecting when rooms are occupied, adjusting to suit your preferences and saving you money on your energy bill at the same time.
Smarter access control can also help with more efficient office management. By implementing cloud systems you can have a more accessible way of reviewing security credentials for your building, and monitor occupancy to ensure a safer and secure office.
Working in concert, these systems can intelligently automate your workspace while also integrating with other technologies. You may, for example, create an efficient booking system by integrating room access control with scheduling software or enable room access exclusively to staff who have the corresponding security credentials during their booking times.
Conclusion
Whether installing brand new smart office systems or upgrading your existing ones, you can design the ideal working environment for both your space and workforce, developing an environment that satisfies on a professional and personal level.
We've explored how cutting edge smart whiteboards and video conferencing technology can help enhance collaboration and communication, allowing employees to work together in real time with the best tools available instead of relying on more outdated methods of hosting team meetings and sharing files.
We've also reviewed some of the ways in which these innovations can fit into a much wider array of smart office solutions such as heating, lighting, and access control, to create the optimal working atmosphere. We believe, the more comfortable your employees are, the more productive they will be.
Although smart tech integration may sound like a costly expense; it doesn't have to be. Leasing smart tech for your business is a commonly used, cost-effective strategy adopted by businesses across the globe.
Through leasing, you'll access cutting-edge technology at a competitive price, giving you the tools to keep on top of emerging smart intelligence trends and preventing your business from falling behind.
Looking ahead, future innovations in technology could go well beyond the high-tech solutions we've discussed today. One common perception experts have is that of completely virtual workplaces and environments powered by virtual reality (VR) and augmented reality (AR) through so-called smart glasses.
This feeds into another emerging trend we may see more of in the future. Offices may soon play host to an increasing number of smartwatches as well as other smart wearables, used to communicate, send files, and review schedules without needing to power up a laptop or even reach into your pocket to grab your smartphone.
Meanwhile, smart building technology will continue to evolve around us. Artificial intelligence and machine learning will help evolve office automation - instead of obeying manual inputs and pre-set programmes, your office tech will be able to think for itself.
Our smart home experts at Chris Lewis understand the functionality smart technology integration can bring to your collaborative working environment and will provide insightful advice on the best measures to take to suit your personal preferences, ambitions and needs of your workplace.
---
Discuss your Smart Office requirements with one of our experts.
Complete the contact form below and we will get back to you very shortly
I manage our installation team, delivering projects ranging from residential homes and apartments to complex multi-site systems. The installation team consists of designers, planners, finance, project managers and an expert engineering team, including specialist security and smart home commissioning and IT staff. My team is lead with the aim of delivering a friendly and flexible service coupled with a high level of professionalism and expertise.
Over the past few years, working habits have drastically changed. According to the Office of National Statistics, between September 2022 and January 2023, 44% of workers reported working remotely or.
With the UK public spending an average of around 80-90% of their time inside buildings, air quality is a problem business owners cannot afford to ignore. Cloud sensor technology allows you to monitor.