With the UK public spending an average of around 80-90% of their time inside buildings, air quality is a problem business owners cannot afford to ignore.
Cloud sensor technology allows you to monitor the health and safety of your commercial environments, while providing additional security and operational efficiency features alongside this.
Jump To
Want to know what cloud sensors can do for you and your business? In this blog we dive into the tech behind environmental sensors and discuss the benefits in detail.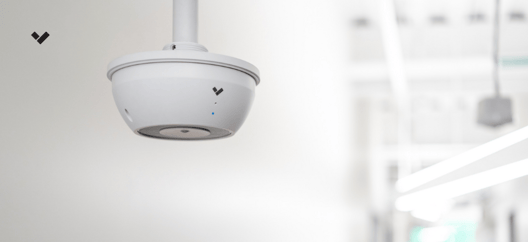 What Are Cloud Environmental Sensors?
Cloud environmental sensors are powerful all-in-one units designed to monitor environmental, air-based or sensory changes in physical spaces. Onboarded with a collection of high-spec embedded sensors, products like Verkada's SV11 seamlessly measure and monitor air quality, humidity, temperature, motion and noise.
This monitoring solution can be an asset to any business, providing advanced features such as detecting unauthorised vaping inside bathrooms, measuring temperature and humidity in server rooms, and ensuring air quality levels remain safe in workplaces which use hazardous chemicals and substances.
With increased levels of pollution in our cities and the impact of Covid-19, more and more businesses are interested in monitoring their Air Quality Index and CO2 levels to maintain healthy environments in the workplace. The ability to present this important information to staff can help companies show that they care about the health of their staff, and in turn reduce illness and absence in the workplace.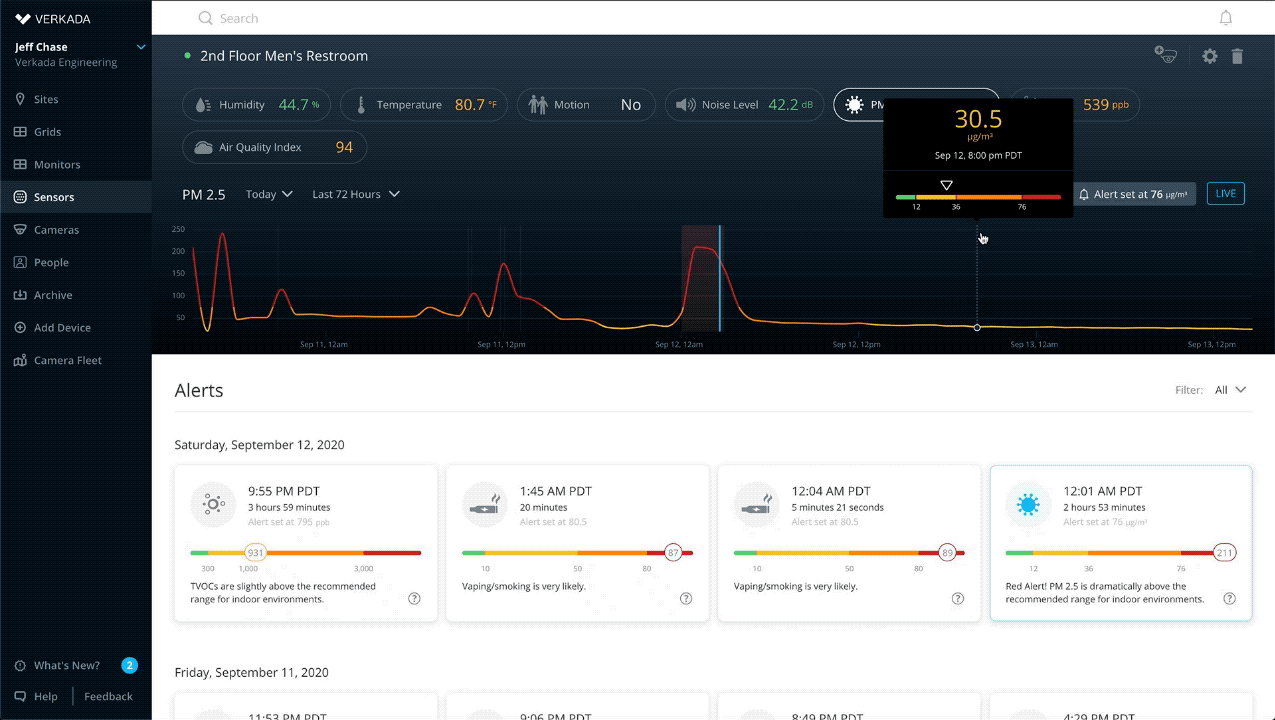 Sensors can be accessed and managed through a web-based command platform in the same way as other cloud security devices like CCTV or access control to provide some context to the change in environment instantly. Operators can set custom alerts based on certain thresholds and quickly scan real-time data to see where building occupants are and what's happening at each location on a reactive meter-style reading.
These systems make a sensible addition to any serious security operation. Natively integrated with cloud-based alarm systems, events such as motion and noise can be configured to trigger an alarm in off-limits zones or sensitive areas where video surveillance is non-permitted, like bathrooms and changing rooms.
What's Inside a Multi-Technology Cloud Environmental Sensor?
Evidently, this very much depends on which sensors you choose, but if you would like a sensor that monitors most environmental changes then typically these would be:

Volatile Organic Compound Sensor (TVOC)
Particulate Matter Sensor
Motion Detector Sensor
Temperature Sensor & Humidity Sensor
Noise Sensor
The casing of the sensor where an air sample enters consists of photo-chemically etched stainless steel. The benefits to this design include bio-compatibility and elemental resistance. With a collection of up to eight sensor readings, a single sensor can easily monitor the health and safety of an environment, which you can then track remotely at any time, via an internet connected device.

As these sensors are configured through the cloud, all they require is a PoE enabled network point connected to the internet, and they're ready to go out of the box. Cloud security opens up an incredible number of prospects for employers and management personnel to support the security of their businesses. Find out more in our blog Business Security Systems: 4 Reasons to Upgrade to Cloud.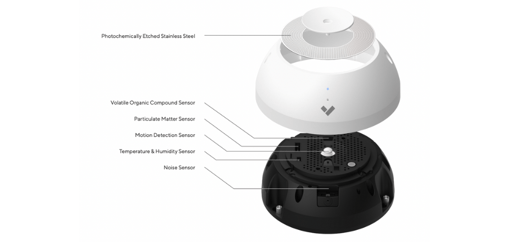 What If I Only Want to Monitor One Environmental Change?
There are wireless sensors available which are cheaper that can monitor one element within a space including:
Temperature
Touch
Proximity
Water
Humidity
CO2
Motion
These sensors offer up to 15 years of battery life and simply stick to the surface in the area you want to monitor. They require a cloud gateway box to connect to the wireless devices, in order to send the data into the cloud for monitoring.


How Do Environmental Sensors Measure Air Quality?
Measuring air quality is a complicated process which can cause a burden to many business owners and industries who need to monitor this. In fact, it's often an afterthought.
Air quality is most commonly measured in accordance with the Air Quality Index (AQI) for both indoor and outdoor environments. The scale runs from a value of 0-500, factoring in the presence of five categories of pollutants:
Ground-level Ozone
Particle Pollution (otherwise known as Particulate Matter, including PM2.5 and PM10)
Carbon Monoxide
Sulphur Dioxide
Nitrogen Dioxide
Smart building air quality sensors can monitor and report AQI whilst set to particular thresholds (even for particular rooms) to send an alert if these are exceeded.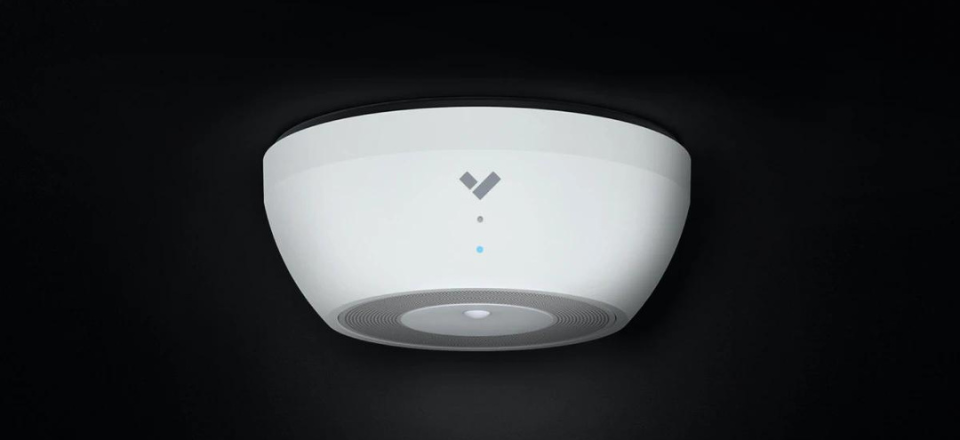 What Are the Benefits of Cloud Environmental Sensors?
1. Increased Safety
Sensors can improve the health and safety of your building as a proactive system which allows you to act when hazards are detected, before things escalate. While these sensors are not suitable for fire detection, they are extremely useful after the event of a fire to ensure the air quality is at a safe level. Recently these sensors have been a vital tool with the increase in wildfires, to measure the TVOCs and PM2.5 in buildings which are local to the fires.
2. Detection in Private Areas
SV11 sensors can be used without a linked camera in sensitive areas such as changing rooms and toilets to maintain privacy whilst still monitoring spikes in audio or suspicious movement that could indicate a security risk. On the other hand, a linked camera can be positioned in a safe area which will still provide context to events which may occur. For example, with a sensor inside a public bathroom and a security camera positioned outside the entrance, the two can work hand-in-hand to help you understand the circumstances inside, without breaking CCTV recording or data privacy laws.
3. Completely Customisable
Environmental monitoring can be tailored to your needs. For instance, this tech is being utilised in school bathrooms to detect students vaping. Safeguarding pupils inside schools is crucial, making cloud sensors the perfect solution to this common problem - without infringing on privacy.
Otherwise, sensors can be used in server rooms to monitor occupancy and send alerts whilst also measuring humidity and temperature of which high levels could cause damage to expensive IT equipment.
4. Easy Upscaling & Integration
Cloud sensors don't require an on-site server to be configured, or a very complicated installation. In most cases we can offer integration into existing CCTV and access control to provide further data on your security operations, utilising the notices within this platform to manage alarms rather than having a separate application.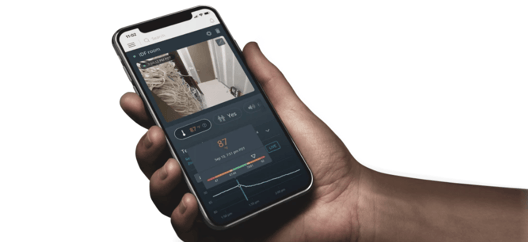 Where Are Environmental Sensors Commonly Used?
Food Production Facilities - Air quality control measures can minimise matter which have the potential to contaminate food and food packaging.
Industrial Manufacturing and Construction - Cement processing and internal combustion machinery can release particle matter which is dangerous to workers.
Schools, Restaurants and Hotels - Ensure pupils, guests and staff are safe in these environments, whilst monitoring breaches such as vaping.
Data Centres and Server Rooms - Monitoring the temperature and humidity levels of these facilities is crucial to protect company data and security systems.
Commercial Buildings - Large commercial buildings present a number of risks including VOCs from paints, cleansers and disinfectants.
Healthcare

- Medic

a

l environments must

adhere

to specific

a

ir qu

a

lity st

a

nd

a

rds to be deemed s

a

fe for p

a

tients.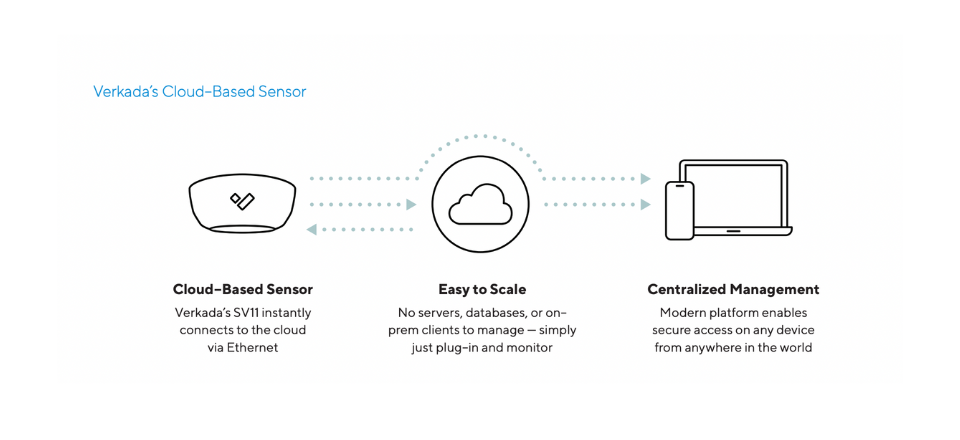 Conclusion
New tech such as cloud sensors are tackling security and safety risks we once were powerless to monitor and control. The only hurdle which remains is ensuring business owners are aware of the tech available to them.

At the Chris Lewis Group, we understand the importance a robust security system plays in keeping your staff, customers and students safe. We are on-hand to support you in creating a safe environment for everyone on your premises.
Get in touch with our experts today to see how we can support you
Submit the form below and we will get back to you shortly.

I run our sales, technical design and marketing initiatives for the business. I work closely with manufacturers and trade associations to keep abreast with the latest technology and regulations making sure our clients are getting the very best and latest systems available.
The cloud-based security market was worth over $46 Billion in 2022, and that value is expected to more than triple in the next decade. The shift to cloud rather than on-site data storage has.
Over the past few years, working habits have drastically changed. According to the Office of National Statistics, between September 2022 and January 2023, 44% of workers reported working remotely or.
Smart tech is quickly changing the way we work and live inside our buildings. The 2019 Energy Efficiency Indicator study revealed 64% of companies plan to increase investment in smart building.