CCTV: An Introduction
There's an estimated 5.2 million CCTV systems installed in the UK alone. Video surveillance has never been more popular, becoming important in security systems across the globe. And for good reason.
With the CCTV world brimming with GDPR rules, cybersecurity obstacles and grey areas - it's important that you get it right.
In fact, up to 80% of the CCTV footage seized by police is of such low quality that it's useless in criminal trials. This points to the level of CCTV misuse across the country.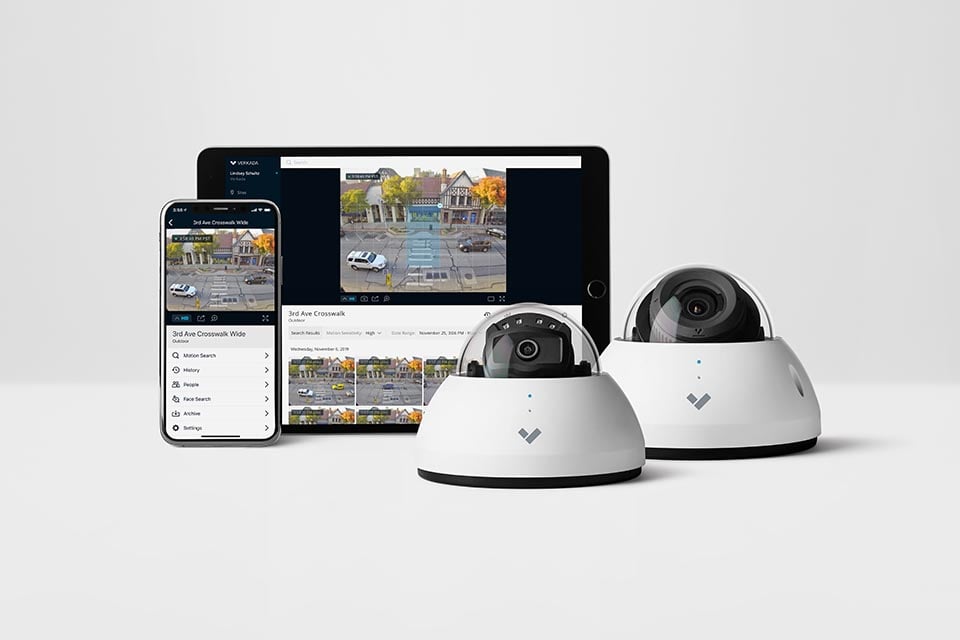 In this guide, we'll explore everything you need to know about CCTV surveillance, explaining how video security can play a role in your home, business or education facility's security strategy.

What Is CCTV & What Does It Mean?
From smart integrated monitoring systems to ultra sharp, state-of-the-art IP network cameras, CCTV has changed dramatically as modern technology has continually improved over the years, so much so that it's easy to lose sight of what CCTV is at its most basic level: video surveillance.
The term "CCTV" has become a one-size-fits-all description for video surveillance technology; rather than a working definition. The term itself stands for "closed circuit television" and, in its original form, this meant analogue video cameras connected to monitoring screens, with the ability to transfer video footage between for immediate viewing or reactive playback.
Though, it's important to note that CCTV isn't just an isolated webcam on the side of a building; the term refers to the components that make up the system, including: the monitors, wiring, external storage, user access, software, firmware and of course, the cameras.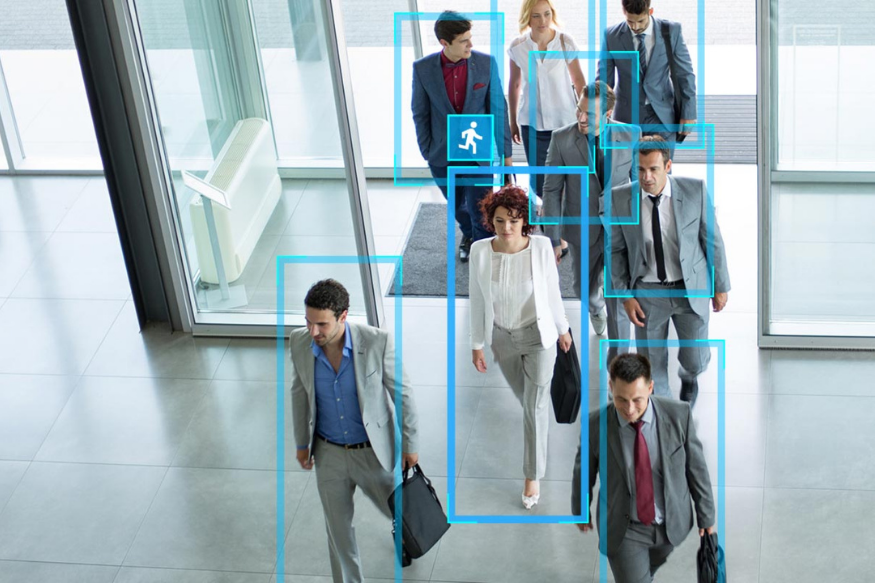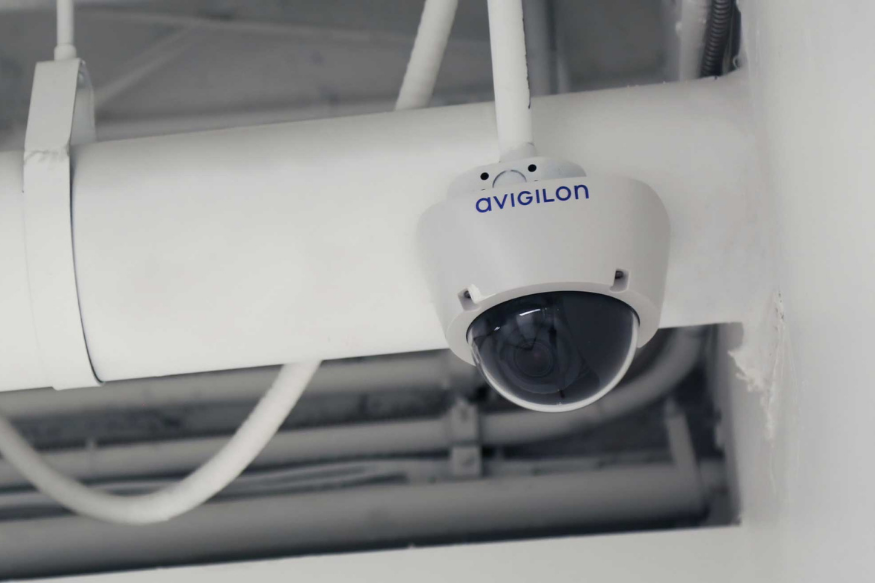 What Is Smart CCTV?
Smart CCTV refers to surveillance systems that do more than just record. Using Smart Search and AI, smart CCTV users can easily search their archives or set notifications for people of interest, based on gender, clothing, facial recognition or ANPR. With smart CCTV you can integrate with other security technologies in a commercial, residential or educational settings to add value to your total site security solution.
This intelligence easily provides context for everything in your physical security ecosystem. By integrating systems together users can view CCTV footage associated to access control events, arm their CCTV analytics when an intruder alarm is set, or even open their front gates when a camera detects an authorised number plate.
By seamlessly connecting security solutions together, users can design a system that thinks, acts and alerts automatically - improving the overall safety of the premises and the people inside. Integrated security systems manage and monitor the physical security of your premises through a single platform, whether that be a smart device app or wall-mounted control system the likes of Control4. This gives the user constant, remote monitoring control anytime, anywhere. In a business setting, smart security automation can also be extremely cost-effective and practical, reducing the need for 24/7 security personnel and driving down the cost of maintaining security staff.
Getting Clever with Smart CCTV
Smart CCTV video analytics are the secret ingredient in the new wave of CCTV cameras. Powered by video intelligence, these additions can help users to detect & send notifications for instance-specific events on their property, like trespassing, repeat offenders or unidentified faces.
Aside from security benefits, smart CCTV analytics can also be used to streamline a businesses' operations, helping staff and employees to work smarter, rather than harder. Using video analytics, operators and marketing teams can gain situational insights into key performance areas of their business; count vehicles and people on site, view visual heat maps to understand hot spots and dwell times, or manage occupancy for shift scheduling.
Smart CCTV users also benefit from specific use-case scenarios where video analytics and proactive alerts can play a role. For example, in warehouses or construction sites, operators can trigger an immediate notification for anyone on site not wearing a hi-viz vest or hard hat, offering greater visibility over your operations and accountability should something go wrong.
ANPR (Automatic Numberplate Recognition)
ANPR detection software scans vehicle number plates to provide instant alerts or reactive evidence in the instance of a crime. With ANPR software installed, users can track every car that comes in and out of their premises, supporting police in catching a criminal if the worst does happen. You can even use ANPR to control specific activities, like opening gates or delivery bays to pre-approved vehicles.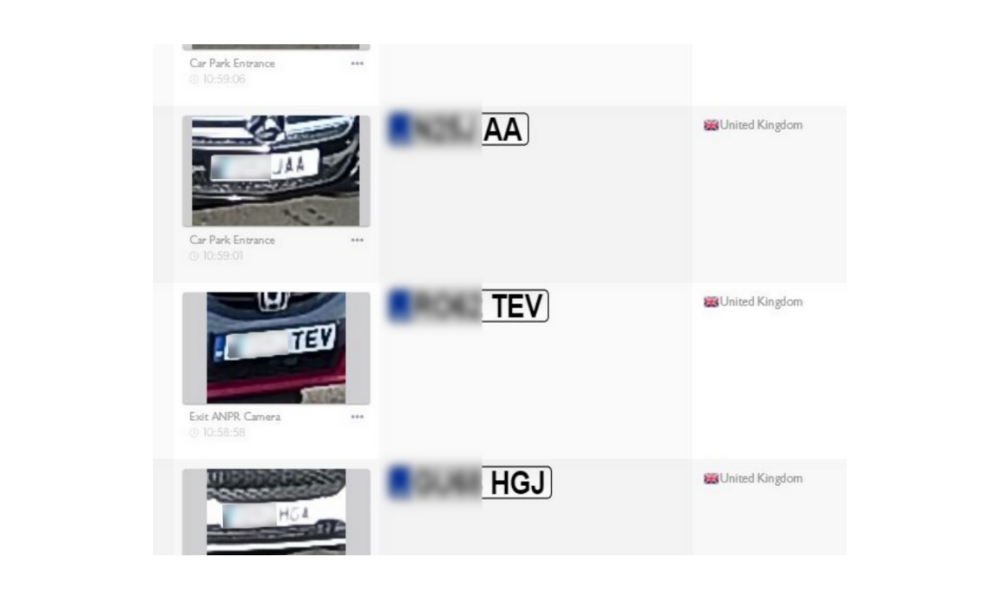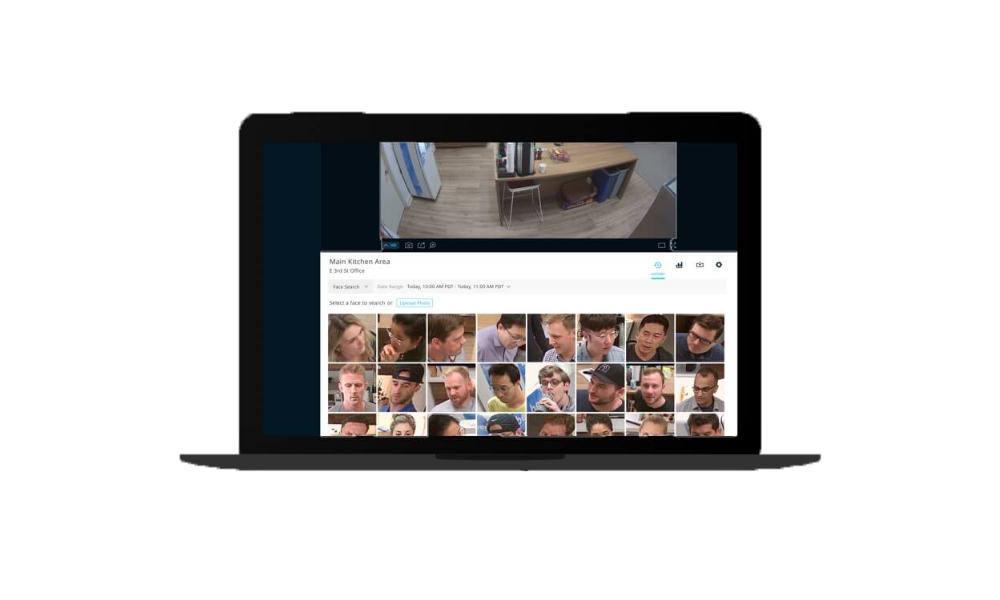 Facial Recognition
Facial recognition is one of the most effective forms of visual CCTV analytics. Face recognition can prevent repeated crimes from the same person by detecting them and raising an alarm any time they approach your business, home or school. Users can also use facial recognition to permit access to registered people automatically, or even help operators easily sift through their footage archives with Smart Search.
Retail Analytics
Using heat-maps and CCTV cameras, business owners can better understand how their customers navigate their property and which areas are "hot spots" for sales. This helps store owners to increase sales opportunities based on rich customer data, improving store layout, queue management and customer service decisions. Not to mention, smart CCTV can also detect unfamiliar movements that would suggest theft or other antisocial behaviour.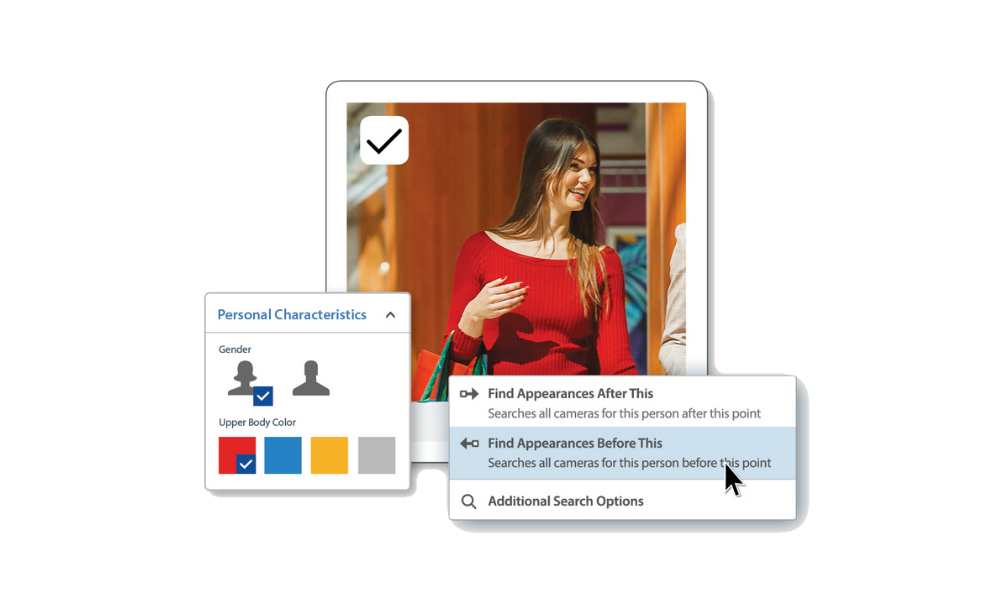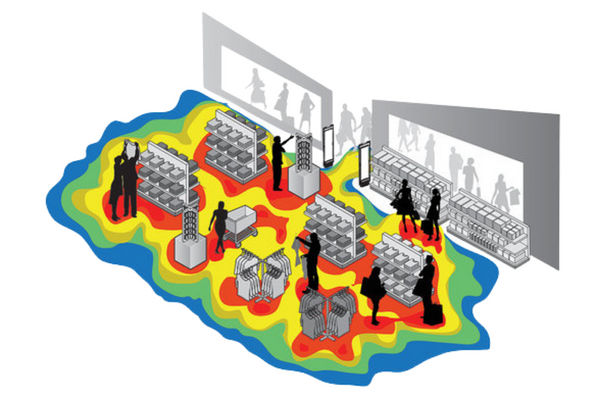 Queue Management
Long waiting times can have a lasting effect on customer experience. Smart CCTV cameras can be set up to monitor queuing in real-time. Sending rapid alerts to store managers when there are unexpected queues or a high number of people in a single area. Similarly, these analytics can also be triggered by over-excessive crowding, which is generally an indicator to an unexpected incident or even antisocial behaviour.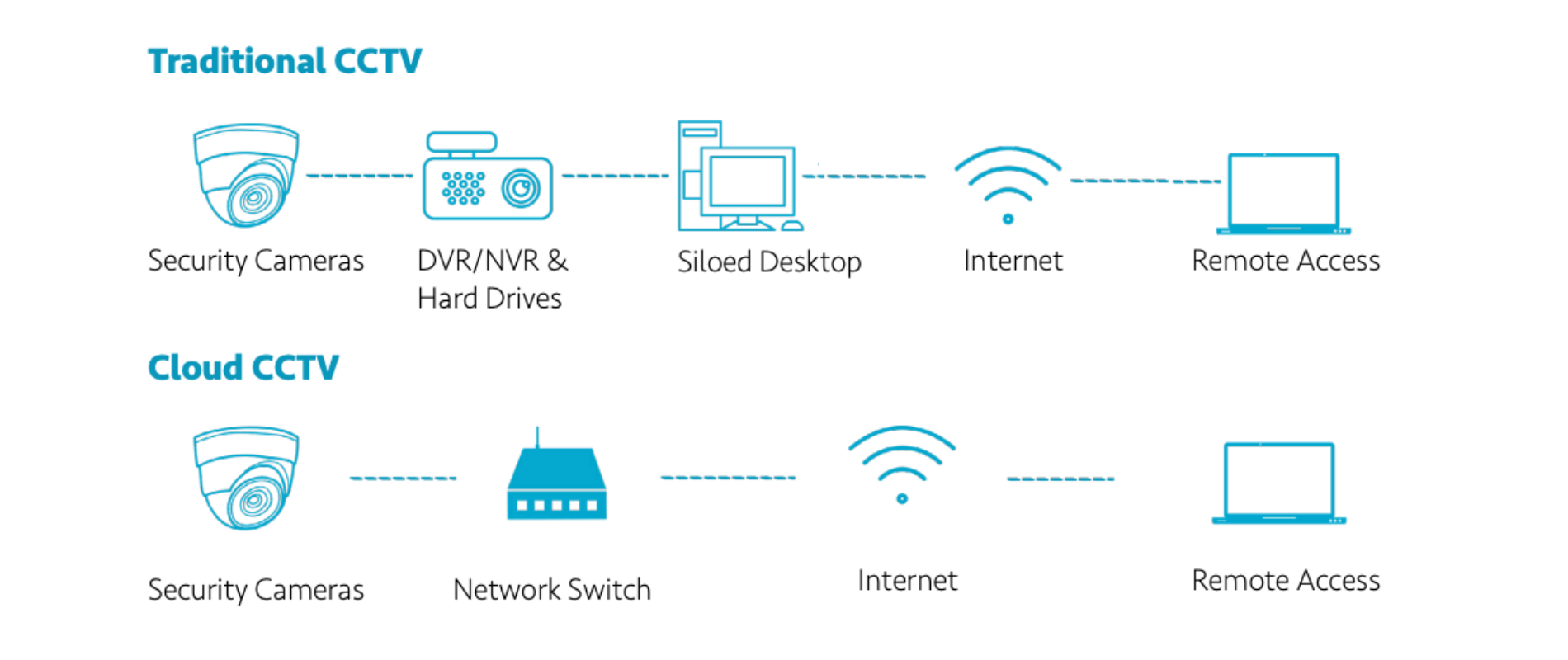 Not to Mention...
Cloud CCTV has a number of key perks, including:

Final Thoughts
Don't get caught out! Homes, businesses and schools across the nation are moving towards a more secure future with the latest in CCTV technology. If you're still relying on outdated, old legacy systems, you're not only putting yourself (and assets) at risk, you're also losing out on many attractive benefits that can help you and those around you to live, work and study more effectively.
If you care about the security of your property, it's never worth sacrificing it with a DIY solution or third-rate installation. Criminals are now accessing buildings in more advanced and intelligent ways - it's no longer just about crowbars and smashed windows. Cybersecurity can be the make or break of your entire security strategy. If you're looking to protect your property and assets on all fronts - and get the latest and greatest upgrades - we always recommend a CCTV installation from a trusted, reliable and verified installer.
At Chris Lewis Group we have over 25+ years of experience in CCTV installations, our team is fully trained in the latest technology, and perfectly aligned to take your security to the next level.