CCTV cameras have become an essential tool for employers and business owners alike. In the past security cameras may have just been used as a deterrent, or as a way to record crimes. Now, CCTV offers far more. With full remote control, modern CCTV offers fresh solutions to age-old security problems.
Jump To
In the UK alone there is a security camera for every 13 people. With surveillance being used on such a large scale (and threats emerging every day!) it's important for business owners to keep up to date with the latest and greatest technology - and understand how this can be an asset to them.
Want to find out what CCTV in the workplace can offer you? In this blog we discuss five intelligent uses for CCTV that can help to take your business to the next level.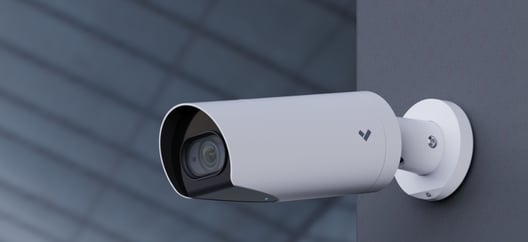 1. Smart CCTV Can Support HR Operations
HR & management staff can benefit hugely from intelligent CCTV. When setup in the right way, these systems can provide real-time insights into everyday practice and key events across the working day. For example, alerts can be raised for specific triggers like staff absence or even safety violations.
Surveillance cameras can be paired with access control to monitor employee schedules and attendance. This offers context to the access time within your CCTV system, to help leaders make more informed decisions.
When integrated with a POS system in a store, CCTV footage can be searched by product or transaction. This eliminates the need to search through all video archives to find specific events. For example, you can search for high ticket items or inspect discounted transactions to ensure it's not a member of staff discounting a product for a friend.
The CCTV system can be viewed via a dynamic dashboard, giving a clear overview of store operations. This can help inform in-store decisions by providing key insights into heat-maps, queue times and high conversion areas, increasing sales and loss prevention.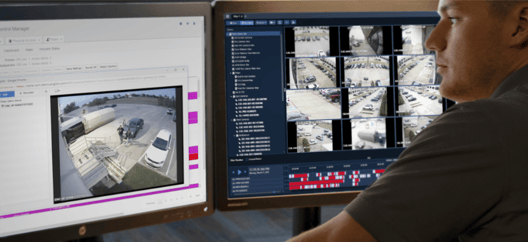 2. CCTV Video Analytics & Real-Time Alerts
Video analytics have taken the power of CCTV to the next level. Using AI and Machine Learning, the latest CCTV systems can perform a wide variety of functions. From facial recognition to perimeter monitoring.
Facial recognition software can be used to prevent repeat offenders from committing crimes on your property. Once they are saved as a Person of Interest (PoI), the system will raise an alarm if they approach your property. This doesn't just have to be repeat offenders. Ex-employees, inspectors and even difficult customers can raise an alert.
Plus, users can quickly search for a person by appearance. Think: 'male, red top, blue trousers', and this would return all matching results. To find out more about the prospects of video analytics, check out our blog CCTV Video Analytics: Everything you Need to Know.
Smart alarms and CCTV can be paired to offer for visual confirmation in real-time. When an alarm is triggered, the mobile app will instantly send an alert. The app can provide you with context of the activation from the nearest camera feed. This means users can review and confirm false alarms or actual threats.
One key benefit of CCTV today is the ability to view footage remotely. Freedom to monitor business operations and track events whilst away from the office has given owners extra control over their workplaces.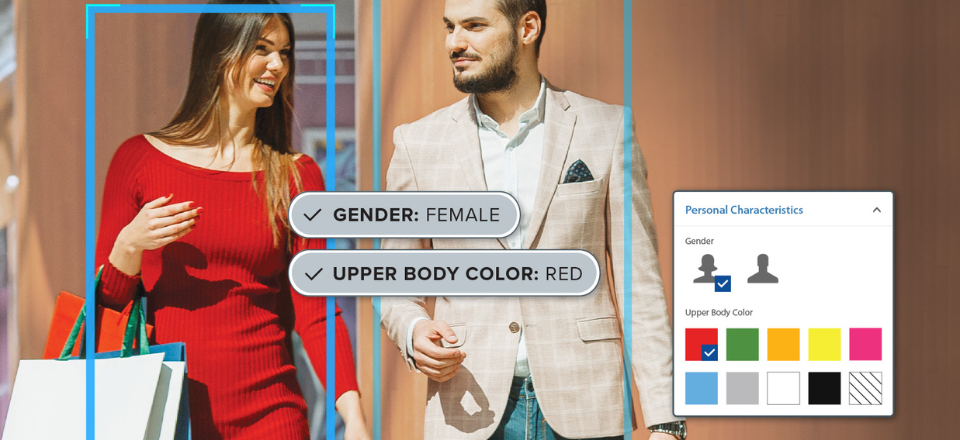 3. Pair CCTV With Access Control For Intelligent Monitoring
CCTV can be paired with access control, to clearly present which areas of your business were accessed, at what times and by who. Access control events can be linked to relevant footage, to visually confirm subject access requests, and that the person requesting access was the one who entered.

Cameras can detect user tailgating or open doors, by recognising these events using video analytics. The system will then alert the admin on their mobile device, allowing them to respond quickly but safely.

In a store, video analytics can be used to show if the queue at the tills is getting over a certain number of people, then alert members of staff to come and man the tills.

CCTV video analytics can be used to alert you to trouble on your premises. Crowding can often be the sign of a problem developing. Crowding detection analytics find where it's taking place and signal for a response, preventing antisocial behaviour on your property.

Aside from clear security features, CCTV can help you understand your customers by monitoring conversion rates. Heatmaps and cameras can identify sales hotspots and the way customers move through the store. Monitoring customer behaviour will help you understand how best to promote your products.

4. Use Cameras for Automatic Number Plate Recognition (ANPR)
ANPR helps businesses to monitor all vehicles entering their property and retain this information for use as evidence. This is a useful tool to allow employees access to the staff car park, or keep track of customer vehicles.
When paired with your access control system or gates and barriers, the system can approve number plates to allow entry. This can be set to a schedule to ensure your property is only accessible during working hours.
Cameras can identify suspicious vehicles, illegal parking or broken speed limits. In this event, the system will send an alert, so operators can act quickly. This gives users an extra layer of control over what takes place on their sites. If a problem occurs, it can be dealt with quickly before things escalate.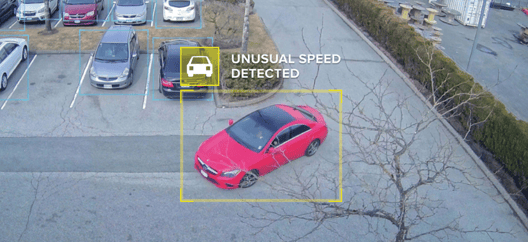 5. Video Analytics Can Enforce Code of Conduct & Safety
New surveillance technologies can support business owners beyond the scope of crime and improving sales. Installing CCTV cameras in the workplace can be used to support your HR operation by ensuring the health and safety of your employees and customers.
The benefit of video analytics and AI is there are no limits to what they can learn and the behaviours they can be programmed to recognise. This technology can help you as a business owner by adding an extra set of eyes to watch over code of conduct. This removes the need for expensive on-site security staff or remote CCTV workplace monitoring.
In workplaces which require a uniform or elements of PPE for safety, CCTV video analytics can be used to identify the absence of required clothing. For example, on construction sites, operators can trigger an immediate warning for staff not wearing a Hi-Viz vest or hard hat. This gives increased clarity over your operations, should something go wrong.
Slips, trips and falls - and the potential insurance risk attached - can be a headache for any business. The added support of a reliable CCTV system for evidence is incredibly useful.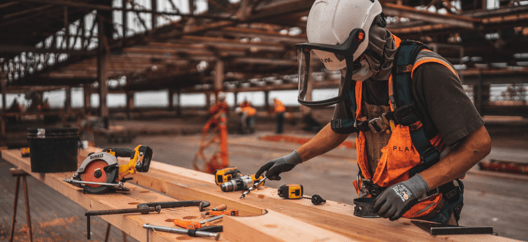 Considerations
Regular maintenance for security systems like CCTV is also critical. It's the only way to ensure the safety of your building, and the people inside. Taking the time to have your equipment regularly inspected by a professional will put help you to faults that could put your business at risk.
Consider investing in software and/or cloud-based video management systems, to make sure you're taking advantage of the very latest in smart technology and features available, as opposed to being limited by hardware. Find out more in our An Expert's Guide to Cloud CCTV blog.
One important thing to keep an eye on is your adherence to data protection laws. Business CCTV must always comply with Information Commissioner's Office (ICO) code of practice, the Data Protection Act, and the Protection of Freedoms Act. Breaking the law on data protection could seriously damage your business. We advise any CCTV operator or business owner looking for CCTV legal advice to read our blog: CCTV and UK Law: The Legal Considerations.
Under UK law, it's important for every business to think about:
Covert Recording

Data Protection 'Impact Assessments'

Audio Recording

Respect for Privacy

Appropriate Signage

Regular Footage Removal

Personal Data
Final Thoughts
At The Chris Lewis Group we have specialised in CCTV installations for over 30 years, in a wide range of specifications and industries. If you still find yourself with further questions concerning CCTV, make sure to check out our complete guide: Everything You Need to Consider.
When it comes to workplace CCTV, we can visit your premises, assess your requirements and listen to your limitations and budget. Then design and install a surveillance system with CCTV equipment to suit you and your commercial environment, regardless of what this is.
Once the system has been installed by our experts, we can include a range of care and maintenance packages, catered to your needs.
Get in touch today to discuss your requirements:
Submit the form below and we will get back to you shortly.

I run our sales, technical design and marketing initiatives for the business. I work closely with manufacturers and trade associations to keep abreast with the latest technology and regulations making sure our clients are getting the very best and latest systems available.
Are you looking for a new CCTV system and want to know if Cloud is right for you? After relying on NVR storage for the best part of 50 years, homeowners and businesses are moving their security.
When considering which CCTV cameras and systems to install, security is paramount.
The cloud-based security market was worth over $46 Billion in 2022, and that value is expected to more than triple in the next decade. The shift to cloud rather than on-site data storage has.