With millions of guests using hotels each year, these sites are hot-spots for theft, violence and criminal damage. In fact, figures from eight of the largest UK police forces showed 4,589 allegations of hotel violence in 2022. It also revealed 1,307 cases of public disorder in hotels, motels and guest houses last year.
When 82% of travellers admit to preferring to stay in places that have been accredited for security and safety; hospitality businesses have a HUGE duty on their hands.
Jump To
In this blog, we discuss the intelligent ways CCTV surveillance systems can deter crime on hotel premises. We'll look at how you can protect your hotel, keep assets safe and provide a more enjoyable, secure experience for your guests.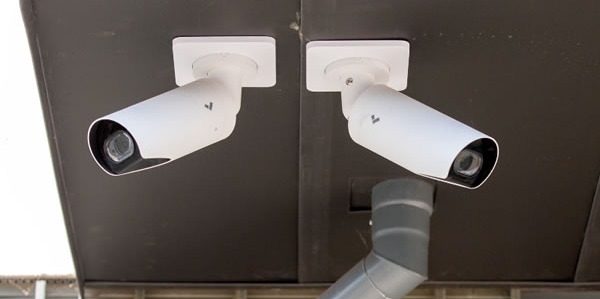 CCTV Video Analytics & Threat Detection
With countless personal possessions, as well as cash, credit cards and identity documents on-site, hotels are magnets for crime. Securing rooms and doors is, of course, the right way to respond - but that doesn't solve one of the biggest challenges to hotel security: identifying who is a paying guest, and who isn't.
Most modern cameras come equipped with intelligent threat detection software known as "video analytics". This integrated addition is designed to analyse live video footage in real-time, identifying an endless range of actions and activities. It can detect movement in prohibited areas, loitering, crowding, concealed clothing and more. The purpose is to alert operators to suspicious activity and identify crime at its source, rather than just responding after the fact.
Many hotels have benefitted from setting up facial recognition for known local offenders, which triggers an alert if the cameras detect this person on the premises. This feature is very useful for hotels with multiple branches across a town, city or county. Facial recognition software doesn't just work to prevent crime, it can also boost guest experiences by identifying known visitors so they may be greeted by name. In addition, video analytics can be linked to mobile and desktop alerts so that, should the queue at reception or the bar become too long, a member of staff can be notified and deployed to support.
Automatic Number Plate Recognition (ANPR) and Check-In
ANPR tends to be a popular choice for stopping vandalism and theft in hotels by restricting entry to car parks and visitor areas. ANPR is usually integrated with some form of gate or barrier. Cameras are fitted to read each plate as the vehicle approaches slowly or is forced to a stop. This makes for a more seamless check-in, but it also helps hotel staff to separate their paying visitors from opportunistic criminals, and raise an alert for any unregistered number plates.
Though with 24-hour check-in and the potential for off-the-street, late-night walk-ins, ANPR isn't a foolproof solution. It works best when used alongside video analytics like facial recognition and loitering detection.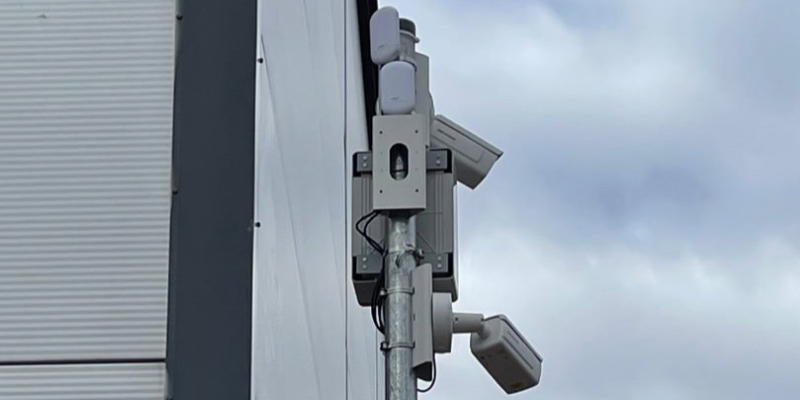 Using CCTV for Accident Prevention
Last year, the number of UK hotel guests peaked at 31.2 million. With such a high volume of visitors each year, the risk of unexpected accidents and injuries naturally increases. In some instances, hotels can be seriously liable. From slips and falls or even fighting between guests and staff, businesses battle huge legal claims from visitors each year. Simply having a CCTV surveillance camera in-place can protect you against these claims with video evidence, which can be vital in such situations.
Equally, keeping customers and staff safe should not be beyond the interest of any business. A good CCTV operation can help businesses monitor staff compliance and assess whether health and safety risks are being managed to the expected level. Certain systems will even feature onboarded analytics to detect a slip, fall or injury on the premise or in key areas of risk. This will help staff to respond as quickly and aptly as possible. In sensitive areas where video surveillance isn't permitted like rooms or shared changing facilities, some businesses choose to introduce an environmental sensor to flag unexpected peaks in audio - such as shouting or screaming. This can help identify and resolve injuries quickly, without breaking audio recording or privacy laws.
Monitoring car parking areas can help resolve disputes around who has caused damage to a vehicle. With smart CCTV you can even search by number plate or description of the vehicle to find the incident.
Ultra-Secure Hotel CCTV & Access Control Integration
The hospitality industry has long surpassed its need for lock-and-key solutions. Nowadays, most hotels rely on simple keycard and scanner measures for guests to access their rooms, lifts, and communal spaces. While hugely convenient, keycards are not without their flaws. In fact, in terms of modern access control innovation, they're hugely behind the pace.
Key cards and fobs can be copied using a tool purchased online for under £20. Using an access control system that doesn't just read card serial numbers but an encrypted sector on a card will mean that cards cannot be cloned, increasing the security of your guests and their possessions.
With simple tailgating and the huge potential for stolen or duplicated cards, almost every hotel faces risks with keycards. But, with hundreds of rooms on-site, there's no real quick or cheap alternative. Hotels should instead look to introduce CCTV and access control integration into their buildings. Using precisely-designed video analytics, modern CCTV systems can be paired with access control units (ACUs) to quickly identify signs of tailgating or forced entry in real-time. When done right, this will promptly alert the operator and bookmark the event for review. These alerts can even be sent straight to the manager's smartphone with an image for context, an ideal option for unstaffed, contactless buildings.
You can also ask your provider to set-up an access log in your system. This will date each time an access control door is used alongside the relevant CCTV footage. This provides substantial evidence should you suspect that an offender or unwanted visitor is on your grounds.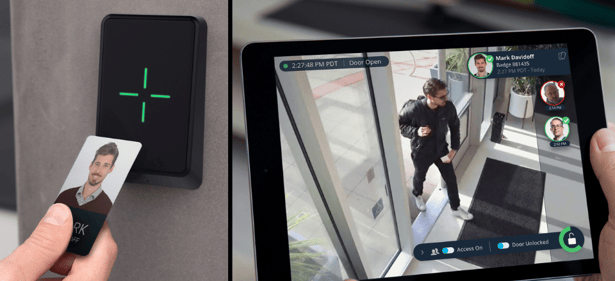 Using Smart CCTV to Streamline Operations
Alongside the clear-cut security benefits, an installed hotel CCTV system can also help hotel staff to work smarter. It can boost productivity, and working efficiency and provide a better visitor experience.
Transactional Compliance
When integrated with a POS system in your hotel, CCTV footage can be searched by transaction. This means you won't have to trawl through your video archive to find specific sales. Users can search for discounted transactions to check compliance and see whether staff are offering unapproved discounts.
Employee Verification
Integration with access control can help managers accurately track employee arrival times and enable full verification upon entry. Facial recognition software can be paired with an access credential to enable 2FA for every person who arrives at an access point. This reduces the risk of stolen keycards/fobs or duplication. It can also be used to prevent employees from accessing restricted areas such as private storage or server rooms.
Deliveries & Waste Management
ANPR integration can help hotels keep on top of their deliveries and waste management. With accurate registration, operators can allow entry to waste vehicles and known delivery vehicles from partner distributors. This helps them to swiftly unload cargo and reduce completion times. For an ultra-secure option, you could even set up analytics to detect whether the driver is wearing the expected uniform, like a high-vis jacket and raise an alert for unexpected anomalies.
Occupancy Management
In hotels with additional leisure facilities such as a spa, gym or pool areas, smart CCTV can be used to monitor capacity. When paired with an access control system such as a door counter or keycard reader, doors can be set to deny entry once capacity reaches a certain threshold.Alternatively, you can programme the cameras to send you an alert when capacity in an is reached, or falls below a target occupancy. If crowding or queuing in a certain area like a bar or reception occurs, a trigger can be set to alert the on-site manager to assign additional members of staff.
Frequently Asked Questions
Which CCTV System Is Best for Hotels?
There's no one answer to this question. Depending on the budget, we'd typically recommend a package from Verkada. Verkada offer some of the cleanest, most intelligent cloud systems on the market. For those looking for a more budget-friendly choice, AVA have some incredible cloud ranges at a very accessible price point. Their Flex range is especially popular, available at £225 + VAT per camera. Their Flex range is especially popular, available at £225 + VAT per camera. We usually advise looking into remote monitoring packages for additional protection.
How Long Can I Keep Hotel CCTV Footage?
Typically businesses can keep their footage for a maximum of 31 days. This is the amount recommended by UK privacy law. This duration will, of course, be adjusted according to your needs and how quickly an incident may be discovered. High-end CCTV systems are able to archive bookmarked footage for indefinite storage if you need to keep an incident "on file".
Where Should I Install Hotel CCTV Cameras?
Entrances and Emergency Exits
Car Parks
Guest Reception
Gyms, Pools and Spas
Store Rooms
Server Rooms
Hallways and Corridors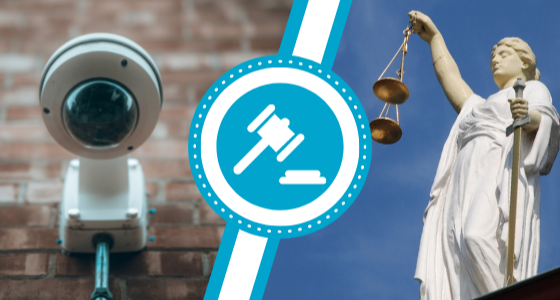 Do I Have to Tell Hotel Guests About CCTV?
Yes. In almost every case you are required by UK law to tell customers and staff about CCTV recording. This is usually done with well-placed signs. Recording can only be legally kept a secret in rare circumstances. This includes interfering with the course of justice in active criminal investigations.
Can a Guest Ask to See CCTV Footage?
Guests can request CCTV footage of themselves, but they do not have the right to request footage of any other visitors. This footage must be provided by the hotel within one calendar month and should be supplied free of charge. Some CCTV systems allow you to automatically redact the faces of other people in order to speed up the process of exporting footage.
What You Can't Do With Hotel CCTV
Record Audio
There are a number of reasons why audio cannot be recorded in hotels - both practically and legally. It is against UK law to record workers' conversations without them knowing or accepting that they are being recorded. It is illegal to record those between members of the public full-stop.
Install Cameras Into Rooms
Under UK privacy laws, businesses cannot install CCTV cameras into private rooms under any means. To do so would be a clear breach of Data Protection Act (DPA) and could result in unlimited fines or even jail-time.
Install Cameras Into Private Shared Spaces
Similarly, hotels cannot install cameras into shared spaces where there is a reasonable expectation of privacy. This includes changing facilities or public bathrooms. This could land unlimited fines for the business or jail time for those involved.
Final Thoughts
Chris Lewis Group have specialised in CCTV installations for over 30 years. We've assisted a wide range of homes and businesses, including hotels. Get in touch today to discuss system design and installation for your premises. Looking for more information? Get the best installation advice and guidelines for CCTV over on our complete overview page.
Let us bring your new system to life, get in touch with our experts today:
Submit the form below and we will be in touch shortly.

I run our sales, technical design and marketing initiatives for the business. I work closely with manufacturers and trade associations to keep abreast with the latest technology and regulations making sure our clients are getting the very best and latest systems available.
Are you looking for a new CCTV system and want to know if Cloud is right for you? After relying on NVR storage for the best part of 50 years, homeowners and businesses are moving their security.
When considering which CCTV cameras and systems to install, security is paramount.
The cloud-based security market was worth over $46 Billion in 2022, and that value is expected to more than triple in the next decade. The shift to cloud rather than on-site data storage has.