Jump To
Cloud computing is one of the biggest technological innovations of the past several years. It has completely changed the way we think about storing, managing, and processing our personal data. Many of us interact with "the cloud" on a daily basis without even knowing it. Whether using social media, listening to music, or watching films on our favourite streaming services. The amount of data we are storing on the cloud is rapidly increasing every year. As of January 2021, it is estimated that more than 1,327 exabytes of data is being stored. Roughly 2.5 exabytes of data is being added to this total every day.
Because we can't actually see it, cloud storage has a somewhat magical property. In truth it's very simple to understand. The convenience it creates extends far beyond smartphones and other cutting edge consumer electronics. We are continuing to see businesses use cloud servers to streamline how they operate. They are also being used to help manage CCTV.

So, how does the cloud actually work? Any devices connected to the internet can upload data to a remote server where it is stored. This can then be accessed and downloaded on demand, whenever, wherever. This smart way of processing data has reduced the need for manual backups and the need to keep track of various memory cards, hard drives, and other storage media.
As CCTV operators will know all too well, video recorders demand a lot of physical space. Not only that, they are costly to install, maintain, and upgrade. Switching to a cloud servers is far less time-consuming way to manage video footage. Not only that, it can help drive down the costs of storing data recorded by your camera network. This also promises an intuitive level of scalability. You are no longer limited by the processing power or physical storage of a physical CCTV server or NVR. Other benefits include allowing admins 24/7 control, being able to access data remotely. They will and receive notifications of component failures, security concerns, or event alarms.
The cloud is here to stay. Whether upgrading your existing CCTV hardware or installing a new compatible system, you can future-proof the security of your home, building, or site.

This blog will detail everything you need to know about cloud CCTV storage. We will explore how the system is installed and how it works in more detail. We'll be reviewing the various practical and financial benefits of cloud CCTV storage for you and your business, addressing any considerations.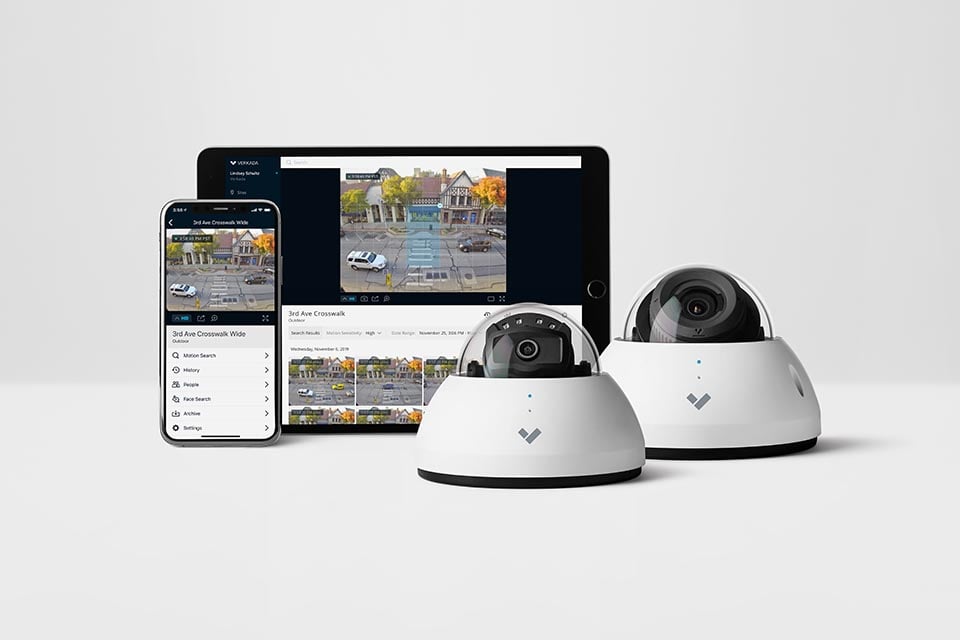 As we've already touched on, cloud CCTV storage offers a list of advantages to help improve security.
You may be wondering what the difference is between cloud CCTV storage and older, more traditional means of storage. In the past, CCTV systems have typically been built around centralised hardware. Examples include local storage servers or a network video recorder (NVR). However, these are limited by the number of cameras recorded at one time. If you want to add more cameras or upgrade their resolution this would mean replacing the recording device with a new one. The other option would be to purchase another system, requiring two different logins to gain access. Cloud storage offers simple scalability, adjusting to your exact needs. You can easily add cameras to your network with no VPNs. This helps in managing multiple buildings and sites across different locations. With cloud CCTV it doesn't matter if you're operating 1 camera or 1000, even if they are spread over different sites. All you need is an internet connection. You can manage and control every camera on your system using one login on a single "pane of glass".
Imagine one of the following scenarios. An intruder has damaged your recorder or your hard drive fails. As a result, all the data you were storing on a system will be corrupted or lost entirely. Not only that, you will have to replace and reinstall any damaged components. With data seamlessly collected and stored off-site, switching to the cloud will help. Avoid vulnerabilities, damages, and the associated costs.
Another headline feature of cloud storage is the convenience it offers. Seamlessly store, retrieve, and share surveillance footage, 24 hours a day, wherever you are. Even if you lose internet access, you can still retrieve any archived footage. However, did you know that there are other added benefits that can come from switching to cloud storage?
For example, a professional cloud CCTV storage installation will reduce the need for expensive hardware. Many of us are familiar with backing up personal data on memory cards and hard drives. Security managers need to manage data on a much larger scale which requires pricey recorders and servers. Switching to cloud storage will reduce the amount of hardware needed. This will free up space in your home or office, allowing you to streamline your security and IT. This is thanks to intuitive apps that can be used to monitor cameras, update security firmware, and modify settings to your own personal preferences.
As for security, cloud CCTV storage is encrypted, and cannot be tampered with. Footage can be retrieved and shared easily via SMS or email between security admins, or forwarded to the police. There is also a full audit trail to detail exactly who has accessed footage and when, ensuring GDPR compliance.
Thinking beyond cameras and storage, integration is another thing you should consider. For example, you could integrate cloud CCTV storage with software such as Office365 and Okta. Users are accordingly assigned access rights and can use the same login they use for Windows as they do the cloud CCTV platform.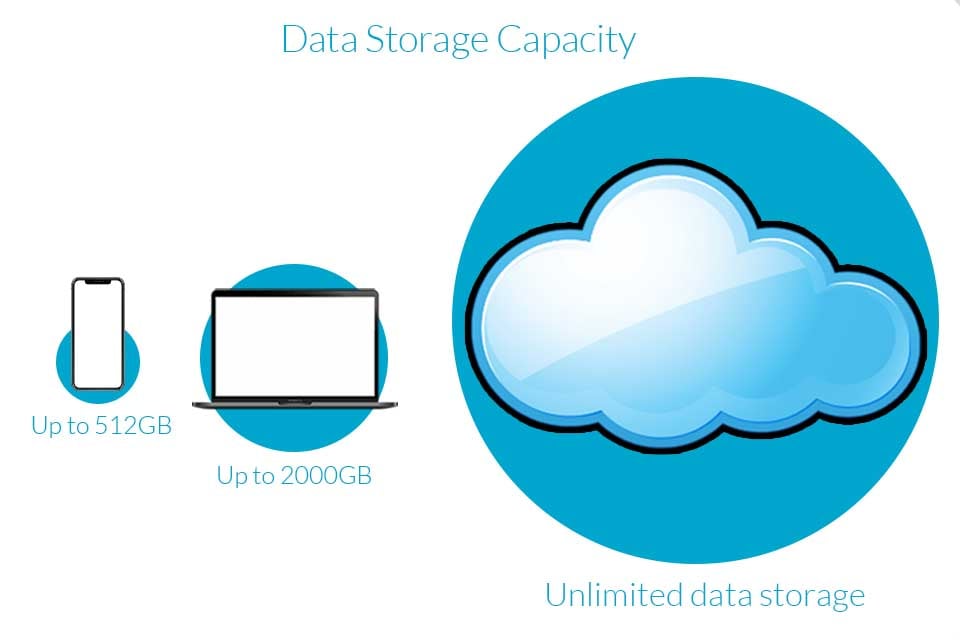 Cloud CCTV Storage FAQ: What you need to know
We've already reviewed several benefits of switching to cloud CCTV storage. However, you may want to know more about how your data is stored, how much storage costs, and whether it's secure. We're here to answer those questions.
You may already be sold, but first let's explore how these systems work while also covering some key considerations.
How do I store CCTV footage in the cloud?
Connected cameras will upload footage to a remote server almost instantly where it can then be reviewed and shared. On average, people store this footage for 30 days, but there are flexible options - archived for as long as you need. This can easily be accessed via a secure login which will present you with a library of stored CCTV footage.
There are three ways in which cloud CCTV storage can work. Firstly, there are cameras that can stream all recorded footage directly to the cloud. There are also hybrid cameras such as those from Verkada which combine built-in storage and direct streaming for better bandwidth management. Finally, you can upgrade existing CCTV storage using a cloud connector to upload footage from connected cameras.
To expand on this last point: cloud integration doesn't always mean having to replace your old setup. You'll find that many cameras and recorders are compatible with cloud storage. By using modern technology such as the Tether cloud connector, it is possible to modernise your camera systems from local to remote storage.
Before choosing a cloud storage solution, consider the bandwidth of your internet connection. Cloud cameras use a considerable amount of bandwidth so you will need a very fast internet connection. If you don't then you run the risk of losing footage if there is a problem with the internet. The cameras also require open ports on your network which can leave potential points of exposure. Speak with us to check the compatibility of your current system and find a cloud CCTV solution that works for you.
The image below shows a typical hybrid-cloud CCTV setup: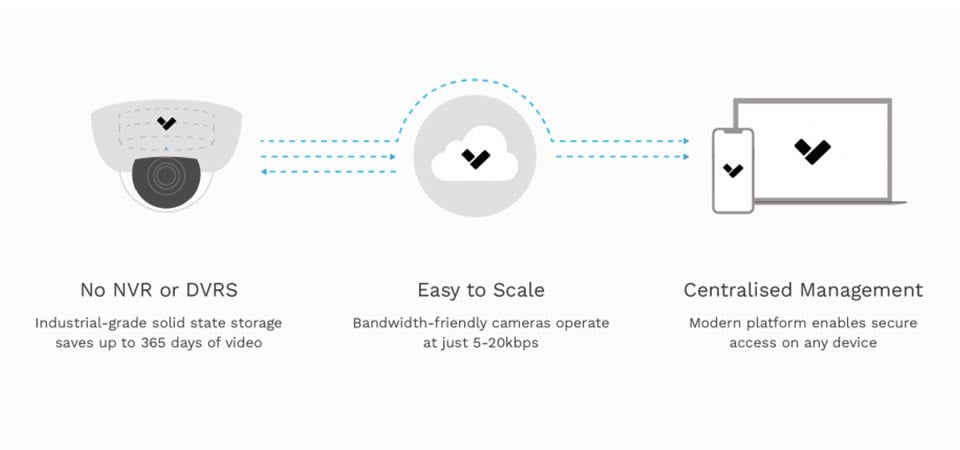 How much does Cloud CCTV Storage cost?
The cost of cloud CCTV storage will vary depending on your exact needs. This can range from a single camera residential system to installing a multi-site network of cameras. It can scale to meet the requirements of your home or business.
Cloud storage solutions are subscription-based with a recurring fee. As a rough estimate, storage prices for cloud storage start at £3 per camera, per month, up to £30-40 per camera per month. This depends on factors such as camera motion, analytic efficiency, and video resolution.
If you are upgrading from an existing system, here is a good breakdown of costs. It would could around £600 to install a Tether cloud connector for up to 5 cameras, and then a monthly data fee depending on how much footage you'd like to store. Larger cloud connectors are available to accommodate 100s of cameras if you need to.
If you are looking for a new hybrid-cloud system, expect to pay from around £1,000 per camera installed.
Not only can installing a cloud CCTV system save you the upfront capital expenditure of purchasing a CCTV server or NVR, there are also long term savings when switching to cloud storage. Existing CCTV operators and IT managers will already be aware of the time and cost of maintaining local recorders and storage devices. With older components being phased out, parts are becoming more expensive and harder to source. IT Managers are taking on the responsibility of patching and updating software on CCTV recorders and this all costs money. Meanwhile, cloud based systems automatically update and apply security patches giving you the very latest technology without upgrading hardware and keeping your system safe from hackers. Your support company can access the system (with your permission, of course) to troubleshoot issues remotely, fixing them without the need for a site visit and the cost of a technician call out. This will help improve efficiency and save time for everyone.
For a more cost efficient, hassle free way of maintaining your CCTV storage, cloud is the best option available on the market.
Is Cloud CCTV Storage secure?
It's worth remembering that cloud CCTV storage is a security-first solution. Industry leading manufacturers such as Verkada are proactive in battling cyber security threats as they emerge. Cameras and software in a cloud based network are constantly patched to improve security and remove vulnerabilities as we mentioned before. Again, this is done remotely and automatically without the need for an on-site maintenance visit.
As for the cameras themselves, cloud-based IP cameras offer end-to-end encryption. They also provide other features such as two-factor authentication as well as integration with Office365 and Okta identity management. You will be notified in real time if a camera malfunctions or goes down, receiving a message on your connected device.
In terms of how cloud data is managed, each user has their own login. These are handled by a designated company admin controlling access levels. For example, you may have certain staff that you want to view external cameras but you don't want them to see cameras in a research lab or server room. User access is granular per camera and feature on the system. There is a full audit trail on all access events on the cloud CCTV system that can't be deleted or tampered with.
The fact that all footage is stored remotely also has security benefits. In old systems, camera units and connected hard drives are at risk of being damaged, destroyed, or stolen. Using the cloud, your data is uploaded to a remote server and safely stored off-site.
Finally cloud CCTV storage is designed to uphold GDPR privacy principles. Systems securely collect, process, and maintain data in a way that complies with EU regulations.
---
"We wanted to scale coverage and manage remote sites easily, so we started evaluating cloud-based solutions. With Verkada, we found success immediately. Not only are cameras online and fully operational in minutes, the features make it easy to monitor sites where valuable items are stored." Verkada review, Hanover Displays.
---
Final thoughts
With the world quickly transitioning towards cloud storage as a primary solution for storing and sharing data, older methods are becoming outdated and far less viable in a modern security landscape.
Cloud CCTV storage offers an enhanced degree of efficiency and control for your security needs, capable of scaling to meet the requirements of you or your business.
This technology will only become more standardised over the next few years. At the same time, internet infrastructure and remote storage is continuing to become more robust in terms of efficiency and security. What's particularly great about this is that you will benefit from these new features without having to change your CCTV hardware.
If performance, security, and uptime are important to you then choose a cloud based CCTV system

I run our sales, technical design and marketing initiatives for the business. I work closely with manufacturers and trade associations to keep abreast with the latest technology and regulations making sure our clients are getting the very best and latest systems available.
Every building faces its own unique security challenges. From out-of-hours cleaners to blind spots and hard-to-reach zones; there's simply no 'one-size-fits-all' when it comes to designing a.
Businesses and homeowners of today are relying on surveillance systems to keep their property and assets secure. In fact, there are now an estimated five million security cameras in the UK, according.
A care home is two things: a business and a home. Whilst managers have the duty of making sure business is profitable and running smoothly, the number one aim of any care home is to make sure.