Security systems have come a long way from black and white cameras and titanic racks. In the past, video was mainly a reactive measure, and footage was only reviewed after an incident had already happened.
As technology evolves, so does a security system's potential. No security measure captures this more than Cloud CCTV.
Jump To
In this blog, we look at what cloud CCTV is and how you can use it to install business security that's more resilient against hackers, cheaper to maintain, scales easily with your business, and is highly modular.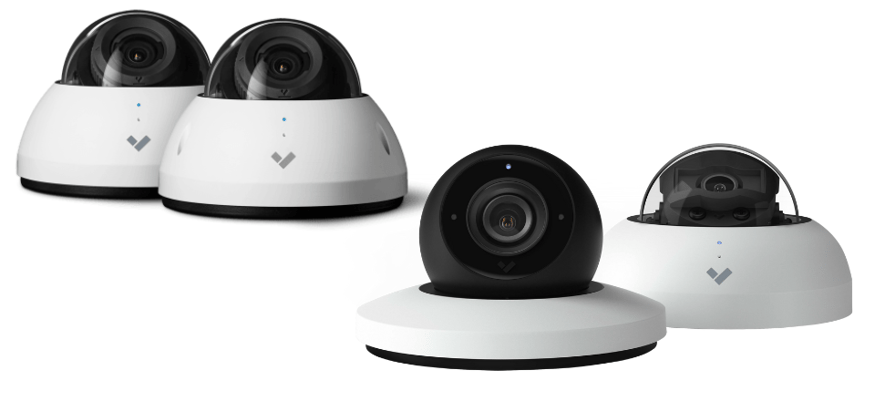 What Is Cloud CCTV?
Cloud CCTV is when CCTV footage is uploaded to a remote server through the internet, rather than a local server or recording device. "The Cloud" refers to the remote server where the CCTV footage is stored. (You can learn more about other Cloud Security Systems in our guide; "Cloud Security Systems - The Future of Physical Security".)
In the past, large-scale CCTV systems required on-site footage servers to store files. These are large, external storage devices known as DVRs (Digital Video Recorder) or NVRs (Network Video Recorder).
Increasingly, companies across the planet are getting rid of on-premise servers and switching to the cloud, and for good reason. They're expensive to repair or replace and provide a single point of failure for your whole security system.
Digital cloud storage makes life easier, reducing the worry of data loss and external hard drive corruption. It automatically patches and updates the user interface, and - with less hardware to replace or upgrade - grows easily and cheaply with your business.
How Does Cloud Storage for CCTV Cameras Work?
There are three main ways we can store CCTV footage in the cloud:
First, there are cameras that stream all recorded footage straight to the cloud.
Second, hybrid cameras which combine built-in storage and direct streaming, using less bandwidth.
Finally, you can use a "cloud connector" to upload footage from existing cameras.
What Are the Different Types of Cloud CCTV?
These three systems for uploading footage to the cloud are "Direct to Cloud", "Hybrid Cloud" and "Cloud Connectors", respectively. Here's a closer look at the benefits and drawbacks of these systems:
Direct to Cloud
A cloud security camera streams footage directly to a server in a cloud environment. It can use a huge amount of bandwidth and usually requires you to open up ports on your network. Also, if your internet connection fails, the cameras won't be able to record to the cloud portal.
Hybrid Cloud
This is where you have security cameras with built-in storage, but you back up CCTV footage to the cloud. The camera records to the built-in hard drive when there are events. This means you only stream footage and take up bandwidth when you are reviewing events on the CCTV system. If the internet connection is interrupted you still have footage available as the cameras store their own footage.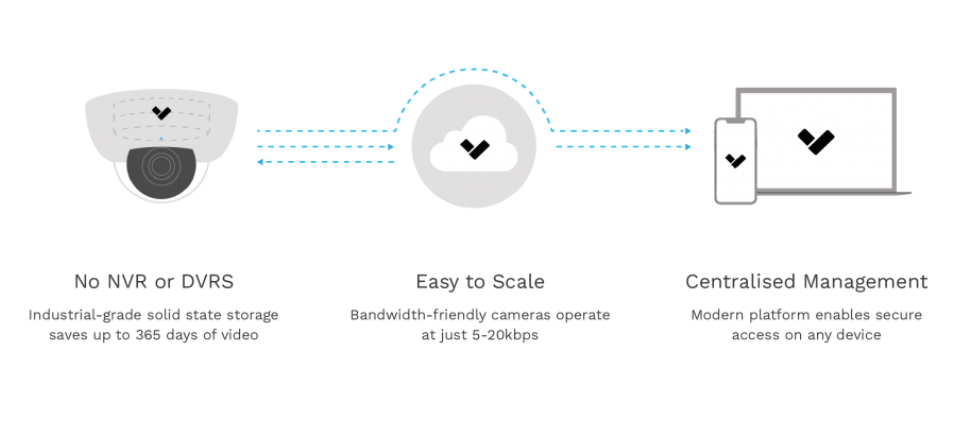 Cloud Connectors
For cloud connectors you can use almost any security camera that connects on your network locally. This device then processes the images and uploads them to the cloud portal, as well as storing them locally. If the internet connection is interrupted you still have CCTV footage. This solution offers an excellent upgrade path for businesses looking to move to cloud recording. But, there is still a single point of failure if the cloud connector fails, and you are limited to hardware of the cloud connector. So to scale or upgrade the system past a certain point could be costly.
Before choosing a cloud storage solution, consider your internet connection's bandwidth. Cloud cameras use a lot of bandwidth, so you will need very fast internet to avoid bottlenecking. If you don't, you risk losing footage if there is a problem with the internet. The cameras also require open ports on your network which can be points of exposure for hackers and cyberattacks.
What Are the Benefits of Cloud CCTV Storage?
Cloud CCTV storage offers a list of advantages over more traditional storage options:
Improved security, as data is encrypted and can't be tampered with physically, since it isn't stored on site.
Footage can be accessed by administrators at any time from anywhere with internet.
Cloud-based CCTV systems are constantly patched and upgraded. They can also be monitored and maintained remotely, saving you expensive technician call-outs.
The storage space available is effectively limitless, preventing overwrites and saving you space on your premises.
Cloud CCTV saves on the expense of storage and scales in a cost-effective manner if your camera network is expanded.
Cloud Data Storage Is Tamper-Proof
Cloud storage is encrypted, and cannot be tampered with physically. Footage can be retrieved and shared easily via SMS or email between admins, or forwarded to the police. There is also a full audit trail of exactly who has accessed footage and when, ensuring GDPR compliance.
It's also great at preventing security flaws caused by outdated software. With remote updating and maintenance, leading brands like Verkada can tackle new cyber security threats as they happen. This ensures your protection is always at peak performance and up to date.
In addition to this, most Cloud CCTV systems fight the hacker threat with account access control. Cloud based IP cameras offer end-to-end encryption and use Two-Factor login to defend your dashboard from prying eyes.
Constant, Real-Time Access to Your Security Cameras
Another headline feature of cloud storage is the convenience it offers. Seamlessly store, retrieve, and share surveillance footage, 24 hours a day, wherever you are, with a connected smartphone app.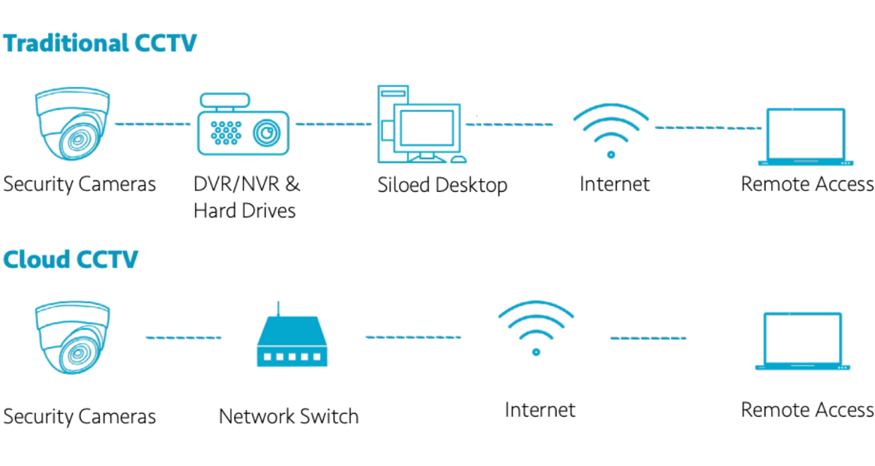 This provides on-the-go protection without manual check-in, offering reassurance in real-time. There are huge advantages to reap because of this:
Typically, businesses use CCTV in a reactive way; looking at recorded footage archive only when an incident has already happened. By comparison, real-time access through the cloud makes monitoring your premises a more proactive approach, potentially eliminating security breaches entirely.
Additionally, if you aren't actively monitoring your feeds at any time, AI video monitoring can even take action before a threat materialises. The AI built into some CCTV cameras can visually assess activity within your perimeter with motion detection and can send an alert to your device within seconds.
For example, Verkada cameras have built-in anti-tailgating technology, designed to flag unusual entrances, and some cameras from Avigilon can cross-reference the image on a user's profile with the image captured by the CCTV footage. It can then contact your access control systems and permit or deny access to an area, depending on the user's access permissions.
Cloud CCTV Cameras Can Be Maintained Remotely
New security threats emerge daily, and this is considered to be one of the biggest drawbacks to traditional NVR/DVR CCTV systems. Without the ability to upgrade your CCTV system's software, your CCTV system becomes out of date the moment it's installed.
This means its defences against cybersecurity threats will steadily become weaker. In some cases, businesses don't know their surveillance system has had an issue until long after their premises have been breached, rendering the system entirely useless.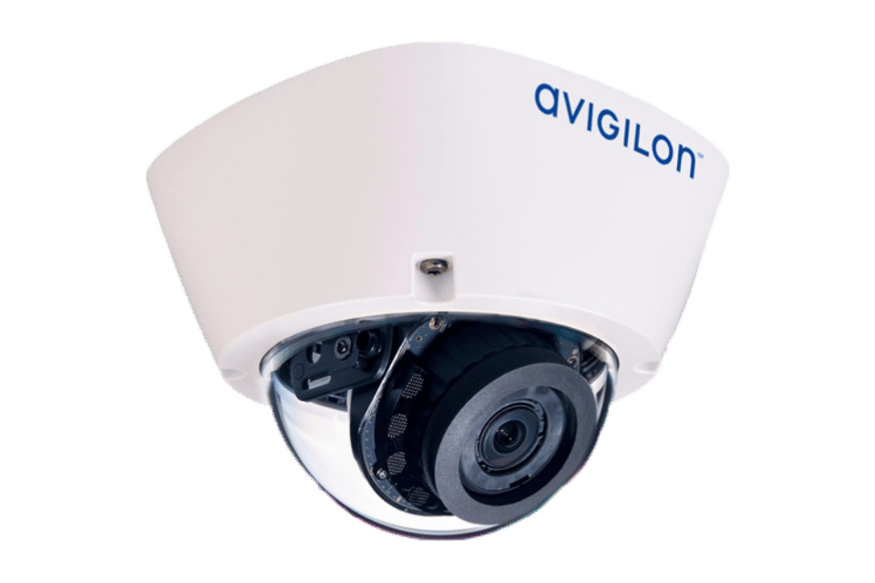 Cloud-based CCTV systems apply new security patches without human intervention. This gives you the latest technology and keeps your system safe from hackers without needing to upgrade your hardware.
With your permission, your support company can access the system to troubleshoot issues remotely and fix them without the cost of a technician call out. This improves efficiency and saves time for everyone.
Larger Storage & Additional Backup in the Cloud
By using cloud CCTV measures, businesses can remove some of the risks connected to legacy storage systems. Physical hard drives are undoubtedly the Achilles heel of traditional surveillance systems. If they are damaged or generate a fault, your data can be corrupted without a backup.
Criminals are often aware of this. There has been a spate of high-profile cases where burglars have damaged CCTV servers in large, corporate buildings to destroy evidence of their actions. This is only becoming more prevalent.
So if your premises are at high risk of burglary, cloud storage is a vital addition to your protection, and one you can't afford to overlook. By saving footage to the cloud automatically, evidence is preserved regardless of damage or theft. This gives you a resource to support damage claims and criminal proceedings.
Local storage systems also have limited storage capacity. This can result in overwritten data and the need to replace/reset hard drives every few months. Cloud storage gives you essentially limitless data storage at a competitive value.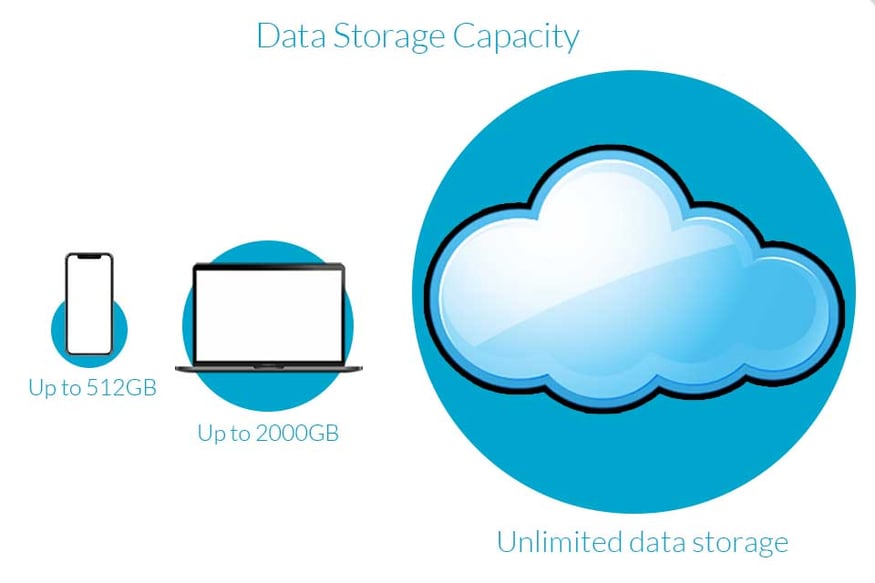 Cloud CCTV Storage Is More Cost-Effective
Installing a cloud CCTV system can save the upfront capital expenditure of purchasing a CCTV server or NVR. There are also long-term savings when switching to cloud storage.
Older mechanical parts are gradually being phased out. This makes the maintenance and repair of legacy CCTV systems expensive and often impossible. Additionally, the increasing time spent sourcing those gold-dust components is a drain on resources.
How Much Is Cloud Storage for CCTV?
Cloud storage solutions are subscription-based with a recurring fee. As a rough estimate, storage prices for cloud storage run from £3 a month per camera, up to £30-40 a month per camera. This depends on factors like camera motion, analytic efficiency, and video resolution.
The cost of cloud storage will vary depending on your exact needs. This can range from a single camera residential system to a multi-site network of cameras. It can scale to meet the requirements of your home or business.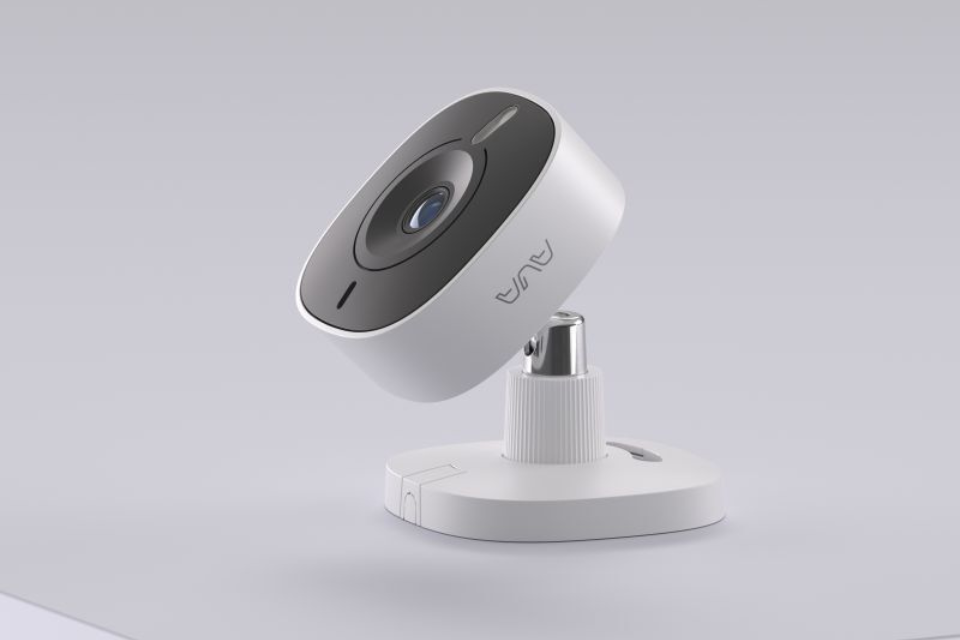 If you are upgrading from an existing system, here is a good breakdown of costs. It would cost around £600 to install a Tether cloud connector for up to 5 cameras, and then a monthly data fee depending on how much footage you'd like to store. Larger cloud connectors are available to accommodate 100s of cameras if needed. If you are looking for a new hybrid-cloud system, expect to pay £1,000+ per camera installed.
Final Thoughts
With the world moving to cloud storage as the main solution for storing and sharing data, older methods are becoming less viable in a modern security landscape. Cloud CCTV storage offers greater efficiency and control for your security needs, and can scale to meet your requirements.
This technology will only become more standardised over the next few years. At the same time, internet infrastructure and remote storage is becoming more efficient and secure. What's great about this is with cloud CCTV you will benefit from these new features without having to change your CCTV hardware.
Let us bring your new system to life, get in touch with our experts today:
Submit the form below and we will get back to you shortly.

I run our sales, technical design and marketing initiatives for the business. I work closely with manufacturers and trade associations to keep abreast with the latest technology and regulations making sure our clients are getting the very best and latest systems available.
Are you looking for a new CCTV system and want to know if Cloud is right for you? After relying on NVR storage for the best part of 50 years, homeowners and businesses are moving their security.
When considering which CCTV cameras and systems to install, security is paramount.
The cloud-based security market was worth over $46 Billion in 2022, and that value is expected to more than triple in the next decade. The shift to cloud rather than on-site data storage has.