Unlock the potential of your outdoor space
Adjust your lighting, enjoy music outdoors, ensure all your plants get just the right amount of water, and even control things like fountains and pools, all at the touch of a button!
With our smart garden technology, all this and more is possible. It's time to take full, automatic control of your outdoor space.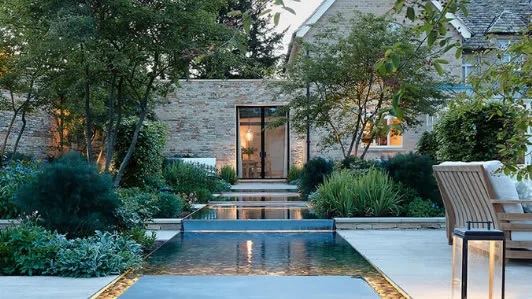 ---
Imagine that…
...the BBQ is beginning to cool down. The sun has just dipped below the horizon. But instead of retreating indoors, you settle down in front of your outdoor home cinema. At the touch of a button the garden lights dim, the surround sound system springs to life, and your favourite film begins. With a Smart Garden, this is no longer a dream, but reality.
---
Why choose our smart garden service?
Chris Lewis Smart Home is run by a team of dedicated home automation and system integration experts. Our technicians are highly experienced at designing, installing and maintaining smart garden technologies. We are on hand to help you make the most of your outdoor spaces, and to ensure that they are perfectly suited to your needs.
Whatever you're looking for, when it comes to automating your garden, we can to bring it to life. With our depth of knowledge, we can advise on designs and integration options you may not have considered. Plus, if any of your smart garden systems need troubleshooting or repairing, we're here to help, even if we didn't install it!
Ready to bring your smart garden dreams to life?
Submit the form below and a member of our team will reach out to you shortly.