Fire suppression systems are an essential part of a company's fire safety strategy. One of the most commonly asked questions is how often they need to be inspected.
Fire suppression systems can include a combination of water sprinklers, gas suppressors and fire extinguishers. As the name suggests, a fire suppression system is designed to control fires and prevent them from spreading. This can be done by dousing them in water, foam, wet chemical solution, and powder. Or, by starving the fire of oxygen by releasing gas. While both are effective, sprinklers can cause water damage to machinery and other assets whereas gas avoids this. The type of suppression required depends on the potential cause and class of fire. These systems serve as your first line of defence.
What Are the Risks of Not Performing Fire Suppression System Inspections?
Fires not only put people's lives in danger, they also cause damage to property and valuable assets. A recent fire at Ocado's Andover warehouse in 2019 cost the delivery company £110m. The damage and disruption caused can by fires can have a severe impact on the profitability of your business. So, making sure your fire suppression works is vital.
Extinguishers, water sprinklers, and gas suppression systems don't have an indefinite lifespan. Like any other building system, they will degrade over time, becoming less efficient. In some cases they become inoperable if left unchecked. Examples of damage includes corroded cylinders, blocked hoses, and scratched detector tubes. Some of these faults are harder to detect than others.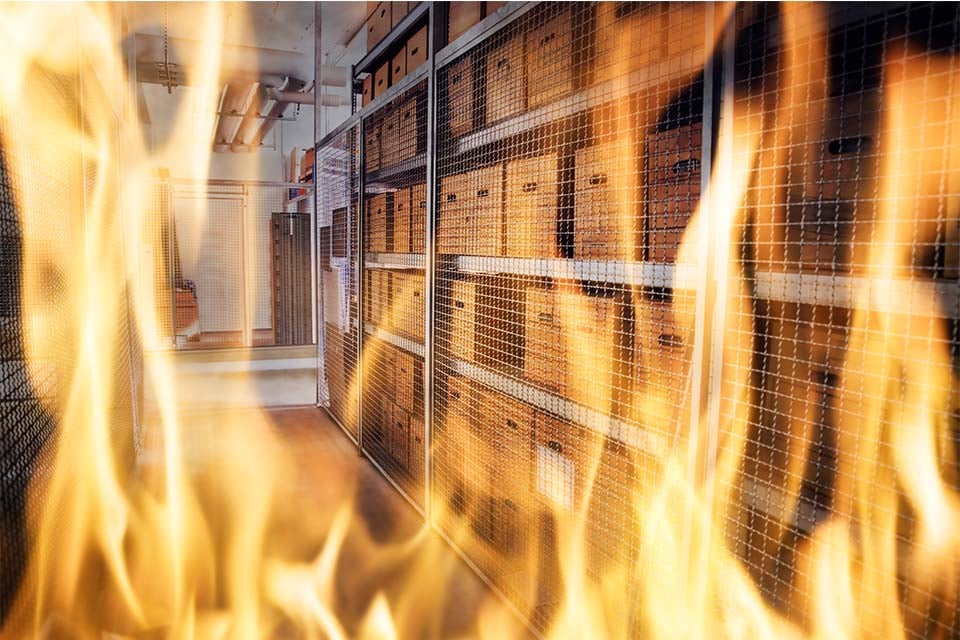 Failing to inspect your system regularly increases the chance of false alarms which can cause disruption to your business. Unchecked components may activate with a delay or not activate at all. This gives fires more time to spread, putting your staff and assets at risk. Therefore, these systems require frequent testing and regular maintenance. This is to ensure that all components within work properly to help control fires.
You also need to consider the legal issues of failing to inspect your suppression system. UK fire safety laws demand that systems are checked by a building's identified responsible person(s). Anyone who is designated fire safety controls must ensure the safety of their building's occupants. This includes risk assessments and the measures put in place to reduce the risk of fires. Checking fire safety systems falls under this list of duties, including the inspection and maintenance of fire suppression systems. You can of course pay a professional servicing company to take on these duties for you.
This is guidance from Article 17 of The Regulatory Reform (Fire Safety) Order 2005. "Where necessary in order to safeguard the safety of relevant persons the responsible person must ensure that the premises and any facilities, equipment and devices provided in respect of the premises under this Order. "Or, subject to paragraph (6), under any other enactment, including any enactment repealed or revoked by this Order, are subject to a suitable system of maintenance and are maintained in an efficient state, in efficient working order and in good repair."
Businesses can be fined for failing to comply with regulations. Minor penalties can incur a fee of £5,000. Meanwhile, major penalties can have unlimited fines and up to 2 years imprisonment. In 2007, New Look was fined the maximum fee of £400,000 for fire safety breaches following a fire at their London store.
What Does a Fire Suppression System Inspection Involve?
A fire suppression system inspection will vary depending on the size and complexity of your system. It will also be based on the types of components installed. The industry you work in has an impact on this, too. A fire risk assessment carried out by professionals will determine the solution your business requires.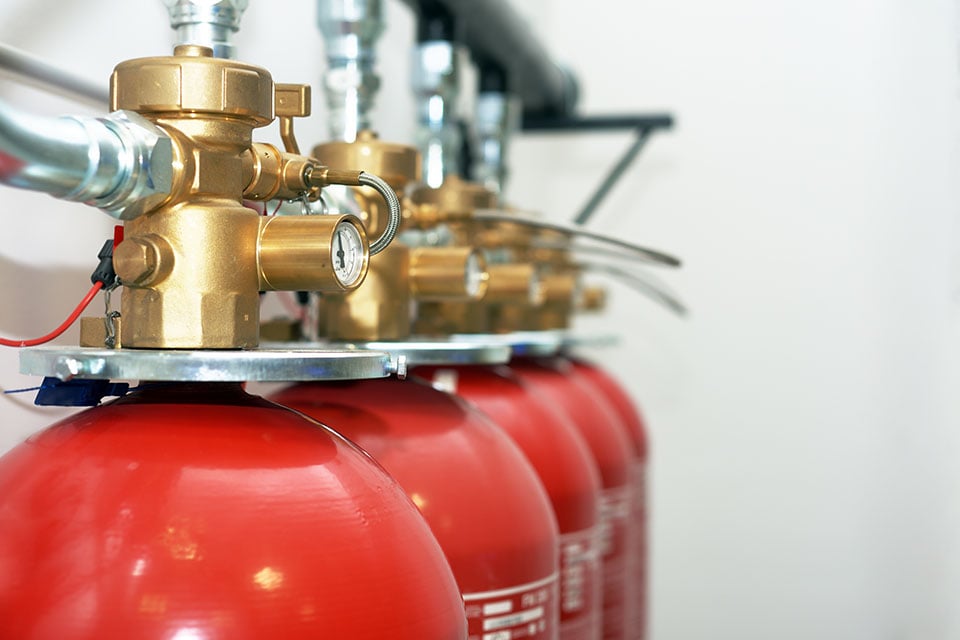 A fire suppression system inspection will include physical checks testing, cleaning, and adjustment for every part of your system. This includes hoses, gas cylinders, detectors, firing mechanisms, and sprinklers. Then there are bells, sirens, control panels, alarm devices, and batteries in electrical components. The condition and age of components is checked to see if they need to be repaired, recharged, or replaced.
If one part of your system isn't working to its maximum efficiency, this may lead to false alarms. It can also result in a failure to suppress/contain fires. Complete tests check if the performance of suppression systems is adequate and in compliance with safety standards. On completion a certificate of testing and inspection is issued.
As a quick recap, here's a list of what is checked during an inspection:
Control panels for both fire detection and extinguishing systems.
Extinguishing agent store room.
Cylinder battery/sector valve stations.
Manifold and piping.
Layout of extinguishing area.
Testing of system functions
For peace of mind, and to make sure your system is fully compliant, make sure you book a maintenance visit to see if your system is in need of repairs or upgrades.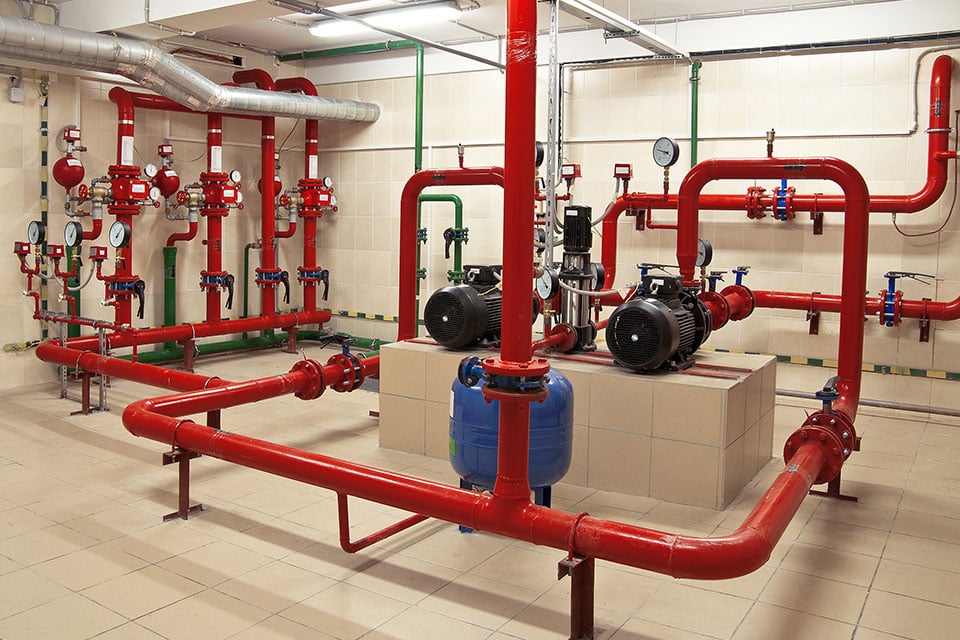 How Often Should Fire Suppression Systems Be Inspected?
How often systems should be expected varies between water sprinklers and gas suppression systems. There are no laws dictating how regular checks should be done. However, the FIA (Fire Industry Association) best practice guidelines state:
"A responsible person must ensure that the premises and any protective measures are subject to a suitable system of maintenance. This includes the maintenance of critical fire safety equipment. All protective measures for fire safety must be safe, reliable, efficient, and ready for use at all times. This is achieved through regular inspection and testing by the responsible person and a competent person (qualified service provider) at "suitable" intervals."
Let's look at the two different types of system and how often they require inspection:
How Often Should Water Sprinkler Systems Be Inspected?
It is recommended that water sprinkler systems should be inspected once a year. This annual inspection should only be carried out by an independent third party.
As outlined by the Fire Protection Association a qualified inspector should carry out a thorough assessment that includes the following:
Determining whether sprinkler coverage is adequate
Visual inspection of component age and condition within a system
Review of hazards including inspection of processes and storage arrangements
Witnessing of water supply tests
Checking that pump and tank systems are fully operational
Alarm tests
Checking that valve sets are secured open and clearly labelled
Review of the current testing regime
Full report offering analysis and improvement guidelines
Upon completion, you will be able determine whether components within your fire sprinkler systems need to be repaired or replaced.
How Often Should a Gas Suppression System Be Inspected?
Due to the risks associated with gas suppression systems, it is recommended that they are tested more regularly. It is advised these systems are inspected at least twice a year. It is also recommended that a room integrity test be carried out once a year as well. These tests are designed to ensure that a room is adequately sealed. This is to prevent discharged gases from leaking out and check that a room can hold gas agents long enough to take effect. You should carry out a room integrity check whenever a room has undergone any building work. This could impact the effectiveness of your gas suppression system.

Considerations for Fire Suppression System Inspections.
The placement of fire suppression systems and their surrounding climate can have an impact on performance. This will then have an impact on how regularly they need to be checked for faults.
Some components can be subjected to harsh conditions or placed adjacent to other moving parts. This can cause rubbing, vibrating, chafing, scratching etc. Chris Lewis successfully implemented a fire system for the JETS aircraft maintenance and support facility at Bournemouth airport. This customised design took into account the vibrations from engines and so required cushion-mounted beam detectors.
In such environments, you should look to inspect these systems more regularly. This is because the chances of component damage or failure is higher. In contrast, placing systems in a controlled environment will make the need for inspections less frequent.
When Was Your Fire Suppression System Last Tested?
Throughout this blog we have highlighted the risks of failing to inspect your fire suppression system. These systems house many components, meaning that if one of them is damaged it can place your building, as well as any occupants and valuable assets, in danger.
It's your responsibility to ensure that systems are regularly inspected. To recap, sprinklers should be inspected once a year. Gas suppression systems need to be checked twice a year alongside an annual room integrity test. If components fail their inspection you should look to repair or replace them immediately to comply with fire safety standards. This will help ensure that your building is adequately protected in the event of a fire.
Chris Lewis can conduct professional testing and maintenance, as well as system upgrades. For example, if you want to change from a sprinkler system to gas suppression, that's something we can help with. Have peace of mind that your system is always fully operational and in good repair when supported by our team of fire safety experts.
---
Connect with our experts to arrange your next fire suppression system inspection
Submit the form below and we will be in touch shortly.

I run our sales, technical design and marketing initiatives for the business. I work closely with manufacturers and trade associations to keep abreast with the latest technology and regulations making sure our clients are getting the very best and latest systems available.
Fire extinguishers are a crucial piece of fire safety equipment. They can be the difference between a small fire that is nipped in the bud, and one that quickly spreads out of control, causing huge.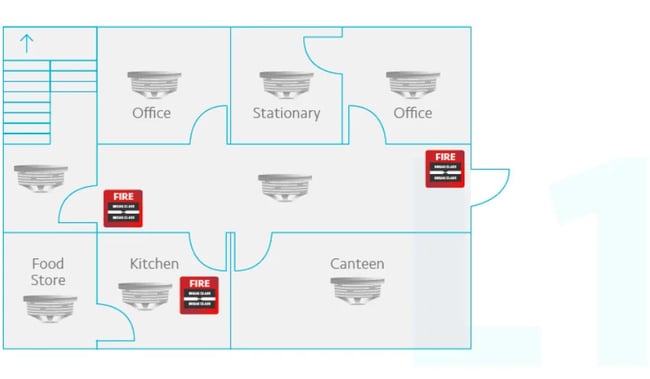 There's lots to consider when looking to install or upgrade a fire alarm system. In order to make things a little easier, and to simplify the information that's out there, in this blog we talk about.
Despite routine fire drills and regular testing, school fires still happen - and they can be fatal. Last year alone, uncontrolled building fires caused approximately 272 fatalities in the UK, many of.