With over 100,000 commercial fires occurring annually, taking your eye off the ball when it comes to fire protection isn't an option.
Air sampling is one of the more advanced means of fire detection, allowing you to react before an incident fully evolves.

Jump To
Faulty electrical equipment and installations are responsible for around 25% of fires. With an electrical fire being predominantly smouldering as opposed to an open fire, this technology can be a more effective means of detection.
Interested in what air sampling can do for you and your premises? In this blog we have all the information you need.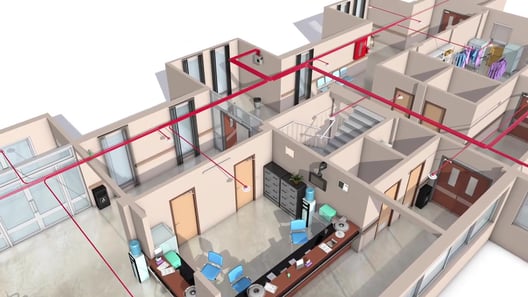 What Is Air Sampling?
Air sampling, otherwise known as Aspirating Smoke Detection (ASD) systems can detect fires at an extremely early stage, usually before visible smouldering appears or an open fire occurs and develops heavy smoke.
Early detection is crucial in minimising the impact of a fire on your business and, most importantly, human life. The sooner a fire is detected, the sooner emergency protocol can be activated and emergency responders can attend the scene and react accordingly.
Highly sensitive air sampling can detect a fire with efficiency increased by a factor of around 1,000 compared to a standard fire detection system.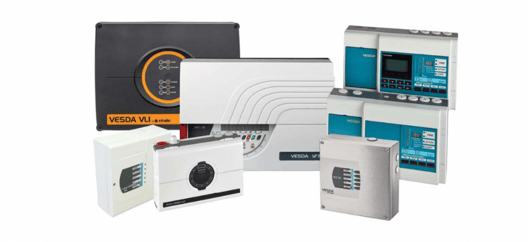 How Does Air Sampling Work?
Air sampling works by continuously analysing the air within your premises, drawing in air samples using fans to identify any changes which may indicate the presence of a fire. Using an ASD system you can be alerted to the presence of a fire or potential fire before it fully develops.
The system works by:
Continually drawing air into a network of pipes which feeds into a dual stage filter.
The first stage of the filter removes any dust and dirt from the air before it enters a laser detection chamber for smoke detection.
The air then passes through a second filter where it's cleaned further to keep the detector's optical surfaces free from contamination.
This ensures stable calibration and long detector life.
Inside the smoke detection chamber, the air sample is exposed to a laser light source. If smoke is present the light is scattered within the detection chamber and is instantly identified by the highly sensitive receiver system. The signal is then processed and displayed via a bar graph display, alarm threshold indicator, and/or graphic display. These VESDA air sampling smoke detectors are able to communicate this information to fire panels, software management systems and more, alerting the relevant individuals to any sign of danger.
When air sampling technology first surfaced and became available to businesses, Cloud Chamber Systems were used. Although there are companies today who still produce Cloud Chamber Systems, this structure comes with some big limitations when it comes to the process and maintenance.
Cloud Chamber air sampling uses water in the system, which requires monitoring and needs replacing once evaporated. This technology, although improved from its original form, still has more moving parts compared to laser technology, causing more mechanical failures and increasing the need for servicing and repairs.
What Type of Air Sampling System Do I Need?
The area of business you work in and specifications of your property will influence which type of air sampling system is right for you.
Addressable Aspirating Smoke Detector System
An addressable aspirating system has multiple air sampling points located in the building, with each point pulling air back into the system through the network of piping. The samples are then tested through the aspiring smoke detector and analysed for smoke.
If the results show smoke has been detected, this information is relayed to the control panel, triggering an alarm and giving you the exact location that the smoke was detected. You can then make an informed decision and act accordingly.
Addressable aspirating systems are handy for businesses which are in need of a very early warning to smoke or the possibility of fire. For instance, museums with high value assets or hospitals/residential homes which need suitable time to evacuate patients which may be lacking mobility.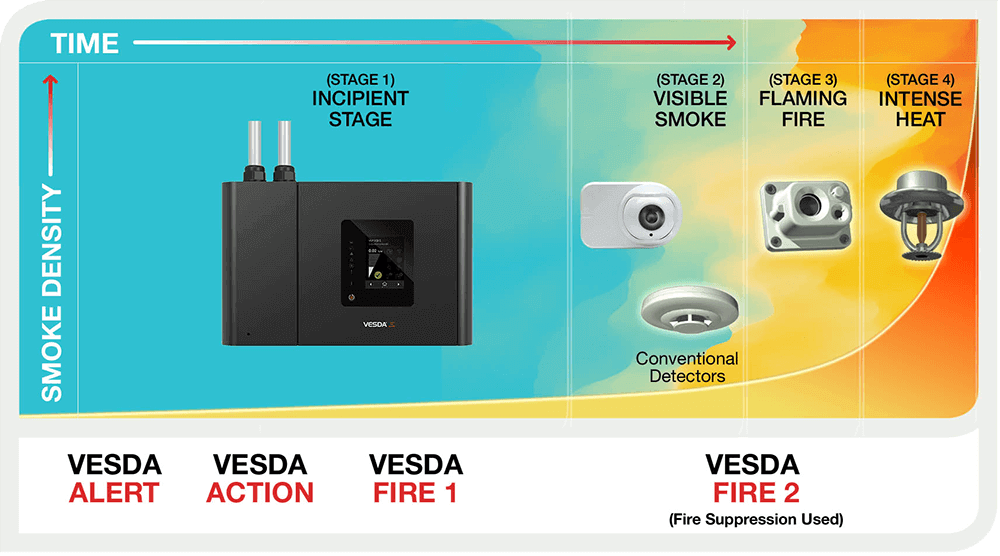 VESDA Laser Industrial Aspirating Smoke Detector System
For alternative types of businesses such as warehouses and industrial buildings, the VESDA Laser Industrial Aspirating Smoke Detector system is more suitable. The VLI detector combines a fail-safe intelligent filter with an advanced clean-air barrier for optics protection, providing absolute detection and a lengthy detection-chamber life, without requiring re-calibration.
VESDA Eco
Some work environments are naturally more dangerous than others and contain a higher fire risk as a result. For workers in a lab environment or on construction sites, gases and fumes can be a daily concern. Combustible gases and vapours can cause invisible hazards including threats to human life from inhalation and gas explosions. VESDA ECO (Ex) uses an existing VESDA piping network to actively sample the air for flammable gases, vapours and alcohols, to protect occupants, property and assets.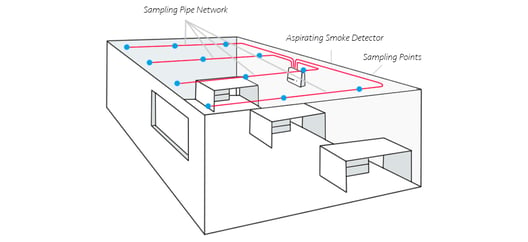 What About Hard-to-Reach Areas?
The areas of your building which are not frequently occupied or are difficult to access can be of big concern when it comes to fire security. For example if your premises includes elevators, a fire developing in the elevator shaft can be a huge concern, especially since this area isn't visible. Using an air sampling system reduces maintenance costs as you don't need to shut down elevators to get to the detection or have multiple engineers attend for health and safety reasons.
VESDA ASDs
VESDA ASDs work by actively drawing air through sampling holes in a network of pipes that are installed along the elevator shaft and in the elevator machine room. The sampling pipe is connected to a detector with a powerful aspirator that draws the air into a detection chamber to analyse it for the presence of smoke.
Air Sampling vs. Regular Fire Detection Systems
The majority of damaging fires develop from prolonged smouldering fires, which is a disadvantage when it comes to conventional smoke detectors.

Legacy smoke detectors are either photoelectric, ionisation, or dual sensor versions. Photoelectric detectors will work for slow-building fires. Ionisation detectors are designed to detect combustion fires, such as a grease fire, while dual sensor versions combine both systems to protect against either type of fire.
The disadvantages of these systems is they usually alert to high concentrations of smoke or increased heat detection. This can be a pitfall because once this has occurred, it is usually too late to implement counter measures such as fire extinguishers. In addition to this the common, lower-tech smoke detection systems are often the cause of false alarms, which would be extremely unlikely with an air sampling smoke detection system.

Air sampling systems can also be integrated with fire suppression systems to trigger these automatically in the case of an alert.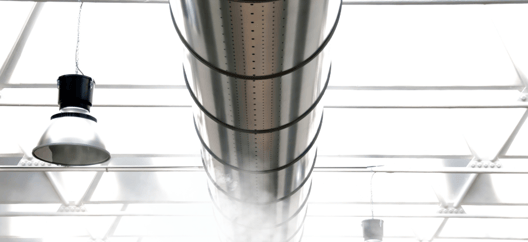 Considerations
An ASD system is a complicated piece of technology, which requires the equivalent respect and attention during the installation process. A trusted installer will understand how these systems work and have the knowledge to implement them efficiently into your premises, including where to install the air sampling points.
Before installing an air sampling system it's important to consider your business requirements, now and for the future. For instance, the gas detection system previously mentioned must be used in conjunction with an existing VESDA system, but is suitable to be used in almost every environment. It's important to think ahead before an installation, to avoid complications in the future with systems you cant integrate.
Most fire detection systems on the market today can alert you to the exact location of a fire within your premises. The difference that comes with an ASD system is that once you receive this alert and reach the location which has been signalled, there is a window of time to react before the fire has developed past your control.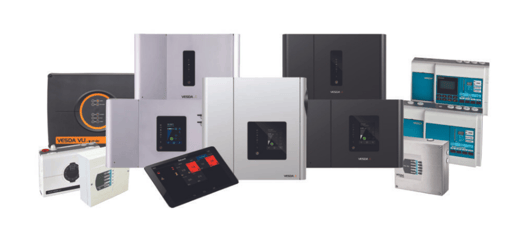 Conclusion
At The Chris Lewis Group we have been designing and installing fire protection systems for over 30 years, in a wide range of specifications and industries.
When it comes to air sampling, we can visit your premises, assess your requirements, listen to your limitations and budget, before designing and installing a system to suit you and your commercial environment, regardless of what this is.
Once the system has been installed by our experts, we can include a range of care and maintenance packages, catered to your needs. Have an existing system which we didn't install? No problem! Our team is educated and comfortable with any system. We can offer upgrade, takeover, maintenance and support services to suit any existing system you may have.
Get in touch with our experts today:
Submit the below form and we will get back to you very shortly.

I run our sales, technical design and marketing initiatives for the business. I work closely with manufacturers and trade associations to keep abreast with the latest technology and regulations making sure our clients are getting the very best and latest systems available.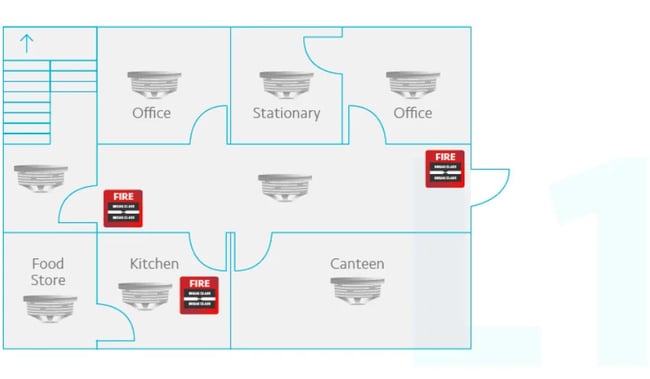 There's lots to consider when looking to install or upgrade a fire alarm system. In order to make things a little easier, and to simplify the information that's out there, in this blog we talk about.
Despite routine fire drills and regular testing, school fires still happen - and they can be fatal. Last year alone, uncontrolled building fires caused approximately 272 fatalities in the UK, many of.
Upgrading your fire alarm system can be complicated and expensive, especially while carried out in a live building. With newer technology constantly entering the market, it can be hard to keep up to.