With approximately 53% of all UK households subscribing to at least one on-demand streaming service, the demand for home cinemas is higher than ever before.
Jump To
But, like all smart technologies, home cinema systems continue to evolve and improve with bigger screen sizes and better quality. Without thinking about the impact a good upgrade can have on your system, you're likely going to fall beneath the benchmark in sound, picture and comfort quality. But which upgrade is right for your system? Project? Surround sound system? Never fear! We've got you covered.
This latest Chris Lewis blog explores three home cinema system upgrades you can make in the new year, and what you need to supercharge the stay-at-home film experience. We'll cover the most practical upgrades and how they can level-up your cinema performance and design.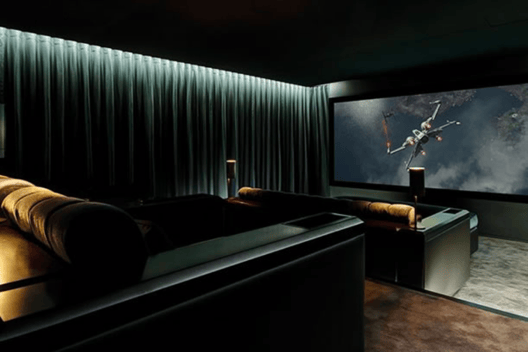 Upgrade Your Projector
A smart home cinema is nothing without stunning audio and video quality. Whether watching Youtube videos or cinematic blockbusters, streaming in pristine, crisp resolution is one of life's simple pleasures.
Ever since 4K streaming hit the scene back in 2017, home cinema systems have been able to come closer to the real deal than ever before. We now see a wide variety of 4K cinema screen projectors readily-available from brands like BenQ and Epson. These have set the so-called 'benchmark' for big-screen home viewing quality at an affordable price.

But for us, 4K cinema viewing is no longer a novelty, it's a set standard. If your system isn't streaming in at least 4K, you're not even scratching the surface of what your smart home cinema can do. That's right, we're talking to you 1080p projector owners. These systems just don't come close to the authentic movie-going experience that we all know and love.

But what if we could take this a step further? If you're chasing the Odeon-like cinematic experience, it's worth considering an upgrade to the latest and greatest technology. 8K HD projectors.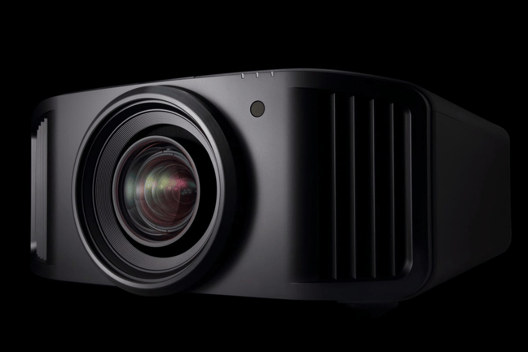 JVC have changed the game for projector quality with their latest, premium range of home 8K cinema projectors. Featuring 48Gbps-capable, 8K/e-shift technology, these systems display cutting-edge, high-definition images, maintaining 4K resolution and 8K/60 video passthrough.

These projectors use a trio of JVC's 0.69in 4K D-ILA devices with Multi Pixel Control. This converts Full HD and 4K-resolution images into 8K-equivalent resolution (8192x4320). A level above any competitor.

The result is the best streaming experience on the market. With auto-tone mapping, motion blur technology and BLU-Escent laser light source, JVC's 8K range offers breathtaking video projection at the highest possible resolution.
Upgrade to Dolby Atmos
Audio is the most important feature of any home theater system. While we often invest heavily into our screen, HDMi cables, AV receivers and projectors - it's usually the sound design that adds the realism.
We know what you're thinking: 'can't I just use my soundbar?'. Well, not really. A standard soundbar, just isn't home cinema, no matter the claims made by the supplier. To be completely immersed by what you're watching, you'll need good surround sound speakers.

So which system should you choose? For a great audio surround sound upgrade, we always recommend Dolby Atmos. Arriving from Hollywood film sets and editing suites, Dolby Atmos has quickly established itself as an important part of any serious home cinema system.
In fact, most newer films are even designed with Dolby Atmos audio inputs in mind. This technology is designed to play film soundtracks and SFX in the way that producers intend for them to be heard.
So how does this work? When Dolby Atmos audio outputs are installed, audio mixers can place incredibly realistic sounds and voices at exact points in the room, rather than through a single front-facing speaker.

While we generally recommend a ceiling installation, there are a range of Atmos-infused front speakers that can take your cinema sound up a gear. These include speakers and sound bars pre-built with Dolby Atmos installed.

And the best news is, you don't have to make holes in your cinema ceiling to install these speakers. Atmos speaker packages bounce sound off the ceilings and walls and towards your seats, creating that excellent overhead audio effect, without needing to break out the toolkit.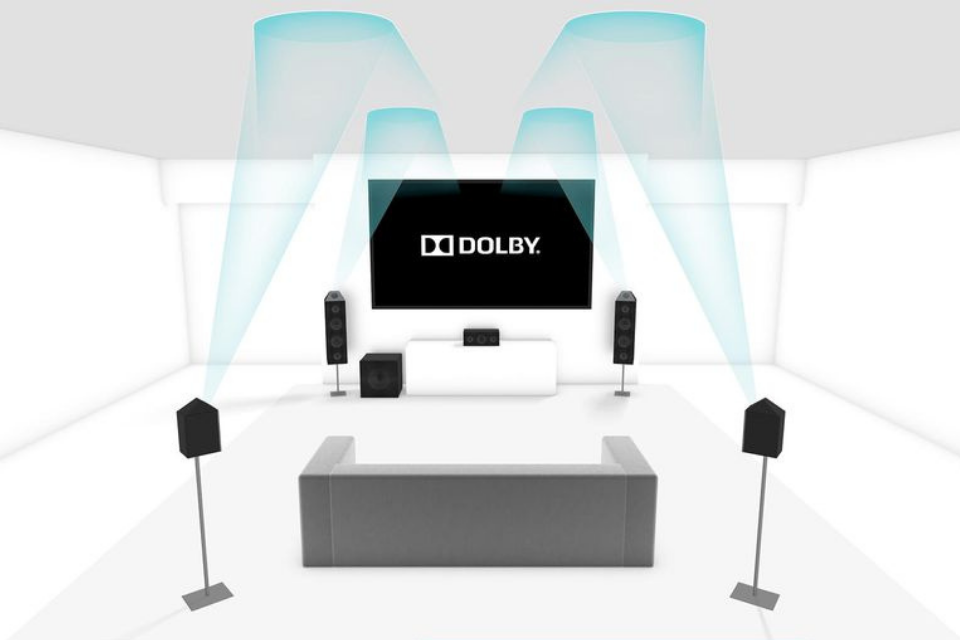 Starlight Ceiling
While it's easy to prioritise projector and audio quality in your home theater setup, it's often lighting that transforms a standard home cinema setup into an immersive cinema.
Starlight ceilings are one example that have become hugely popular in the home cinema community over the past few years. This lighting design features hundreds of miniature fibre LEDs (stars) to perfect the room with an overhead starry night sky effect.
While a basic lighting dimmer can slightly better your cinematic experience, the real fun begins with control. Combined with a light control system like Control4, this technology enables the user to change the colours of the 'stars' to add a personal touch to the viewing experience at the push of a button, whether on a wall-mounted panel, or remotely via a mobile app.
The options don't just end there. With integrated starlights, you can design a setup that matches what you're viewing. This results in an immersive lighting design that builds atmosphere, relaxes your guests or even adds dramatic effect. It's entirely personalised to your own unique tastes.
Here's a show-stopping example of a starlight cinema ceiling recently installed by our engineers:
Final Thoughts
Owning a bog-standard home cinema set-up is no longer a novelty for most. Audiovisual tech businesses are always improving the standard of our amusement systems. From speaker systems to smart televisions. We now have a range of off-the-shelf, living room "home cinema" devices that make a big difference to the way we search, stream and watch.
This means: if you're looking to stand out from the crowd, you need to upgrade. At the current rate of innovation, ignoring upgrades will result in your home cinema losing its sparkle and dulling its wow-factor.
The upgrades we've discussed above are proven, industry-leading systems to directly ramp up cinema performance. These are just the tip of the iceberg.
There are other factors that go into designing the ultimate home cinema design, including:
Electronic Cinema Seating
Temperature Control
Projector Screens
Centralised Automation
Games Consoles
Apple TV
At Chris Lewis Group, we specialise in expert home cinema installation and maintenance and are perfectly aligned to support you in your quest for the ultimate amusement setting.
Our experts ensure every detail, from the seating through to the projector, is installed and maintained to achieve maximum comfort and maximum performance.
---
Don't waste your cinema's potential, speak with our experts today:
Complete the contact form below and we will get back to you very shortly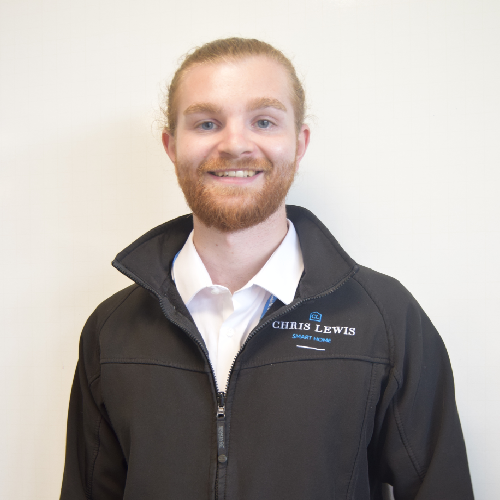 I design, specify and support clients during new installations, system upgrades and ongoing support of their Smart Technology – even if we were not part of the original commissioning. My background is high-end Hi-fi systems but due to the bespoke multi-discipline offerings from our partners, suppliers and manufacturers, I pride myself on a personal and practical service that turns complex systems into simple recommended solutions.
Smart home technology has skyrocketed in recent years. With the rise of off-the-shelf devices like Amazon Alexa and Philips Hue more people than ever are introducing smart features into their homes..
The home automation market is continually growing - transforming our living spaces through simple touches or voice-activated commands. Thanks to this constant innovation, it's now easier than ever.
Are you taking control of your smart home in the most convenient way? We've all been there. Wet hands. Full arms. Juggling five things at once. Sometimes, pressing a button on a device can feel way.