Cloud-based access control - what is it? The key word here is control. Today, cloud security technology is giving control back to business owners all over the UK. It's helping them to provide a more secure entry experience for their businesses and act on emerging security breaches before they become costly.
There are very few businesses today that don't benefit from access control in some form. In fact, the global access control market itself reached a record valuation of around $15.3 billion in 2021.
Jump To
The cloud is the greatest innovation in this market currently. It offers users a simple way to control entry points and strengthen the security of their premises, be it a business or a school.
In this blog we'll discuss the benefits of a cloud access control system. We'll explore the value in getting ahead now - rather than later.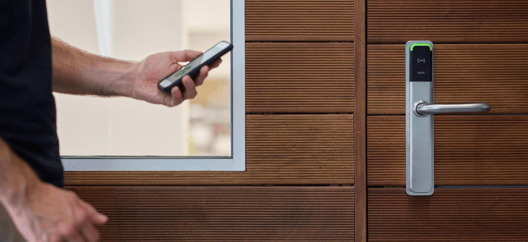 What Is Cloud-Based Access Control?
Cloud access control allows complete control over all doors and access points within a building or location. From any internet-connected device.
This is a huge benefit to business owners. It allows them to be constantly connected to their security, from anywhere in the world. Whether on-site or away, during business hours or outside of this, you'll never be out of the loop.
Unlike traditional access control systems, cloud doesn't require its own VPN or private server to store data. Everything from employee credentials to access information is stored entirely digitally, accessible on a smartphone or browser. This makes it stronger against corruption or physical damage. It increases uptime and of course, provides reliable backups of your data.
It's for this reason that cloud access control is adopted by businesses with a high number of employees. It offers a quick and simple means of editing and distributing access permissions for members of staff and editing door schedules on the go. All from a single software or device. Rather than editing complicated credentials each time permissions need changing.
Not only does this make it easier for the end-user, cloud access control also improves the operation of door control. It gives you access alerts, heatmaps, entry event timelines and occupancy monitoring as part of most modern cloud solutions.
1. Managing Occupancy and Unusual Behaviours
Cloud-based access control enables you to accurately track and identify where people are within your organisation at any given time. With linked cameras to doors, gates and entrances, which can instantly provide context to a timestamped access event.
In circumstances where managing capacity is important, the system can work proactively to deny entry once capacity within has been reached, and accept entry again after the occupancy level has dropped below a specified threshold. This is particularly effective in areas with higher footfall such as gyms or staff canteens.
With cloud access control, you can be alerted to recurring trends or abnormalities on your premises. For example, if an unknown individual is repeatedly hanging around a restricted area at the same time each day (i.e during lunchtime where the area is vacant) the system will alert you to this, immediately providing you with the linked footage.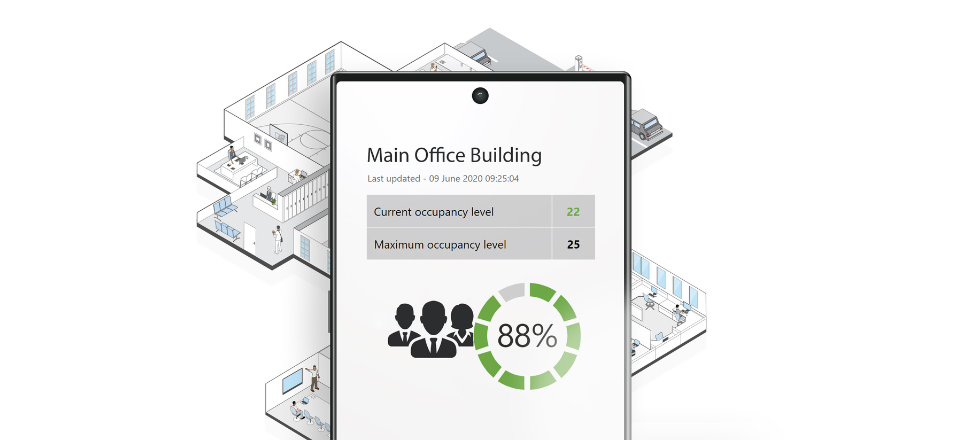 2. Easy Management of Interfaces and Permissions
Managing user interfaces and access permissions becomes a simple process with a cloud security system. Instantly add, edit or remove a user from the system, whether you are on site or on-the-go. With the cloud's remote access features, admins are able to issue or edit specific permissions to their users, quickly and easily.
Whether biometric credentials, mobile credentials or standard keycards and key fobs, operators can remotely manage access permissions and have these configured and activated for the connected user instantly - without needing to be connected to the local area network (LAN).
Once logged into the specific cloud interface on a browser or smartphone, every credential, user information or access activity is available right at your fingertips - even if you have thousands of employees with unique entry permissions for each.
You can also issue visitors or contractors with temporary credentials via text or email to allow them to open doors in your building between the times you choose.

3. User-Friendly Access Control
Most cloud-based platforms are user-friendly, quick to learn and easy to put into practice. Using a centralised management system, admins can confidently track movement and edit permissions, whether they are on site or away from work. The clever user interface removes the need for spreadsheets and paper log-books.
Most cloud access control technology is also easy-to-use and convenient for both users and admins. The latest advances in access control tech means systems are compatible with mobile credentials or even biometric data readers. These features increase the security of your building as people cannot share their access credentials between each other, leaving less room for duplication or cloning. These types of credentials also eliminate the nuisance and cost of lost key cards or fobs.
4. Manage Your Access Control Remotely
Cloud access control allows you to be constantly connected to your business, wherever you are in the world. Receive live updates about access events to your tablet device or mobile app. All that is required is a network connection. There are even smartphone apps available that offer greater simplicity for the users and operators of the system.
A traditional access control system would require an individual to be present on-site and connected to a local area network (LAN) to make a change to access rights or add/remove a user, unless you were to configure a VPN to the site - which are complicated and difficult to maintain. Businesses who rely on legacy systems lose out on a whole host of additional benefits, including (but not limited to) out-of-hours editing, real-time alerts and instant warnings to security threats.
Remote access gives you back control over your security. If you receive a notification outside of working hours, you can instantly visually verify the risk from your device using the linked camera feed, and confirm or deny a false alarm.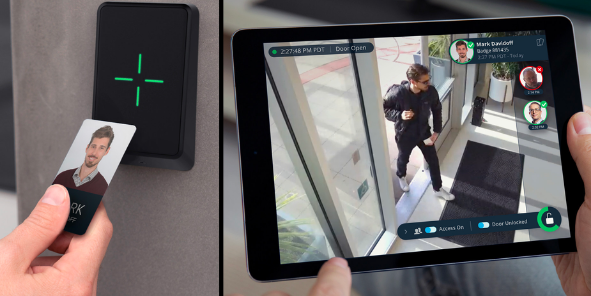 5. Software Updates and Patches Are Installed Automatically
Cloud technology can provide automatic updates and improvements as they become available. Through a SaaS subscription package just like Office365, software and firmware updates are automatically applied to your system as they are released from the supplier. This allows your business' security to remain constantly up-to-date and protected from newer security threats - without the need for maintenance visits to your site.
This feature is especially beneficial when it comes to troubleshooting. Most common problems with your access control system can be resolved quickly and remotely. For instance, if you have a faulty card reader that will no longer scan fobs, simply request remote support through the service centre or live chat for a swift solution. Most common issues with cloud security systems can be troubleshot swiftly, without needing a dedicated maintenance callout.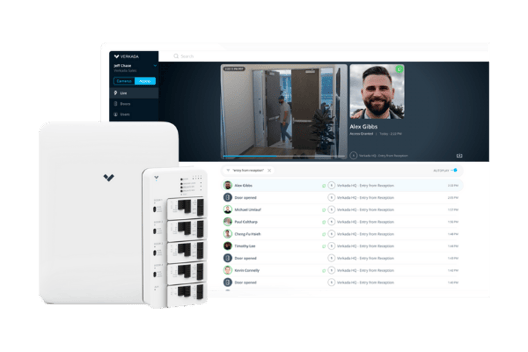 6. The Cloud Enables Seamless Integrations and Endless Scalability
Unlike legacy access control solutions, cloud doesn't need to be tied to a dedicated on-site VPN or private server to store data. Cloud technology therefore does not limit you to a single location or a small system which you could potentially outgrow in the future. Cloud allows for easy expansion, with the ability to add more access controllers to entry points when required.
As your business grows and you expand to new sites, your existing access control system can be integrated with the new locations, allowing for optimal management across multi-sited business from a single centralised monitoring system.
Equally, this means cloud based access control is endlessly scalable in terms of people. Without storage limitations, operators have the freedom to expand their workforce as they grow, without hesitation. Businesses starting with 50 access credentials can upgrade to cloud and expand infinitely without having to replace any hardware onsite.
Integrations with additional physical security systems like video surveillance are also easy to implement. Access control can be linked to security cameras with open APIs, AI and video analytics to intelligently detect suspicious behaviour or tailgating through doors. Plus, you can link cloud access control to intruder alarms to activate in the event that unauthorised entry is attempted.
With the right setup, operators can gain 24/7 visual access to their doors, arming their access control with facial recognition and visual confirmation of every user that passes through the entrance, backing up the audit trailing with cold-hard video evidence.
7. Using the Cloud Means No On-Premise Hardware
Unlike traditional access control systems, cloud doesn't require its own VPN or private server to store data. Everything from employee credentials to relevant access information is stored entirely digitally in the cloud and accessible on a smartphone or browser, making it less vulnerable to corruption or physical damage.
If an on-premise system were to fail, there would be considerable downtime and perhaps a loss of data. Operators would need to source a new machine, set-up the relevant credentials and recover the backup from the old system, which may or may not still exist.
Just imagine if the harddrive storing all of your employee access credentials were to corrupt. You'd have to physically re-enroll every single member of your company. With the cloud hosting the software, this is no longer a concern. Building owners enjoy added convenience, security and affordability with a cloud-based system, removing the expense and hassle of housing rack storage, power and hardware servers on-premise.
Final Thoughts
Is your current access control system doing enough to protect the security of your business? Failing to act now could seriously hinder you in the long run.
Here at the Chris Lewis Group we have been experts in security tech and installation for more than 30 years. We understand the importance of a reliable cloud based access control system, and how it can give you the peace of mind that your business is protected at all times.
Contact us today to discuss your access control upgrade.

I run our sales, technical design and marketing initiatives for the business. I work closely with manufacturers and trade associations to keep abreast with the latest technology and regulations making sure our clients are getting the very best and latest systems available.
The cloud-based security market was worth over $46 Billion in 2022, and that value is expected to more than triple in the next decade. The shift to cloud rather than on-site data storage has.
As an administrator of an educational facility, your highest priority is the safety of the students in your care. One of the most important steps in this process, as identified by Ofsted, is ensuring.
Is your business doing enough to protect its assets? While magnetic stripe cards and low-frequency fobs were once considered a huge step forward from locks and keys, this tech has quickly become.