Smart tech is quickly changing the way we work and live inside our buildings.
The 2019 Energy Efficiency Indicator study revealed 64% of companies plan to increase investment in smart building technology. This clearly shows that now is the time to introduce this technology to your new or existing project.
In other words: smart buildings are for the future. Here's what you need to know.
Jump To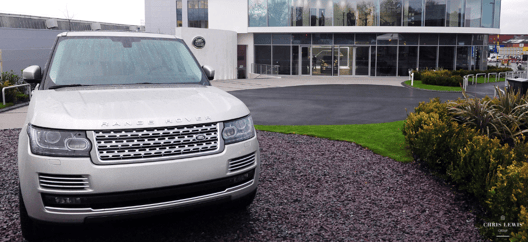 What Is Smart Building Technology?
Smart building technology is a network of intelligent systems and automated processes which work together to improve ease-of-use of a building. These devices support facility managers with people management, building management systems and security monitoring. This could be anything from smart lighting, to smart security tech such as wireless access control.
It can be tricky to define a 'smart building'. The term goes well beyond installing a few simple 'plug-and-play' devices. Smart building design will typically include Internet of Things (IoT) solutions, artificial intelligence (AI) and augmented reality (AR) tech.
The purpose of building automation systems is to improve the operations of the property and the devices inside. It increases user experience and overcomes the challenges faced by building owners.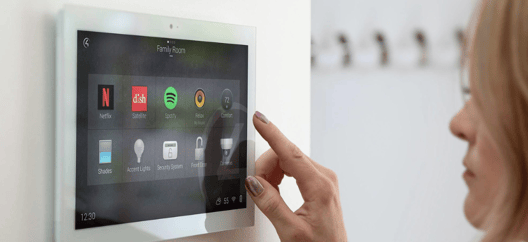 Applications of Smart Building Technology
Occupancy Monitoring & Space Utilisation
A smart access control system can help business owners to track and monitor the people inside their building, and provide context to entry events. This smart building data is a really handy tool in sites where a limit on capacity is required like gyms and canteens.
Doors can be programmed to deny entry after the capacity limit is reached. Plus, interactive touch panels can be used at entrances to allow people to join a virtual queue. This saves visitors from standing around and crowding at entrances. With access control and CCTV users can monitor the footfall of certain areas and show which are being used the most.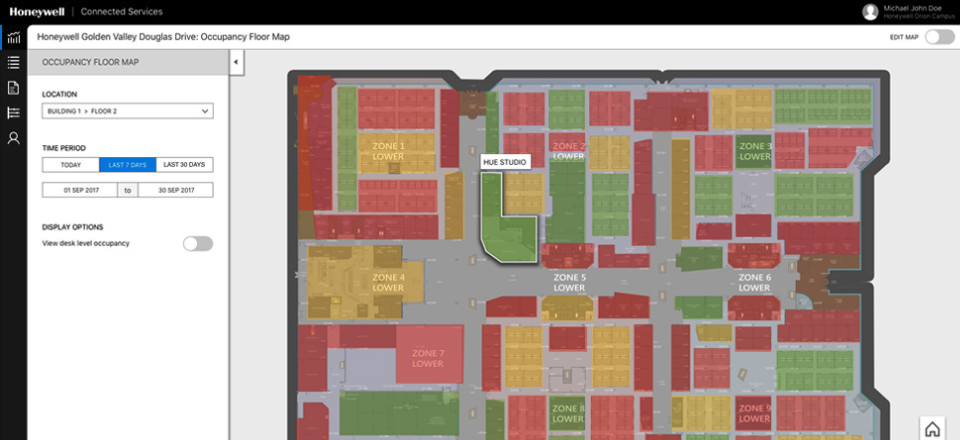 Smart Lighting & Sound Systems
Smart lighting and sound can boost the atmosphere and user-experience inside a building. Through the use of preset schedules and sensors, smart lighting and sound systems can make rooms come alive when entered - or at specific times of the day.
For instance, you can set the smart audio system to play important safety notices when a sensor is triggered - "Warning, the 3rd floor escalator is out of service" for example. Lighting and sound can be used to change the mood of an area of your building, for example in breakout spaces you might choose some tranquil music and low lighting. In your sales office you might choose some uplifting music and lighting to boost focus.
Smart Security
Smart CCTV, intruder alarms and access control tech can all provide a proactive security-first approach within your building. A smart security network brings your devices together. For example, when someone badges in through an access control door, the CCTV camera can check for tailgaters coming into the building and raise an alert.
Smart Climate Control
Smart technology can naturally adjust the air conditioning/HVAC systems when people leave the building. This helps to keep the temperature regulated, and save on energy usage. Smart blinds can also be used with building heating controls to keep the perfect temperature within. Or even, open and close when needed to let the sun in or out.
Smart Environmental Sensors
Environmental sensors can monitor a number of factors inside a building including air quality, and alert to risks which could cause ill health. These can also be used to reduce on-site maintenance visits and costs, by alerting of risks like gas leaks before they cause damage. Environmental sensors are regularly used in server rooms or areas with high value electronics to monitor the air for changes in temperature that could damage the equipment.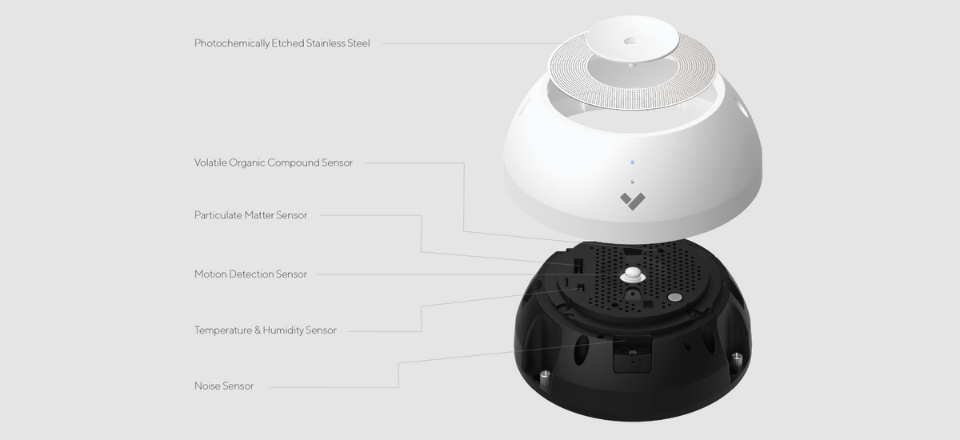 Smart Conferencing Systems
Smart boardroom and video conferencing systems are far more reliable than their traditional counterparts. When you walk into the conference room and the screen turns on, the user can press the "Join Meeting" button on the touchscreen to take them straight to the meeting. High quality cameras can also adjust their view to the number of participants and boost the audio to offer clear chats with others in the session.
What Are the Benefits of Smart Building Technology?
Style & Convenience
Smart technology can add style, class and atmosphere to your building. Whilst also improving the experience for visitors and occupants. Having a smart building is a must for tech companies and businesses looking to attract and retain employees.
Introduce smart building solutions into the fitness and leisure areas of your building such as gyms and spas. Using high quality sound systems you can create a peaceful environment for the spa. Or a motivating, lively vibe inside the gym.
Automated lighting can use sensors to activate when a person enters the room, then switch off once they have left. This is useful to ensure that lights are only in use when needed. It'll also provide simpler control as there is no fumbling for light switches in the dark or struggling when your hands are full.
Or, if you run an office, take advantage of smart conferencing and presentation systems. Smart office tech can improve the working life for employees, making the most of working hours. It has been reported that smart building systems can boost results in the workplace, with less tech problems and presentation nuisances.
Increased Safety
Smart technology can level-up the security of your building by offering remote monitoring and security-first solutions.
An access control system allows users to monitor the location and number of people inside your building. Using wireless key cards or even mobile passes, visitors can easily access the areas of the building they are authorised to.
When access control is paired with the building's fire detection system, it can be set to instantly call fire and rescue services when an alarm is triggered. This results in a quick response time. Plus, the system will also force all doors to open, allowing people to exit the building swiftly and safely.
A smart CCTV system can support your access control, by providing context to events through video feed. You can also visually verify people who wish to enter such as out-of-hours cleaning staff or delivery workers, and deny or accept entry.
Improved Sustainability & Energy Efficiency
There are many ways even common smart building tech can make a property more sustainable and future-forward. The main advantage to smart tech is its ability to recognise when systems and devices are not needed and instantly power them off.
Smart lighting solutions can eliminate the amount of unnecessary energy consumption caused by lit bulbs during the daytime or in empty rooms. Automated lights will activate when a person enters the room, ensuring there is no wasted energy. Plus, integrate these with smart blinds in order to maximise the natural light entering the building and help regulate room temperatures.
Scalability
Smart systems can easily adjust to suit your needs when your requirements begin to expand. Adding new hardware and site locations to your system is made simple with smart tech, as these can simply be bolted-on to the networking system.
There is no longer a need for chunky hardware like DVRs or NVRs, when you choose a cloud based system, you can simply bolt-on more alarms, cameras and access controllers if need be. With cloud security, all your systems can be seamlessly integrated into a single platform, allowing you to access and monitor all aspects of any location at once. Find out more about what the cloud can do for your business.
Reduced Costs Over Time
The initial expense of installing smart building technology can be daunting, but these systems pay for themselves multiple times over as time goes on. Energy-efficient smart solutions not only reduce energy costs which make a big impact within a large building, they also reduce the need for maintenance visits and upgrades. Smart technology can be patched and updated remotely when provisioned in the cloud.
Plus, cloud-based solutions such as cloud CCTV and access control are constantly improving. With automatic firmware updates, cloud-based devices are continually upgrading and improving alongside industry innovation. Put simply, when you install a cloud-based system, that is the worst version of that system you'll ever own. It will only ever improve with the latest features and algorithms, making the solution even more reliable as time goes on.
Final Thoughts
The wave of smart technology has been hard-hitting and will surely refuse to slow down anytime soon. Failing to implement smart systems now will only put you at a disadvantage moving forwards.
With more than 15 years experience implementing smart technology, the Chris Lewis Group are frontrunners in smart building design and installation. Whether you are looking to introduce smart technology to an existing building or would like to implement it during the construction process, our experts have the skills, experience and confidence to bring your vision to life.
Contact us today to discuss your smart building requirements.

I run our sales, technical design and marketing initiatives for the business. I work closely with manufacturers and trade associations to keep abreast with the latest technology and regulations making sure our clients are getting the very best and latest systems available.
On its own, a smart home system can transform your day-to-day life, massively improving the comfort and convenience of your property. The more systems you add, the greater the improvements.
When looking for smart home technology to improve your property, it's tempting to purchase the most popular option on the market. Many of the smart home devices currently available to the general.
Smart home systems are increasing both in popularity and availability. From heating and blinds, to lighting, sound and home cinemas, there are very few areas of the home that can't be automated right.