Jump To
With more employees hybrid and home working, or hot desking, businesses are looking to use their office space in more intelligent ways to boost efficiency and reduce attrition from their employees.
This can be easier said than done. In the modern world of work, businesses have more freedom than ever. From digital door locks to impressive smart presentation systems... in this blog we have highlighted six must-have office technology trends for 2023.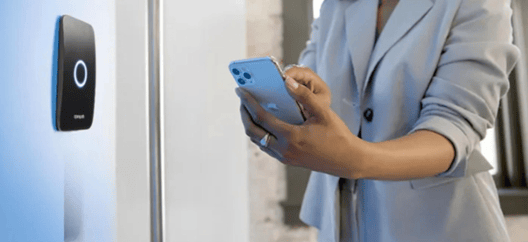 1. Smart Conferencing Systems
Today, office-based jobs are more reliant on conferences and meetings than ever before. Although the recent changes to working habits have caused in-person meetings to become less frequent. In fact, between 2020 and 2021 the revenue for Zoom Video grew by over 300%.
With no signs of hybrid working letting up anytime soon, it's crucial that offices have an expertly installed system to support them now and in the future.
In fact, the influence of this change in work habits has touched all industries. Our engineers even installed an intelligent Logitech Meetup Conferencing system in London's St Paul's cathedral recently.
With smart conference rooms, employees can host meetings with staff and clients both in-office and remotely in real-time. They can also record these meetings to revisit later. This makes it even easier to keep those that weren't in attendance in-the-loop.
Today, users choose from a variety of setups to suit any office or boardroom. The key thing is ensuring that smart devices can work together with the highest quality results (i.e no buffering). A strong system is reliant on high-quality cameras, microphones, speakers and screens to enable better conversation from all parties involved. Both in the office and remote.
Modern conferencing solutions are designed to pair with popular software solutions such as Microsoft Teams, Google Meet, Zoom and Skype. With unlimited scale-up freedom, participants can be brought into the room physically, or even remotely using IP streams and cameras.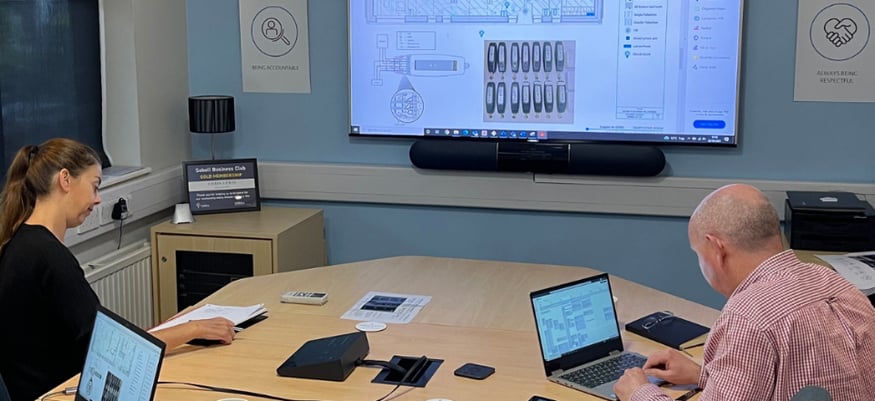 2. Smart Presentation Technology
Smart presentation technology has fast become the new-normal for multi-million companies across the globe. Outfitting meeting rooms and desks with a growing range of screens, these systems offer improved employee team working. This gives teams the tools to better visualise ideas and share them to colleagues, clients and partners.
These presentation systems also give users the ability to present wirelessly, using a handheld device such as a phone, laptop or tablet. Not only does this increase the user-friendliness of the technology, it also helps employees to work seamlessly without distraction.
When the nuisance of outdated tech and excess wiring is removed, productivity and work ethic is increased. With smart meeting rooms you can rely on, there is no need to repeatedly call in IT staff to resolve problems, taking the stress out of (what can be) an intense or stressful situation on its own.
The latest smart whiteboards provide 4K quality images and video, with many now including ambient light sensors to adjust the brightness. They can also wake when they detect movement to save on power. Unlike other smart products, presentation systems and smart whiteboards don't require complex technical knowledge. Using either a pen or a fingertip for control, they typically use the same touchscreen technology most of us are already familiar with.
Here's an impressive example of a presentation system our engineers recently worked on at the UK Atomic Energy Authority.
Featuring a 220 inch projector screen, AMX Control Platform, smart lighting and state-of-the-art in-ceiling voice lifting technology, the system was designed as one of the best presentation solutions available. It could set the lighting to desired levels, enable speakers, microphones, amplification, projector and displays - all at the touch of a button.
3. Smart Office Control
Intelligent office technology can be designed to maximise comfort in the workplace. It should help leaders to get the most out of their people and staff to naturally bring their best.
This tech is easily one of the most powerful investments you can make to your working space. Modern systems can monitor and automate a number of elements within a building that impact the quality of the working day. From lighting to heating to automated air conditioning, the benefits of smart office technology are enormous. Plus, all of this and more can be controlled with less than the touch of a button.
Some examples include:
Smart Energy Solutions
Modern energy solutions increase efficiency while also reducing the carbon footprint of your office - a major technology win-win. With an advanced heating and air conditioning system, businesses can naturally regulate office temperature according to usage patterns, company calendars and weather forecasts. This means better management and better employee experience at the same time.
Smart Lighting
Similarly, smart lighting can use sensors to turn on when someone enters the room and off once the last person has left. This has the potential to reduce energy costs by up to 90%, according to Gartner. When paired with automated blinds the two can work together to boost the levels of natural light in the building. The use of these Internet of Things IoT technologies also makes your office more energy-efficient, lowering your costs and carbon footprint.
Daylight sensors naturally adjust the dimming of the lights to match your required lux level. Colour changing lights can change the colour tone of your lighting depending on the time of the day and the amount of daylight coming in. For example in the day you want more white light but as the sun sets you'd want your lights to be more yellow colour.
Smart Access Control
Smart access control can help with more efficient space management tools and better work rate. With a cloud system, HR and Security teams are given a more accessible way to review security credentials for their building, helping them to monitor occupancy better.
You can use your phone to get into your office now rather than fobs or cards. You can also integrate with a visitor management and desk booking software to naturally grant access to visitors and to meeting rooms when required.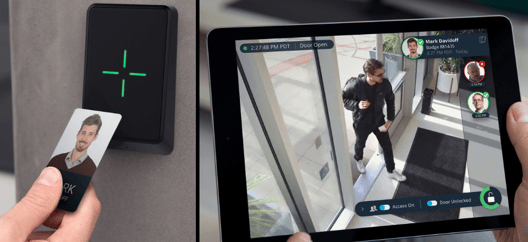 4. Smart Security for Offices
Smart security can benefit an office in a number of ways, from remote monitoring of your systems to accurate people management.
With the installation of a smart alarm, there is no need to worry that the last employee to leave the building has correctly set the alarm for the night, as you can arm and disarm the intruder alarm remotely, from any location at any time. All facility managers need is a network connection and a handheld device such as a mobile phone or tablet to use the management system.
Access control can provide many advantages to both office employees and office management. When integrated with CCTV, you can visually verify persons who wish to gain entry to the office or specific rooms within, then grant or deny access. Security cameras can also provide you with real time data on access events throughout the building.
An access control solution is also beneficial to staff, as they can be provided with mobile credentials to enter their workspace, which they are less likely to lose than an access card or fob - or cloned for that matter. With implemented biometric credentials, like face or retina scanning, these solutions become even more unique to the user and therefore harder to clone.
The ability to monitor security systems remotely removes the need for on site security staff to occupy the building outside of working hours. This eliminates the expense of hiring this out of hours staff.
Cybersecurity is a crucial element to any business, especially those who operate out of an office, using computers to store employee and customer data. Find out more about upgrading to cloud security here.
5. Office Environmental Sensors
Environmental sensors such as Verkada's cloud SV11 are intelligent all in-one-units which are capable of monitoring multiple air-based and sensory changes within a space. They can monitor a variety of elements including Carbon Monoxide, Humidity, Temperature, Particle Pollution and Ground-Level Ozone to name a few. This is a handy tool to utilise in office environments such as server rooms and manufacturing floors, where health and safety risks are often invisible.
Large commercial buildings can present a number of risks including VOCs from paints, cleansers and disinfectants, of which general usage has significantly increased in workspaces thanks to the Covid-19 pandemic.
The ability to access information concerning air quality can support companies with the health and safety of their staff, lowering the likelihood they would be at risk of liability or an insurance claim. Plus, maintaining a healthy work environment in these areas will reduce illness and absence in the office, improving the functionality of the business.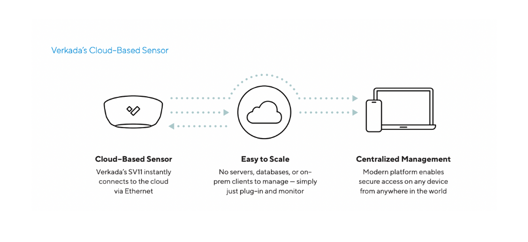 6. Sound Masking Technology
Sound masking is a new office innovation for 2023. It's designed to boost concentration in the workspace by regulating audio levels. It works in a similar way to white noise; raising ambient noise that's specifically engineered to the frequency of human speech - making noise harder to understand and therefore less distracting.
Sound masking does not cancel sound or eliminate all speech noise in an office, it simply reduces how far away chat can be heard and understood by others. That's not to say it adds a distracting "fan-like" sound to the room.
Unlike white noise, sound masking is designed to be comfortable, even pleasant, to the human ear. When installed properly, it should just blend into the background "hum" of the workplace - without any static, interference or buzz.
It won't make collaborative work any more difficult either. While designed to limit the noise of chat, sound masking doesn't stop close conversation from being heard clearly. It all depends on the distance. If a person next to you is speaking, this will still be heard accurately and clearly.
Final Thoughts
With smart technology solutions continuing to develop, there are virtually no limitations on how smart office systems can support you now and in the future.

These systems have the potential to improve all aspects of a working environment, from well-being, host desking to increased productivity, to health and safety. For instance, smart security systems can be linked to the building's fire detection system in order to instantly call the emergency services if an alarm is triggered.
In order to reap the full benefits of smart office tech, it's important to employ an expert installer who can design and implement a bespoke office system that is customised to your business needs.
At the Chris Lewis Group, we are leaders in smart technology solutions, with more than 10 years experience in the relatively new industry. Whether you simply require a conferencing system, or are interested in all elements of smart office solutions, we are on hand to design and execute your plans, and support you afterwards.
Contact us today to discuss your requirements.
Submit the form below and we will get back to you shortly.

I run our sales, technical design and marketing initiatives for the business. I work closely with manufacturers and trade associations to keep abreast with the latest technology and regulations making sure our clients are getting the very best and latest systems available.
The cloud-based security market was worth over $46 Billion in 2022, and that value is expected to more than triple in the next decade. The shift to cloud rather than on-site data storage has.
Cloud-based access control - what is it? The key word here is control. Today, cloud security technology is giving control back to business owners all over the UK. It's helping them to provide a more.
With the UK public spending an average of around 80-90% of their time inside buildings, air quality is a problem business owners cannot afford to ignore. Cloud sensor technology allows you to monitor.