With summer on the horizon it's time to evolve your garden into the perfect amusement stage for you and guests to enjoy through 2022.
Treat yourself to Outdoor Sound
Many of us will be jetting off for sunny spells away for the first time since the pandemic hit. For those that aren't, summer is the perfect chance to invest in your home. So, why not treat yourself to a superb sound system for your garden?
Outdoor speakers are the ultimate addition to any garden, going well beyond even the most robust Bluetooth speakers. Boasting ultra-clear sound quality that doesn't disturb the neighbours, they are ideal for setting the perfect vibe. Whether relaxing in the sun or hosting a post-lockdown reunion or just singing along to your favourite party anthems.
Weatherproof and long-lasting, outdoor speakers can be used all year round. From the first days of spring to those colder winter nights, level-up your outdoor activities no matter the occasion. Whether enjoying a drink in the hot tub, or huddled around the fire pit, it's time to invest in your garden for the long run.
Seamless Sound
Outdoor sound can be integrated with indoor speakers, allowing you to have constant, seamless sound anywhere on the property. At the press of a few buttons, or even via Google assistant, you can play your favourite Spotify/Apple Music playlist. These speakers also come in subtle designs that blend into any environment, like rock speakers.
These speakers offer unbeatable sound quality, better than any portable bluetooth speaker. Using directed audio and subtle bass enhancements, there's no risk of upsetting the neighbours.
Just imagine walking through your home on a hot summer's day. A cold drink in hand. Your favourite summer tunes following you from room to room and then seamlessly out into the garden. With an outdoor sound system, you'll be able to perfect the mood for every occasion, playing music directly from your phone.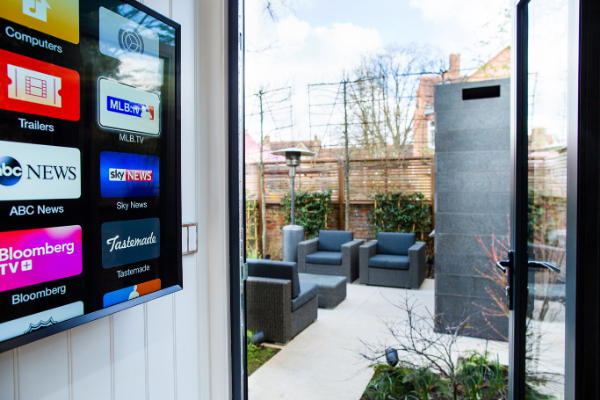 Fit into any space
Outdoor speakers can be discreet, or even hidden within borders and plants. This allows you to keep the style of your garden, without unsightly speakers or wiring. Professional installers like Chris Lewis Group will work with you to find the best position for your garden speakers, giving you the most immersive sound possible.
The sound can also be directed and controlled so that you have the most enjoyable listening experience without disturbing your neighbours. Not only that, these systems are built to last and designed to withstand the elements. They will keep working at optimal performance through heat, wind, and rain - a long lasting investment that will add great value to your home.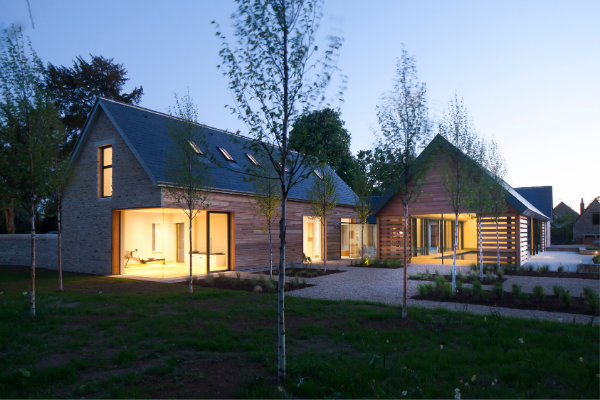 What are the best outdoor speakers?
Sonance
Sonance offer premium systems with satellite speakers and subwoofers, providing the perfect bass to enjoy music in an open environment. Mounted speakers sit on hidden spikes, with the subwoofer partially sunk into the ground, providing a high-quality audio experience without losing a drop of design.
Benefits of Sonance Systems:
Sonance are one of the industry leaders in outdoor sound, paving the way for premium outdoor audio.
Produces powerful sound through innovative design.
Easily adjustable, allowing installers to design them to suit your exact requirements.
Discreet, camouflaged design to uphold existing garden aesthetics.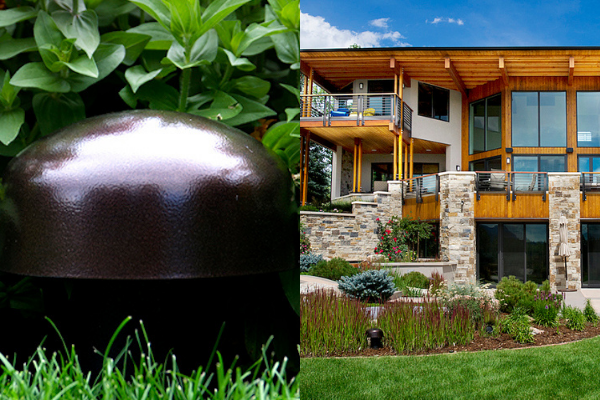 Monitor Audio
Monitor Audio provide high performance, weather resistant speakers that boast water, frost, dust and UV resistance. Their sound systems feature stereo speakers, multi-speaker systems, and subwoofers to add a subtle bass to your outdoor sound. Their speakers are perfect for outdoor spaces. They can be wall-mounted, in-ceiling, and partially buried to provide discreet, great sound throughout your garden.
Benefits of Monitor Audio Systems:
Weather resistant and built to withstand anything from the heat of direct sunlight to biting winter frosts.
Discreet options available to suit any environment, including camouflaged and in-ceiling options.
Pristine sound quality.
Adjustable and flexible systems so installers can easily design them to suit your exact requirements.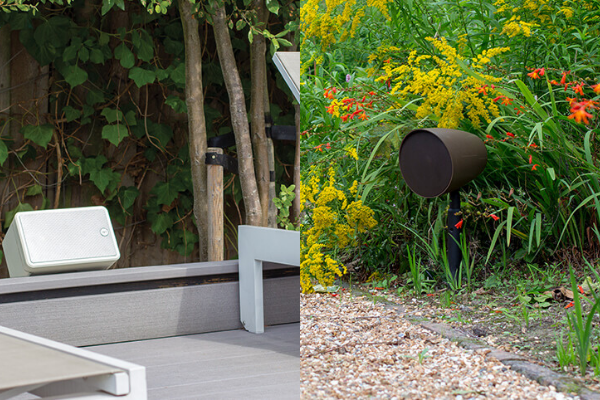 Transforming your garden into the perfect place to host summer parties? Investing in an outdoor sound system will keep you and your guests entertained well beyond summer 2022. With so many versatile options available - and with designs to suit any setting - prepare to take your summer to the next level. Catch up on all the fun we should have had over the pandemic and invest in an outdoor audio system.
Since the early 2000s, Control4 has trail blazed the smart home trend. It's taken over luxury homes, industry-leading businesses, swanky hotels and nearly every other automated building on the.
Looking to give your guests an evening to remember? It may be time to upgrade your home's technology.
Summer is finally here. With the days growing longer and temperatures set to soar again, it's the perfect time of year to enhance your garden.