Thinking about having a home security gate installed at your home?
In 2020/21 alone there were over 267,000 burglaries in England and Wales. That's a massive 732 incidents each day!
Jump To
Whether your home is in an area with a high or low crime rate, a security gate system just makes sense. They serve as your first line of defence against intruders and would-be burglars.
Often a gate can be enough to deter trespassers entirely, but they also obscure the view of the public, making it harder for thieves to scope your home out from afar.
So how do you choose the perfect security gate for your home and driveway? In this blog, we'll explore the key points for picking a stylish, secure and seamless home security gate.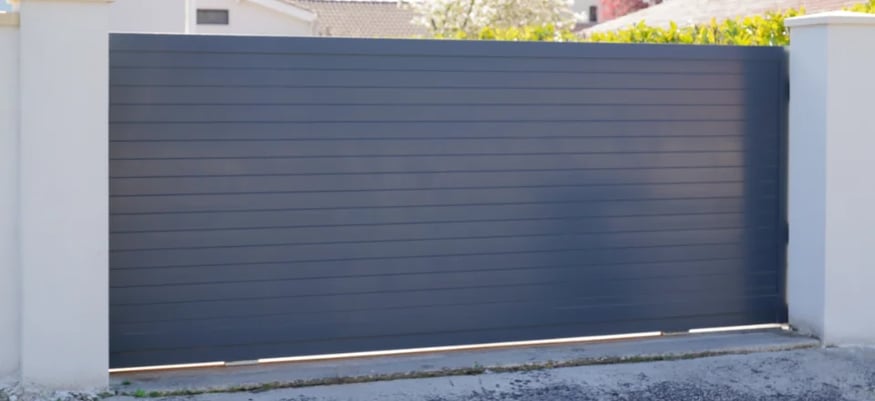 What Are the Different Types of Home Security Gate?
There are several types of gate available in the UK. The most commonly installed are swing, bi-folding and sliding gates. Each security gate will need different specs, so the right one for your home will be dependent on a number of factors. The main one being: space.
The layout of your driveway will have a huge impact on the type of gate you'll be able to have installed. By the very nature of their design, some gates need a far wider opening than others - but that doesn't naturally make for a more secure product. An experienced installer will listen to your needs, assess the space and determine the most suitable gate for your property.
Swing Gates
Swing gates are the most traditional form of security gate. These gates are split into two halves, separating and "swinging" backwards when activated. Due to the nature of their "swinging" movement, these gates need a big area to swing 90 degrees backwards into, without hitting any obstacles.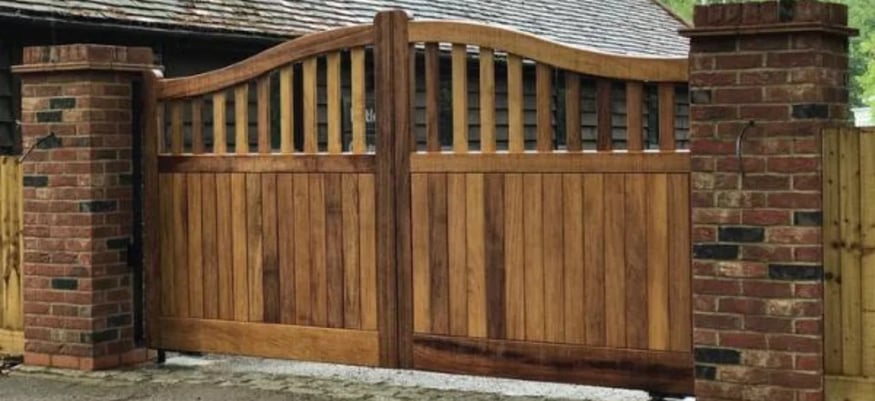 Bi-Fold Gates
Bi-Fold gates are similar to a regular swing gate, without the open space demands. As a bi-fold gate swings open, the gate leaf folds in half in the middle, requiring about half of the space of a swing gate to open fully. Powered by a series of motors, rams and arms, these gates have the ability to open and close very quickly, making them a great choice for high traffic areas. These are going to be quite a bit more expensive than the others and generally come in certain designs that can't be customised easily.
Sliding Gates
Sliding gates are a great choice for entrances with minimal open space around them. Using an electric motor to open a sliding gate panel sideways, sliding gates run along a fixed track on the ground, pulled by a gear system. They can also be installed on a cantilever system, where the weight is balanced and supported by post-mounted rollers. Sliding gates are the most secure also, benefiting from a solid panel across the entrance rather than two leaves that can be forced open.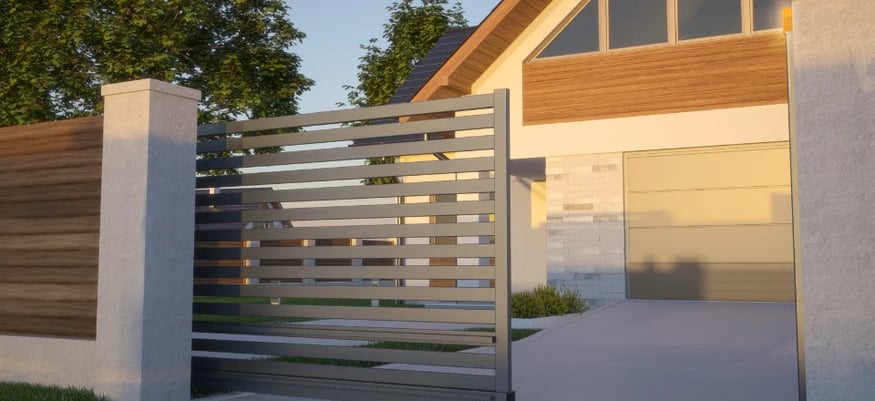 Gate Access & Automation
One of the most important issues for any home security gate is access control. Typically, security gates have been activated by a proximity sensor, a fob or a key card. The reality is there are far more advanced (and more secure!) methods of opening, closing and automating driveway gates.
Keypad
Numeric keypads are a tried and tested choice for gate entry. Mounted on a post at a height convenient for car drivers, these systems require the user to punch in personal digital entry codes to gain access.
We advise users to pair these systems with an intercom and remote access control system. This means that they can grant access to their property without needing to hand over their private pin number to every visitor. For the homeowner themselves, a remote transmitter should activate the gate when arriving home without having to open a window.
Intercom
Intercoms are a great choice for homes that deal with a lot of visitors. They keep the premises secure while ensuring seamless access for agreed visitors. These systems let users speak with visitors at the gate via audio or video, both from inside the home and remotely on-the-go using an app.
When a visitor arrives at the gate, they'll be invited to push the intercom button. This sends an alert to the homeowner's phone to either speak to them directly. If the person isn't recognised, the user can ask about the nature of their visit before letting them access the driveway too early.
Face Recognition
With a smart CCTV setup on a home security gate, users can grant entry based on appearance. Face recognition access control is a completely touchless and ultra-secure experience. It allows registered users to simply drive up to the entrance, look into the camera and activate the gate. It's that simple. Of course, this technology requires a professional setup for it to work.
ANPR
Automatic Number Plate Recognition (ANPR) is another modern approach to gate entry. Using a connected smart CCTV camera on the entrance, each car's number plate is scanned, registered and identified. If the vehicle's number plate is registered, the gates will open automatically. No button press and no compromise on efficiency,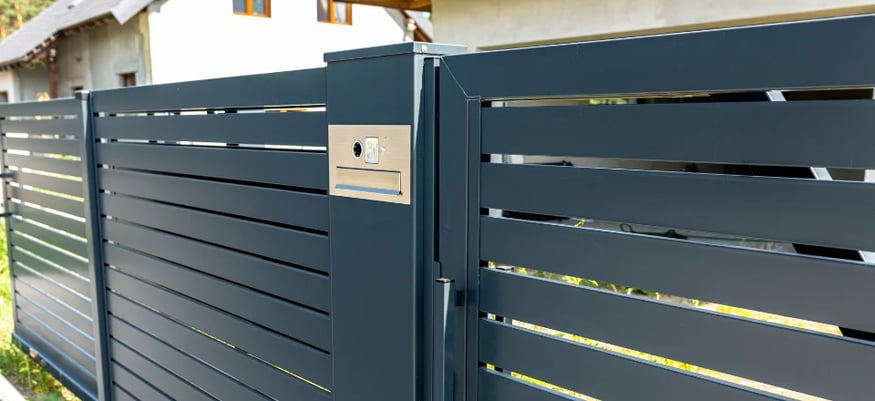 Gate Security & Integration
Automated gates can help to ensure your home remains secure and protected at all times. They allow you to control who enters your property whether at home or on-the-go. While gates are great at hiding your home and assets from prying eyes, it's always worth integrating with your existing security system to take your security one step further.
Smart CCTV, smart alarm and automatic gate integration is one of the most advanced home security setups out there. With a smart CCTV camera attached to your gate, you'll be able to get alerts of loitering at the front of your property, or if someone pulls up outside - even before a buzzer is pressed.
Using ANPR detection software, you'll also be able to track every movement that a car makes on your property. This feature offers substantial evidence to support the police in catching an intruder, should the worst happen. Or even a lost parcel or dispute with a contractor on how long they were at your house for.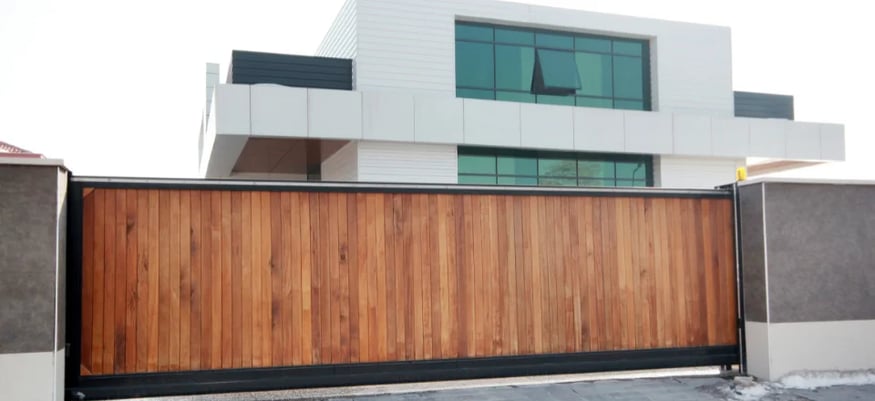 Home Security Gate Style & Design
Looking to make an entrance every time you enter your driveway? An automated gate is about more than just security. Of course, it needs to fulfil this purpose, but it's also there to improve the style and add value to your home.
Residential gates come in a variety of gate sizes and quality materials - from wood and iron to aluminium. Each type of gate has its own benefits. As a bare minimum you'll want to look for something that's durable, weather resistant and well-built.
Wooden Gates
Wooden gates are a much-loved classic amongst homeowners. They're of course less water resistant than their metal counterparts. They require maintenance more often and without proper wood treatment can be prone to rot, warping and other weather damage.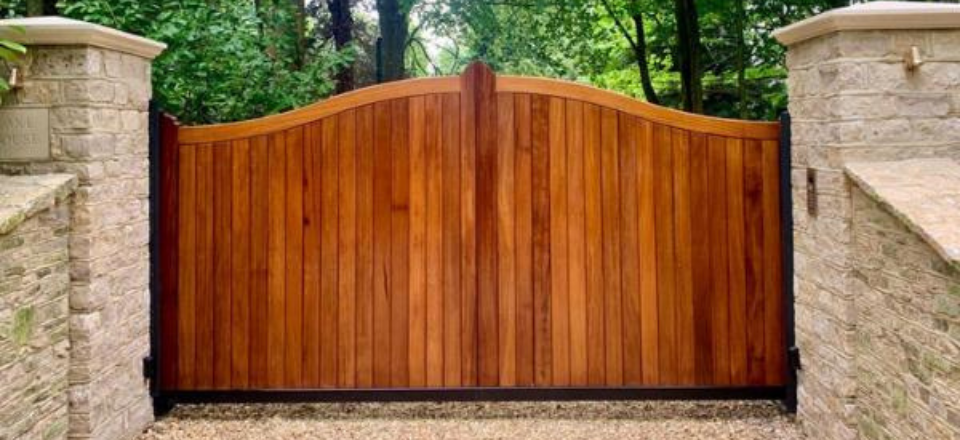 Metal Gates
Metal gates are a more high quality solution that can blend into many different home styles. Aluminium is one such example, which is a cost-effective and long-lasting option. Though this material is usually built with more modern homes in mind, so might not be the best solution for vintage-inspired designs. You can even get aluminium gates that look like wooden gates from a distance!
For a more elegant metal gate, we recommend looking into wrought iron. It's a strong alloy that's rust-resistant and built to last the seasons. Wrought iron fencing can also feature spike top railings, making it more challenging for trespassers to climb over.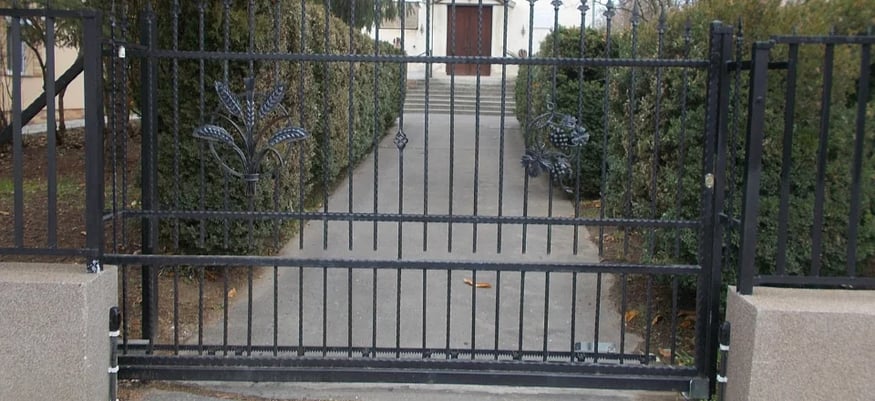 Are Electric Home Security Gates Safe?
Yes, when installed in line with HSE safety standards, automatic gates are perfectly safe to use.
Automatic gates come with a wide range of potential risks that need to be removed to stop accidents from happening. Before an automated gate is installed on your property, a full risk assessment needs to be carried out by a trustworthy installer.
All automated gates need to be capable of stopping and reversing when an object or person is detected. As the gate is your property, you will be liable for any damage that it causes. You need to ensure:
There's no danger of the gate coming off the tracks and falling.
Eliminate closing gaps at hinges to remove crushing points
Access to parts between the moving leaf or gaps in railing where heads/arms could get stuck
Speed Control near the end of movement where crushing may arise
All automatic gates should be equipped with at least two different safety devices to prevent injury or trapping. The most common choices are gate photocells or pressure edges. We advise you to speak to your installer before settling on one of the devices.
Security Gate System Maintenance
There's little worse than being unable to get back into your home after a stressful day at work.
No matter how advanced your gate setup is, there's no one-and-done for security. It's best practice to set up regular maintenance and inspections with a trusted installer. This will give you the peace of mind that your gate is running smoothly and ultra-secure all year round.
By having this regular maintenance, you'll be able to respond to nasty common faults, like locked gates, downtime or physical damage that could put your home at risk. A good provider will not only be on-hand to support you with emergency callouts, they'll also advise you on where to upgrade and strengthen your existing setup.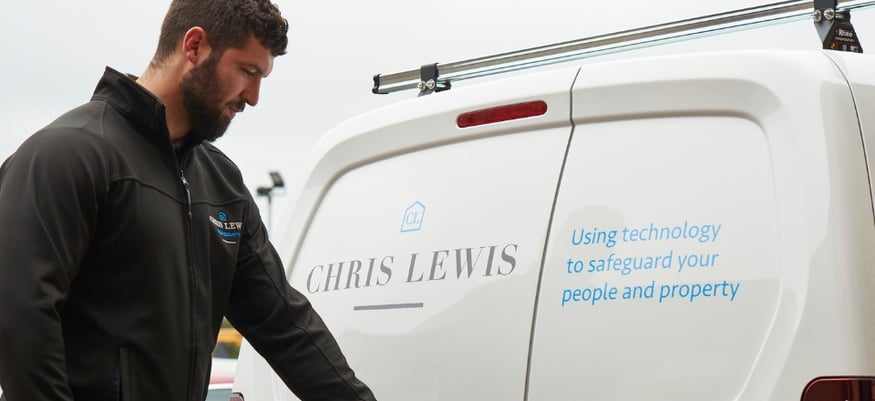 Key Considerations & Checklist
Before choosing or having a gate installed, you'll need to take the following considerations into account:
Current Traffic Levels: How often will your gate be opening and closing? What are the peak times of activation?
Future Traffic Levels: Are you expecting any increase in traffic in the future?
The type of Power Backup: Will you need a battery powered backup in case of power failure? Will the gate need to be able to be opened manually?
The people accessing your home: Are they entering on foot and by vehicle? Who will be the users? Cleaners, Contractors, Family, Friends? How will they get in and out
The style of gate: Make sure you engage an automation specialist before you purchase your gates. They will need to have input into the high configuration and gate design to make sure it's safe and will work with automation
Looking for a provider to design, install and maintain your new gates? We've got you covered. At Chris Lewis, we've been the South East's #1 residential gate specialist for over 30 years.
Whether you're looking for someone to supply and install, or service an existing home security gate, our trusted experts have the experience to support you in all your gate automation needs.
If you'd like to learn about other home security or smart home systems you can use to transform the way you live, check out our Ultimate Smart Home Design Guide.
Get in touch with our design experts today:
Submit the below form and we will get back to you very shortly.

I run our sales, technical design and marketing initiatives for the business. I work closely with manufacturers and trade associations to keep abreast with the latest technology and regulations making sure our clients are getting the very best and latest systems available.
Are you looking for a new CCTV system and want to know if Cloud is right for you? After relying on NVR storage for the best part of 50 years, homeowners and businesses are moving their security.
Is your business doing enough to protect its assets? While magnetic stripe cards and low-frequency fobs were once considered a huge step forward from locks and keys, this tech has quickly become.
With millions of guests using hotels each year, these sites are hot-spots for theft, violence and criminal damage. In fact, figures from eight of the largest UK police forces showed 4,589 allegations.