The cloud-based security market was worth over $46 Billion in 2022, and that value is expected to more than triple in the next decade. The shift to cloud rather than on-site data storage has transformed the security industry landscape, and the way that we approach security, for domestic and education sites as much as for commercial locations.
But what are cloud-based security systems, and what makes them better than the traditional method that we've known for years?
Well, if you have questions about this approach to security and what it can do for you, we're here to help. In this article, we've answered 20 of the most commonly-asked questions about cloud security measures, from benefits to considerations, so you can decide if one of these systems is right for you.
Jump To
1. What Is a Cloud-Based Security System?
A cloud-based security system is a setup that's connected to an off-site server (known as "the cloud") rather than using on-site data storage. This means that users can manage and control the system remotely, as well as access the data it produces. The use of the internet by these systems makes them far more flexible and scalable than traditional solutions that rely on hardware and storage kept on site.
2. How Does a Cloud-Based Security System Work?
Security devices like cameras, access control systems, motion sensors and alarms are connected to the internet, either via a direct connection to your network or WiFi (however, a WiFi connection is not recommended). This device will send data to the cloud server, either at regular intervals, or as a constant stream. Some devices will instead store data on their internal drives, and only send data to the cloud as backup or if a security event occurs.
The server allows the data, and the system itself, to be accessed through web browsers or mobile apps from anywhere in the world (with valid credentials). This makes it possible to monitor security events in real-time, as well as the giving you the ability to view both live and recorded video footage. When security events occur, cloud-based systems can send alerts to users via push notifications, SMS messages, or emails, providing a link to view the incident so users can decide their response.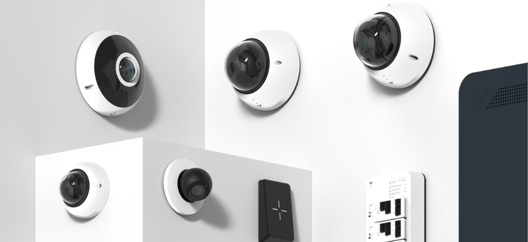 3. What Features Are Typically Included in a Cloud-Based Security System?
Cloud-based systems will offer a range of features to improve practicality and user experience, and these will differ between manufacturers.
Generally though, almost all setups will have these features:
Remote access

- The ability to connect to your security system via the internet, regardless of your location.

Remote management

- Once connected, you can alter settings, adjust camera angles and arm/disarm your system.

Remote monitoring

- View live security data and video footage, as well as being able to browse past events. This can be done from anywhere in the world, at any time, provided you have an internet connection.

Live alerts

- Your system can send you notifications and alerts to your phone, tablet or computer when alarms are triggered, movement is detected out of hours or doors are forced open, to name a few.

Proactive notifications

- When a camera fails, its view is obscured, motion detection is triggered or an access control door is left open, you will receive a notification. This helps to prevent a scenario where there is an incident and you discover that the one camera monitoring the area wasn't recording.

Automatic updates

- As part of your cloud security software as a service (SaaS) subscription, providers will regularly update their system's firmware. This gives additional functionality and ensures their servers (and by extension, your data) are protected against security threats, cyberattacks and data breaches. These updates will be downloaded and installed automatically, saving you the expense and potential downtime of having a technician come out to update your system software.
4. What Are the Benefits of Cloud-Based Security Systems?
Depending on your application or use-case there will be many different benefits that could appeal to you and a large number that we haven't considered below. Each manufacturer will offer different features with a variety of benefits to you as the user.
Remote management - Remote access via the internet means you don't have to be on site to arm and disarm, adjust camera angles or view video feeds. If you have multiple sites this provides you a single easy-to-use interface and login to access your entire physical security apparatus.
Extended warranty - Most systems come with at least five years' warranty and sometimes as long as a lifetime warranty on hardware as long as you have an active subscription. This gives you great cost certainty across the desired lifetime of your system.
Endless scalability - Cloud systems are also simple to scale. Adding cameras, sensors or other components isn't limited by on-site storage or processing capacity, and increasing server space is a breeze. Cloud security providers offer a range of subscription plans, so you can choose the features, storage capacity and services that best suit your needs.
Automatic updates - Cloud technologies automatically update with the latest patches and software features so you don't have to devote time installing upgrades at regular intervals. They also proactively notify you of health issues with your devices, saving you the effort and expense of having them checked at regular intervals.
Proactive notifications - Low batteries, obstructed or offline cameras or doors, poor quality images or recording issues are flagged as they happen and email notifications sent to you. They can even be integrated with building management or ticketing solutions so raised issues are automatically added to your internal process workflow.
Easy integration - Smart security systems can be integrated with single sign-on solutions like Azure, Okta or GoogleSuite. This means access rights and permissions to locations, devices and features can be added and removed automatically.
5. Is a Cloud-Based Security System More Secure Than Traditional Systems?
This will depend greatly on your security requirements. For example, a standalone CCTV system that is not connected to the internet and only accessible internally will be the most secure from external penetration.
However, if you want remote access, a cloud-based system will be far more secure than an on-premise solution with VPN connection or port forwarding.
Storing footage in the cloud removes the need for bulky and expensive on-site servers that can be major security vulnerabilities. An on-site server can be damaged, either accidentally or intentionally, which can corrupt or completely destroy the data it stores.
By comparison, data stored in the cloud is backed up, physically inaccessible, protected by encryption and any connection to the server to view data will be logged, creating an audit trail. If there is attempted unauthorised access, or a user fails to log in multiple times, they will be locked out and administrators will be notified.
Footage can be shared by providing a password-protected link to access the recording. This footage can't be downloaded, and access can also be revoked at any time, allowing you to maintain control of your data security and comply with GDPR.
Security providers also regularly release updates to remove vulnerabilities, protect against cyberattacks and add extra functionality to your systems, allowing smoother integration between your different technologies. The result is a more comprehensive and contiguous ring of protection for your premises.
6. Can I Access My Cloud-Based Security System Remotely?
Yes. One of the most important features of a cloud-based system is that you can access it remotely, no matter where you are in the world, as long as you have an internet connection. Even if connection is lost at the site, you can still access the cloud to review recorded footage, access control events and alarm history from before the loss of connection.
7. Do I Need a Reliable Internet Connection for a Cloud-Based Security System?
Yes, a reliable connection is essential if you want your system to function properly. Cloud-based security relies on being able to connect to the internet to send and receive data and alerts, as well as provide you remote access for reviewing live footage.
8. What Happens to My Cloud Security System's Data if the Internet Connection Goes Down?
If your internet connection drops, many features will still work, but your system will be no more effective than a traditional setup.
You won't be able to access your CCTV system or review live footage remotely, data won't be transmitted to the remote server, and you won't receive any notifications if an incident occurs. However, hybrid-cloud CCTV cameras have on-board storage, so when your connection is restored, the footage recorded in this time will be transmitted to the cloud. You can learn more about the different types of cloud CCTV here.
Your alarm and access control will also continue to operate locally, and when the internet is restored, all transaction data will be streamed to the cloud.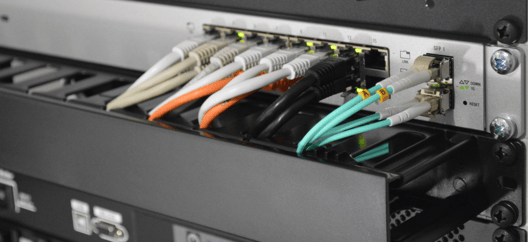 9. How Much Bandwidth Does a Cloud Security System Use?
This will vary depending on which technologies you own, how frequently your devices send data, and the quality of the data they send.
For instance, a smart alarm system will use barely any bandwidth at all. In normal operation with no incident detected, an alarm system may only send a signal every 20 seconds, and this signal will only be a few hundred bytes. Even an alarm signal will only be around 1kb. An access control system will also use very little, at just a few kilobytes per second.
However, this all changes when CCTV is included. Video footage can be very bandwidth intensive if you employ a direct-to-cloud CCTV model (1-5mbps). If, however, you have a hybrid-cloud model where the camera has built-in storage then bandwidth usage is limited to about 50-100 kbps per camera.
The amount of bandwidth used by a CCTV system will depend on:
Number of cameras
Type of cameras
Quality of video footage
Camera frame rate
Whether cameras record continuously, or only upload data when an event occurs
Brands like Verkada and Avigilon Alta use the hybrid-cloud model, and, as such, use very little bandwidth. According to Verkada, some of their cameras can use as little as 5Kbps when in "steady-state" (not actively recording). Modern compression technologies like H.265 will also lower this bandwidth consumption so we would recommend you choose cameras that support this.
On average, however, each Internet Protocol (IP) camera will be using 1-3 Mbps for a 1080p feed at 6-10 frames per second, while a hybrid camera will use 5-50 Kbps in steady state.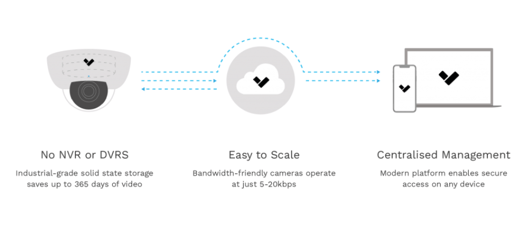 10. How Are Videos and Data Stored in a Cloud-Based Security System?
Whether you employ a direct-to-cloud system or a hybrid-cloud model, all data and footage is stored off-site in remote servers hosted by the service provider. The data will be sent as an encrypted signal, and stored as encrypted data on a password-protected server. This data will likely be backed up on multiple servers, so there is no risk of your data being lost due to a server, server bank, or even data center being compromised.
Depending on your plan, this data could be stored for just a few days, months, or years.
11. Is Cloud Data Storage More Cost-Effective Than Physical Storage Options?
This is a difficult question to provide a yes/no answer for.
Cloud security technologies in general provide far greater functionality, and (in most cases) enterprise-level security and features. However, they are more expensive in the long-run.
For a mid-range physical security system the cloud may be slightly cheaper up front than an on-premise setup, as you won't need to purchase the physical recording server.
However, in the longer term, this becomes a more difficult comparison. A cloud system will have a subscription fee to pay, which a conventional one will not.
On the other hand, a cloud system will also have a 5 year, 10 year or even lifetime warranty. On a site where security is important, it is expected that you will either replace your entire system every 5 years or so. This will either be to ensure you have the most advanced system possible, or due to a failure of a critical component. This is incredibly expensive, and due to the unpredictable nature of component failures, means there is little-to-no cost certainty involved with this system.
Cloud systems are constantly updated with the latest features and security protocols. This means there is no need to rip and replace the entire system to remain up-to-date. Plus, with your warranty covering you for any component failures, you can be assured that you will likely have no capital expenditure for the length of your warranty period. This provides cost certainty over the "lifetime" of your investment.
If you want to expand your cloud system, you won't have to worry about replacing any components such as the NVR or server for greater storage or processing power, greatly reducing your growth costs. In addition, adding security cameras to your system is incredibly easy for installers like us, so we don't need to charge as much, reducing your spend even further.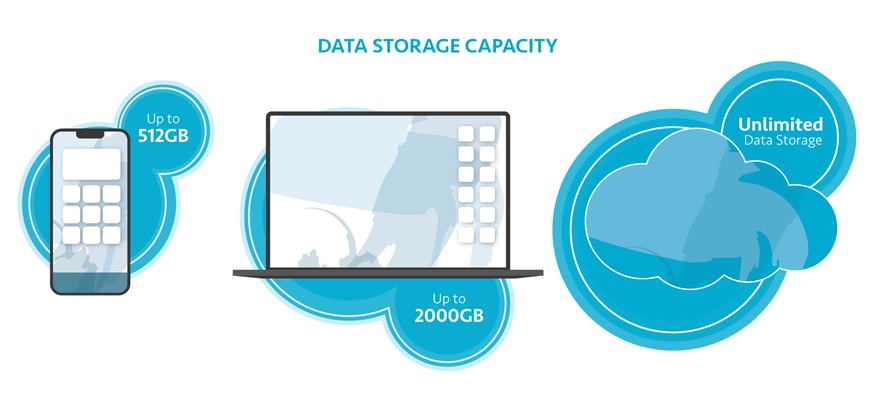 12. How Do I Set Up and Install a Cloud-Based Security System?
While there are many off-the-shelf options for DIY cloud-based security technologies, we would always recommend that you opt for a professional installation. While the systems available on the market are definitely budget-friendly, and by no means bad, they pale in comparison to the protection offered by a bespoke cloud security solution.
A professional installer will know exactly where devices should be installed to maximise your protection, and how to create a solution that is both convenient and highly resilient.
13. Are Cloud-Based Security Systems Compatible With Existing Security Equipment?
This will depend on the manufacturers, devices and protocols involved, but many cloud-based security providers will offer connectors that allow you to send data from a traditional system to the cloud. This offers you many of the benefits of cloud security, without the need to rip out and replace your existing technology.
However, when it comes to cloud security, important decisions like using a cloud connector should always be made with advice from an expert in cloud security products to see if your existing hardware can be reused.
14. Can I Integrate Smart Home Devices With a Cloud-Based Security System?
In some cases. cloud-based security systems can be integrated with many smart home devices, allowing for a host of ways to enhance both the protection and comfort of your property.
For example, by pairing your lighting with your security system, you can set up "geofencing", so your exterior lights will turn on as you are detected returning home. This serves a dual purpose, as your exterior lights can illuminate the area around your home, providing a clearer view for your CCTV cameras.
Another option may be using your home sound system to notify you of trespassers on your property, or to act as an alarm. You can even use your voice assistant to arm and disarm your security systems.
15. How Do Cloud-Based Security Systems Handle Privacy and Data Protection?
Cloud-based security system providers take privacy and data protection very seriously. Data is encrypted both at rest and when transferred to the remote server, then stored in an encrypted format and password-protected (often with multi-factor authentication as well). This makes accessing your security devices, data and footage without authorisation extremely difficult, if not impossible. Most reputable manufacturers will have gone through the SOC2 testing and/or have ISO27001. If they are serious about this they will share the details of these tests and policies with your organisation.
Beyond this, the account owner will be able to set the privileges of any other users authorised to access the security system data and applications. This way, the only people who can view especially sensitive data are those with clearance to do so.
Reputable systems will also allow you to see an audit trail of all access events, searches, shares and downloads for complete traceability and accountability.
When it comes to ensuring your CCTV adheres to GDPR and privacy rules and regulations, there are more elements to consider. We have this covered in our blog "CCTV and UK Law: The Legal Considerations".
16. Can Multiple Users Access and Control a Cloud-Based Security System?
Yes. Another benefit of cloud security's ability to be accessed remotely is that multiple individuals can use it simultaneously. Each user can be given their own account with specific privileges, so they will only be able to access as much information as the administrator chooses.
For example, the owner of a business and its head of security may be able to access all data and control all devices, while a guard may only be able to view and control cameras.
17. Is Professional Monitoring Available With Cloud-Based Security Systems?
Yes. The remote access afforded by connecting a security system to the cloud means that data can be sent to a third-party monitoring service, like an Alarm Receiving Centre (ARC). They will verify that any alerts they receive are not false alarms, and if the alert is genuine, will dispatch a team of security professionals to investigate. This means you don't have to place yourself in harm's way investigating an alarm and it is much cheaper than employing 24/7 security staff.
If the alarm was false, the monitoring service can reset the system remotely, and if the problem repeats, they can organise for a technician to visit the site and investigate.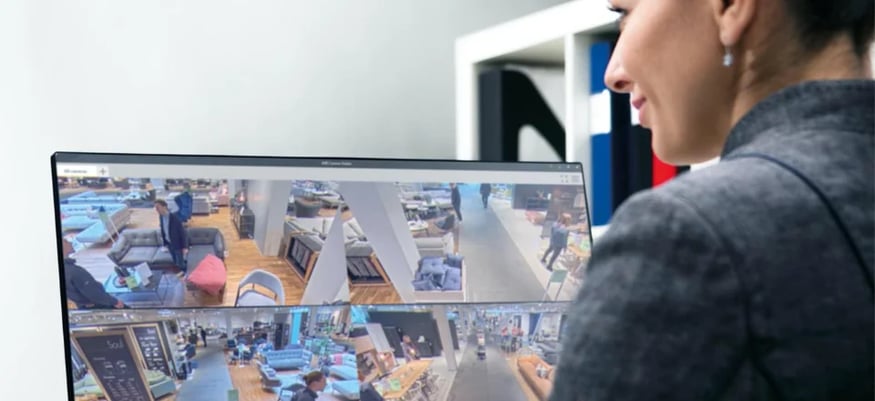 18. How Reliable and Responsive Are Cloud-Based Security System Alerts?
How reliable and responsive a cloud-based security system is will depend on a few factors:
System quality - A system produced by a well-established provider will likely be more reliable and less prone to false alarms or other security issues.
Network connection - An unreliable internet connection will make receiving notifications and alerts much slower.
Service outages - Sadly, it does happen. No technology is entirely free from glitches or downtime. However, a more well-established provider will have redundancy measures in place to compensate for these eventualities and will be able to supply data on their service uptime over the last few years.
19. Can Cloud-Based Security Systems Work During a Power Cut?
Many cloud-based security systems will have backup batteries to ensure that their basic functions continue in a power cut, but without an internet connection, they will only be as effective as a conventional system. None of the additional features afforded by the internet connection, such as remote access and management or alerts, will be available.
20. Are There Any Limitations or Downsides to Using a Cloud-Based Security System?
While cloud-based security has many benefits, there are some limitations and drawbacks.
These systems are dependent on the internet to provide full functionality. If your internet connection is unreliable, your system will be less responsive, and your ability to monitor remotely in real time may be impaired. The bandwidth used by cloud security (especially CCTV) can be substantial, so with these two in mind, you may need to get your IT network audited if you want to get the most from your new security tech.


Cloud-based security systems need you to pay a subscription fee to use them. If you won't benefit from the features and the protection of cloud technology then there is little point in committing to this subscription model.


If the cloud server goes down, you will lose your remote access and management features, as well as your ability to view recorded footage.
However, the most crucial consideration is security, as the points above are comparatively trivial. If you manage the security for a government organisation or one that manages especially sensitive data then we would not recommend a cloud system, as if your system isn't connected to the internet then it is near-impossible to hack remotely.
For most other situations, though, we would recommend a cloud system over a conventional one.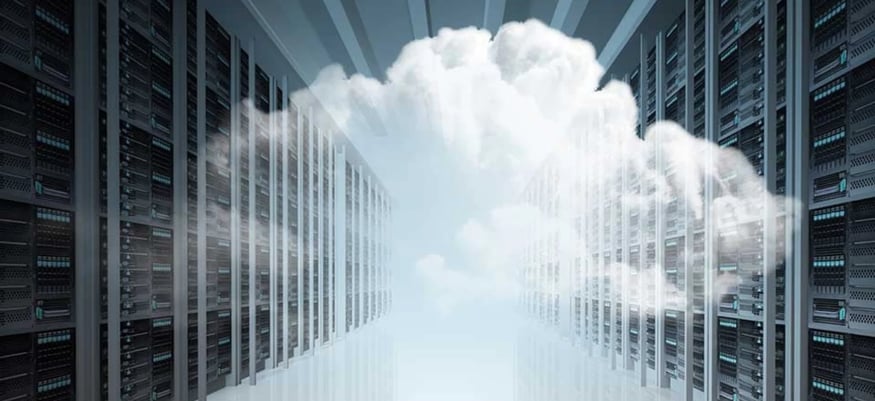 Final Thoughts
If you're looking to install a cloud-based security system and need a professional installation company, we're here to help.
As an NSI Gold-accredited security company, we're highly experienced at designing and installing bespoke cloud security solutions that blend security and convenience. We've built systems for sites as diverse as Grade I listed buildings and luxurious new-build properties. Whatever peculiarities your job may involve, we'll have seen it before, and know exactly how to tackle it.
Get in touch with our experts today to see how we can support you
Submit the form below and we will get back to you shortly.

I run our sales, technical design and marketing initiatives for the business. I work closely with manufacturers and trade associations to keep abreast with the latest technology and regulations making sure our clients are getting the very best and latest systems available.
Are you looking for a new CCTV system and want to know if Cloud is right for you? After relying on NVR storage for the best part of 50 years, homeowners and businesses are moving their security.
When considering which CCTV cameras and systems to install, security is paramount.
With millions of guests using hotels each year, these sites are hot-spots for theft, violence and criminal damage. In fact, figures from eight of the largest UK police forces showed 4,589 allegations.